Frogs' Legs
All About Frog Legs

Everything you need to know about this delicious dish that's low in fat and rich in protein.
---
Frog characteristics
The frog is a vertebrate amphibian that lives in fresh waters and humid locations. Some twenty frog species are edible.
Generally, only the back legs of the frog are cooked. The taste is often compared to chicken.
---
Culinary tips and advice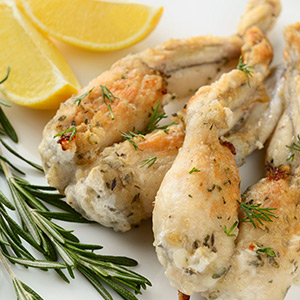 Frogs' legs can be deep-fried, sautéed, poached or oven baked
They can also be breaded and cooked "Provençal" with garlic and parsley
They can be used in soups and in omelettes
---
Where do you find frog legs?
Look for frozen frogs' legs at your Metro fish counter.
Nutritional value
Frogs' legs are low in fat, low in calories and are a good source of protein.
Storage life
| | | |
| --- | --- | --- |
| | Refrigerator 4°C (40°F) | Freezer -18°C (-4°F) |
| Frozen frogs' legs | 2 to 3 days | 2 to 3 months |
| Cooked frogs' legs | 2 to 3 days | 2 to 3 months |
---
​
---