All About Herring
​

---
Characteristics
Herring can replace mackerel in most recipes. It is often marinated, smoked and canned, and there are many other ways you will find herring on the market including herring rollmop, flippits, Russian Selodka, kipper and buckling.
---
Culinary tips and advice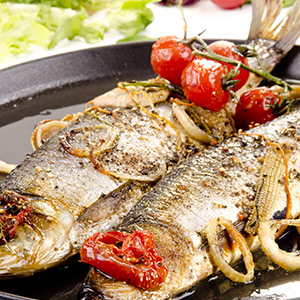 Your Metro fishmonger will be glad to order fresh or frozen herring, whole and in fillets, smoked and marinated in many ways. It is only available by special order.
Herring is delicious grilled, oven-baked or pan-fried.
Be careful not to overcook herring.
Though the meat of very tasty, it does contain a lot of bones but these are very easy to remove.
Expert Tip
Poaching and steaming are not recommended however as the oily flesh of herring is too fragile.
---
Nutritional value
Herring is a fatty fish. For the weight conscious, cooking in parchment is the wisest choice.
Herring is an excellent source of vitamins A, B6, B12 and omega-3. It also provides generous amounts of phosphorus, potassium, calcium and selenium.
---
Storage life
Fresh fish should be cooked as soon as possible following purchase.
| | | |
| --- | --- | --- |
| | Refrigerator 4° C (40° F) | Freezer -18° C (-4° F) |
| Fresh herring | 2 to 3 days | 4 to 6 months |
| Cooked herring | 1 to 2 days | ––– |
---
---