Mackerel
All About Mackerel

Characteristics
Mackerel belong to the same family as tuna (Scombridae). The most widespread species in fish market are the blue mackerel and the Spanish mackerel.
The mackerel's white and oily flesh tastes a lot like tuna. It is often prepared whole or cut in strips and smoked.
---
​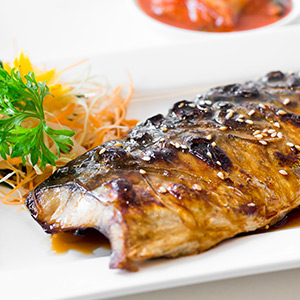 Culinary Tips and Advice
You will find mackerel fresh, frozen or smoked, whole or in fillets, in your METRO fishmonger's display.
Mackerel should be eaten without delay.
It tastes best when oven-baked, poached in court-bouillon, en papillotte (in parchment) or grilled.
Expert tip
Fat should not be added to the cooking preparation because mackerel is already fatty.
---
​
Nutritional value
Mackerel is a fatty fish. For the weight conscious, steaming, poaching or cooking in parchment would be the wisest choice.
Mackerel is an excellent source of vitamins A, B 9, B12, C and omega-3 fatty acids. It also provides a generous amount of potassium, calcium, phosphorus and magnesium.
Storage life
| | | |
| --- | --- | --- |
| | Refrigerator 4° C (40° F) | Freezer -18° C (-4° F) |
| Fresh mackerel | 1 to 2 days | 4 to 6 months |
| Cooked mackerel | 1 to 2 days | - |
---
​
---