Express Delivery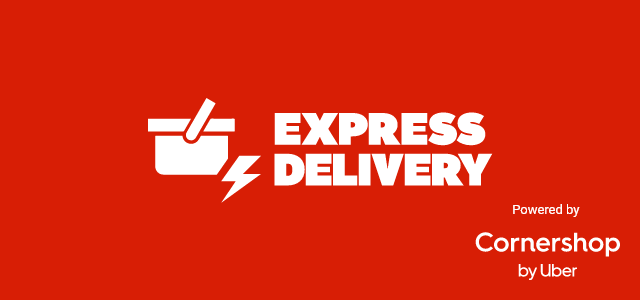 Our Express Delivery service simplifies your grocery shopping in 3 easy steps:
1. Place your order on metro.ca*.
2. Have your order prepared by a personal shopper.
3. Get your groceries delivered within 2 hours.
*Preparation and delivery fees may apply. Minimum purchase required. Maximum 30 item limit per order. Service available in select areas. See details at metro.ca.
Express Delivery is available in select areas/stores for now. Click here and enter your postal code to see if you're eligible. Not available yet? We're working to broaden our delivery areas to reach more customers.
We deliver between 8 a.m. and 10 p.m., but delivery times may vary by location.
You can browse products and add items to your cart without an account, but you'll need to create an account before you can check out.
Your order will be prepared and delivered by a personal shopper from Cornershop who is specially trained to select the freshest items using the same care you'd use if you were doing it yourself.
To provide our customers with the best experience, the number of unique items is limited to 30.
Lottery tickets, alcohol, and tobacco cannot be purchased with the Express Delivery service.
The delivery fee is $13.99 + HST.
Your order must amount to $50 before fees and taxes to use the Express Delivery service.
Promo codes cannot be redeemed on Express Delivery orders.
Once your order has been processed, it is final. You can return your items at any Metro store within 14 days. See our refund policy for details.
Your order cannot be rescheduled once you have checked out. The Express Delivery service guarantees your order will be delivered to you within 2 hours. For an optimal experience, we encourage you to make sure you will be available during the next 2 hours.
Your order can only be cancelled if the payment has not been processed. To cancel your order, you must contact Customer Care at 1-844-777-7611 or Click here.
It's rare that a product is unavailable, but it sometimes happens and when it does, your personal shopper will contact you by telephone. If you don't answer your personal shopper will do their best to choose a similar product as a substitution if possible.
No. We strive to deliver your order within 2 hours. If for any reason your personnal shopper is more than 10 minutes late, you will be contacted. Have questions about your order? Need help? Click here.
Absolutely! You will receive a physical copy of your receipt so that you can confirm your order is correct.
You may not reject items at the time of delivery. If you are unhappy with any of the items you received, Click here to request a refund.
The only service fees you pay are the ones you've already paid as shown on your receipt. Our personal shoppers are happy to offer you the best service possible and do so with no expectation of a tip.
You'll generally enjoy the same product promos and offers currently available in your store, but there can be slight variations between stores. Also, some coupons are not applicable online. Refer to the terms and conditions listed on any promotional coupons and deals to check if they can be used online.
Promo codes cannot be redeemed on Express Delivery orders.
We accept credit cards (Visa, Mastercard, American Express) and Visa Debit. You can have more than one credit card in your saved payment methods, but you can only use one to pay for each online order.
When you are deemed eligible for Express Delivery, your credit card will be pre-authorized for your order amount plus 25% to ensure the order is fully processed when you are ready to check out. Once the order is assembled and ready to be delivered, your card will only be charged the final order amount.
Yes, you will receive a physical copy of your receipt with your order, and your order history will be updated. Keep this copy for reference in case you have any questions or issues with your order.
Credit cards and Visa Debit are the only payment methods currently accepted online.
Metro.ca complies with the highest standards of information security. Other than your billing address, Metro doesn't store any of your banking information on its site.
Gift cards are currently not accepted online.
Sometimes, an item that was in stock when you placed your order goes out of stock by the time your order is prepared. If necessary, your personal shopper will contact you by telephone to confirm your preference.
If you have questions about your order or require assistance, Click here
We allow only one online refund request per order, and the request must be submitted within 7 days of receiving your order. If a product does not meet your expectations, we invite you to contact Customer Care at 1-844-777-7611 or Click here
Yes! Add your AIR MILES® Collector Number to your account to get Miles on every order and enjoy our online AIR MILES® promotions. These promos are clearly indicated on the product images. Some exceptions apply.
AIR MILES® Reward Miles currently cannot be redeemed on online orders.