First order?
---
To sign up
It's easy! Simply enter your personal information in the required fields on the registration form.
You can even link a Air Miles® card to your account.


Once your account has been created, sign in!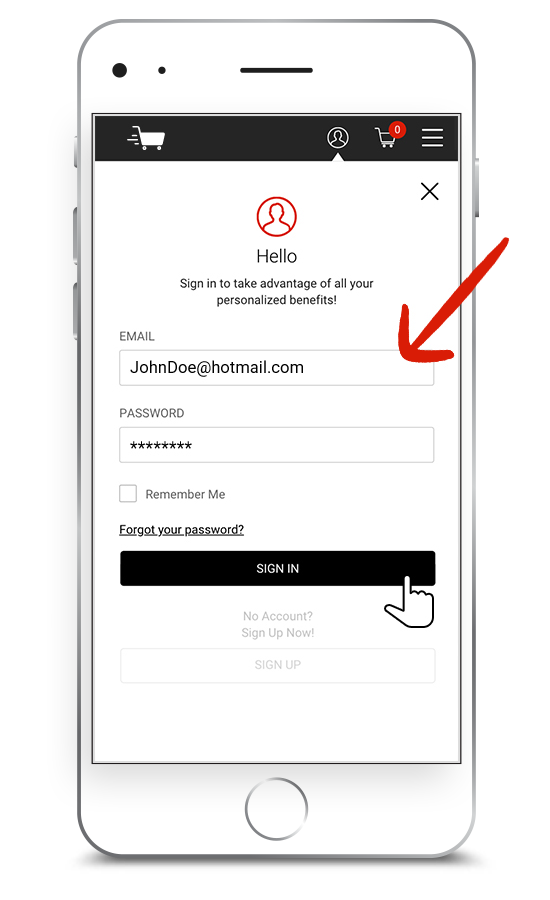 Select your timeslot & start shopping
After adding a first item to your cart, simply enter your postal code, select delivery or pick up and choose the time slot that suits you.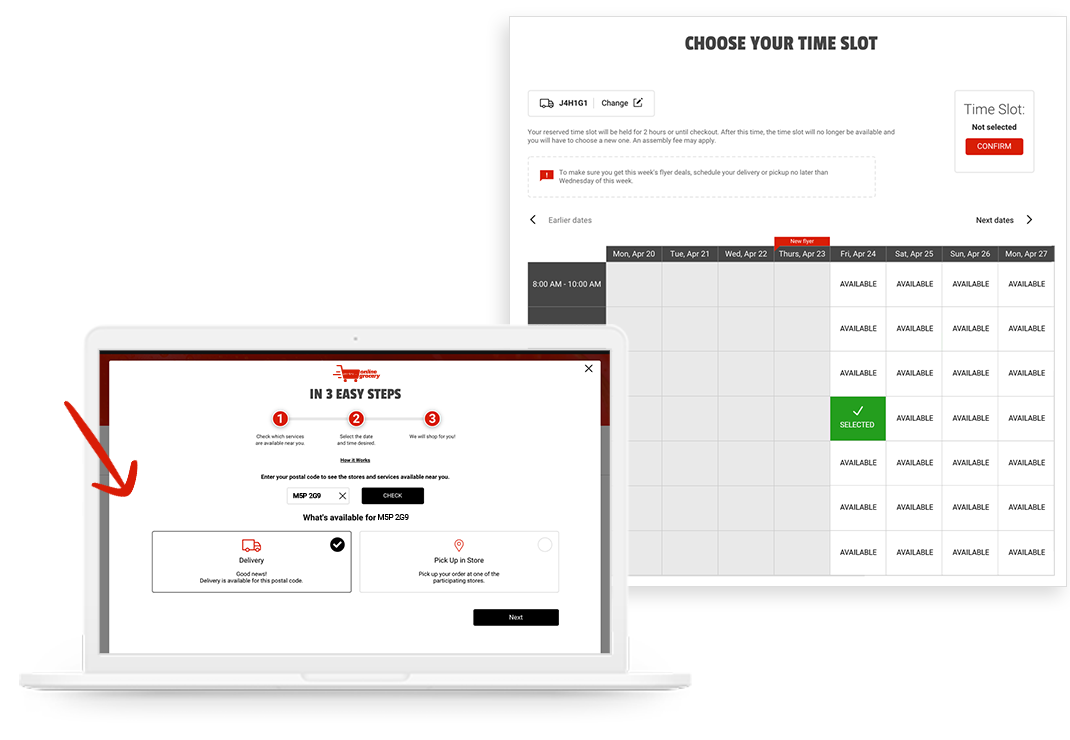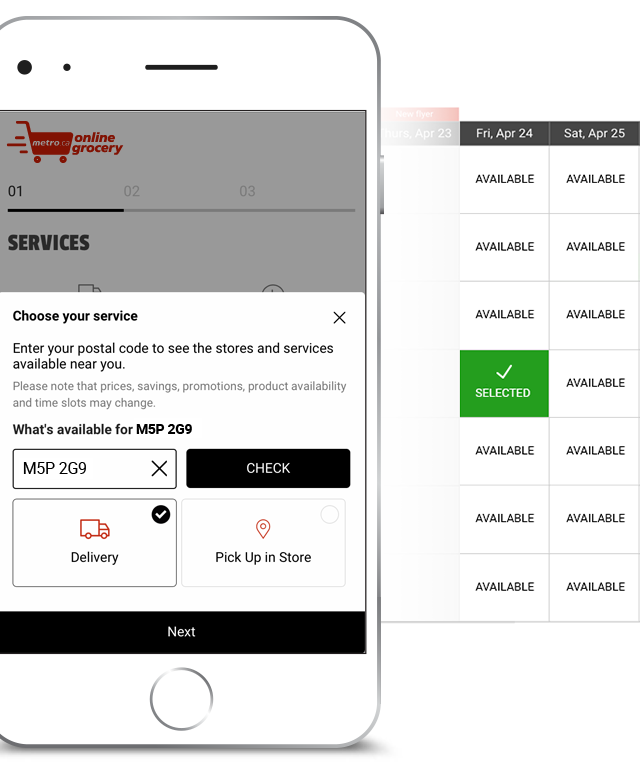 BEFORE YOU START SHOPPING
1
After adding a first item to your cart, enter your postal code and select the service of your choice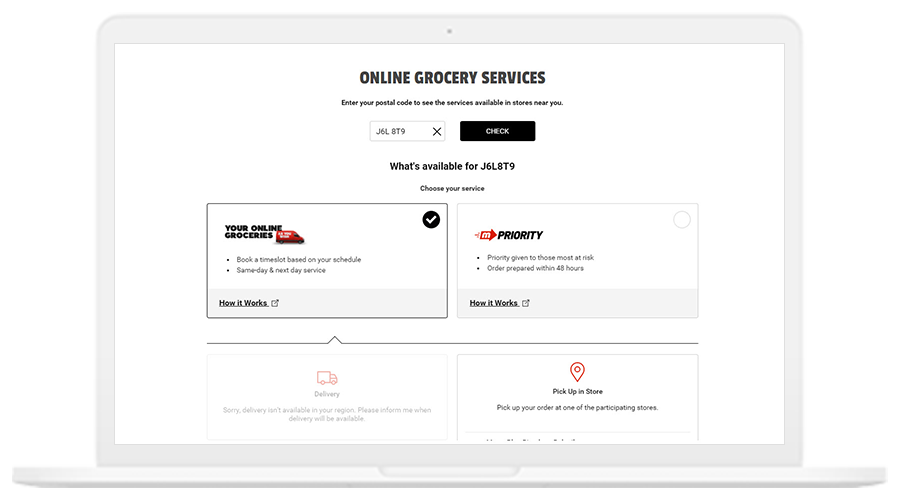 home delivery
benefits:
1. Save time and stay in the comfort of your own home
2. In-store freshness delivered right to your door
3. Leave it to our delivery drivers to transport the bulky, heavy items
4. Get real-time tracking and never miss a delivery again
in-store pickup
benefits:
1. A free service at all times
2. A no contact service, as we will bring your order right to your car
3. A service better suited to your schedule as you can choose the best time to pick up your order within the selected time slot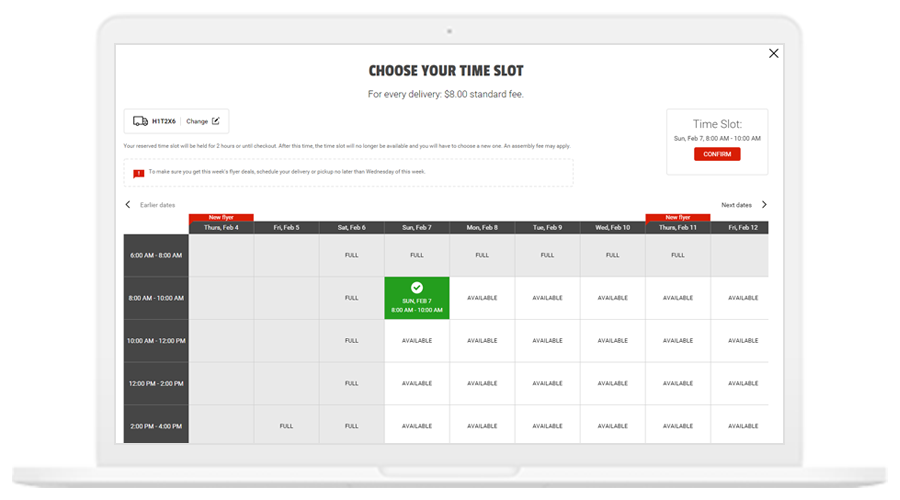 2
Opt for our same-day or next day service, whichever better suits your schedule.
Finalize your order

1. Confirm the products in your cart
Review the products in your cart before clicking on Order.

2. If you selected the delivery service, enter the address where you wish to have your order delivered
This information will be memorized for future orders, so you don't need to enter it every time.

3. Enter your payment information
You need to enter your credit card information. This payment method will be saved to your account for future orders.

4. Make sure that all the information you entered is correct
and then submit your order!
5. Order confirmation email
You will receive an order confirmation email. At this point, certain products may have an estimated price. The final total amount will be communicated in the email you will receive once your order has been assembled.

6. Email confirming your order has been assembled
Once your order is assembled in store and ready to be delivered or picked up, you will receive a second email detailing your order and confirming the final amount. The email will also inform you if products have been substituted or if any products are missing from your order.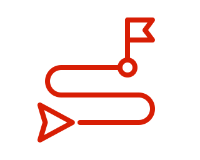 7. Delivery Tracking Emails
You will receive an email once your order has left on the delivery truck. This email contains a link to track the truck in real-time, indicating its location on a map and estimated time of arrival. A second email will be sent when you are the next delivery in line.

Get offers in line with your tastes
Get more AIR MILES® Reward Miles on your online purchases

Use your rewards online
---
Enjoy the benefits of our service!
Save Time
Your time is valuable! Use our Quick shop tools to save time to enjoy doing the things that you love!
Personalized Shopping
Enjoy recommendations based on your previous purchases
Shop your flyer, use your digital coupons and enjoy your
benefits!
Real-time delivery tracking
Never miss your delivery again with our real-time tracking. Get your groceries at their freshest!
---
Before you can place an online order, you need to sign up for a metro.ca account.
While not mandatory, we highly recommend you join the
reward program and then add your card to your metro.ca account. You'll get personalized deals,
points and rewards that save you money!
There is no fee for pickup orders. For same-day delivery, the fee is $9.99 + HST. For next-day delivery, the fee is $7.99 + HST.
For Express Delivery fees, click here.
Metro offers same-day delivery service for those who are not able to wait for their order to be delivered the next day. This priority service costs $9.99 + HST. There are no additional fees for same-day pickups.
Electronic coupons available at metro.ca can be used in the online grocery. To find available coupons on metro.ca, look for the scissors icon or check out the Coupons section. Add your coupons to your Cart when you shop online. Printed coupons, Facebook coupons, Flash Sale coupons, mail-in rebates, coupons from coupon booklets or manufacturer coupons are not accepted in the online grocery.
Whether using click&collect or delivery, the clerk will ask to see the order confirmation number and photo ID. As a preventive measure for larger orders, you may also be asked to present the credit card used online.
Before You Start Shopping...
Enter your postal code to see what stores and services are available near you.
Check to see what's available to you: