Tips and tricks for cooking with citrus
Lemons, oranges, limes, grapefruit, mandarins, clementines… the citrus family is extremely vast! Check out our tips and tricks to help you pick your citrus and cook them without wasting a drop.
Citrus: good for every occasion!
Did you know that the citrus season usually lasts from November to May but some fruit, like lemons and oranges, are available year-round? Moreover, citrus pairs well with fish or meat and can be enjoyed in every course of your meal, from the appetizer to dessert. It's incredibly versatile!

Fish
Lemon is obviously a classic way to season your fish. But there are numerous citrus fruits that pair wonderfully well with fish and seafood. This is the case for pomelos and grapefruit because they are both sweet and sour. Here are a few recipes to inspire you!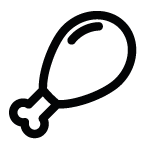 Meat and poultry
As a zest, vinaigrette, or even cooked, citrus fruits are versatile, flavourful, and can enhance your meat dishes. Orange for instance, is a sure-fire way to boost the taste of pork while lemon goes wonderfully well with veal and chicken. Here are some recipes we recommend!

Bakery
As a mousse, in a cake, or to flavour a bread, citrus fruits have earned their spot in the bakery aisle. Lemon pie, lime sorbet, orange chocolate mousse… citrus can make your pastries even more delightful! Get inspired by these recipes.

Cocktails
A slice of orange, some lime zest, a few drops of lemon juice… citrus fruits are used in myriad cocktails to add a hint of acid or to boost their flavour. In fact, you can also find liqueurs made from citrus. Here are a few recipes to add some sunshine to your cocktails!
Shop now
Under Ontario law, you must be 19 years of age or over to purchase alcohol products. In submitting your order, you are representing yourself as being of legal drinking age in Ontario. In accordance with AGCO regulations, valid government photo ID will be requested upon pickup. If you are unable to verify your age by presenting valid identification at the time of pickup, all alcohol ordered will be removed from your order. Alcoholic products are available for pickup between 7am and 11pm.