Celebrating Passover
Here are some of the great deals we have available on Kosher products to help you celebrate throughout the holiday. Kosher products are available for sale in-store at the participating locations listed below, but unfortunately are not available for purchase online at this time.
Offer available from March 18 - 31
STORES LIST
Kosher items are available for a limited time at the following Metro locations only, while supplies last. Item availability varies by store. See in‑store for full details.
Recipes for Celebrating Passover
Passover Matzo Meal Chicken Schnitzel
5
MAIN COURSE
0:20 min
Preparation
0:40
Cooking
1:00
Total time
Ingredients
4 Chicken breast, cut into smaller, thinner pieces
1 cup (250 ml) Potato starch
3 Eggs, beaten
1 teaspoon (5 ml) Mayonnaise (optional)
3 cups (750 ml) Matzo meal
1 tablespoon (15 ml) Italian seasoning
1 teaspoon (5 ml) Garlic powder
1 teaspoon (5 ml) Paprika
To taste Salt and pepper
Preparation
Set up a 3-part dredging system with 2 bowls and 1 large plate.
In the first bowl, place potato starch and season with salt and pepper.
In the second bowl, beat together the eggs and mayonnaise.
On the plate, mix matzo meal, Italian seasoning, garlic powder, and paprika.
Take a piece of chicken and dredge it in all 3 stations, starting with the potato starch, then egg, and then coat both sides with the matzo meal mixture. Set aside.
Continue the process until all chicken pieces are breaded.
In a large frying pan, pour in vegetable oil until it is about 1/4 of the way up the side of the pan. Bring up to frying temperature.
Fry the chicken until brown on both sides and then place on a baking rack over a baking tray.
Once all the pieces are browned and placed on the rack, bake in a 350°F oven until the chicken is cooked through, about 20-30 minutes, depending on the thickness of the chicken.
Serve on a nice platter and garnish with arugula and citrus. Enjoy!
Matzah and Lox Brunch Platter
6
Accompaniment
0:15 min
Preparation
00
Cooking
0:15
Total time
Ingredients
Matzah
1 container Cream cheese
4 Hard-boiled egg, halved
Sliced marble cheese
Lox
Cucumber, sliced
Red onion, thinly sliced
Lemon, sliced
Cherry tomatoes, halved
Radish, sliced
Garnish Dill
Garnish Capers
Preparation
On a large platter or board, place a small bowl with cream cheese. Next, add the lox into the center of the board.
Using your own discretion and creativity, place the rest of the vegetables, sliced cheese(s), and eggs in small piles around the lox trying not to leave any gaps or spaces. You may use my photo as a guide.
Serve with Matzah.
Tips for Creating a Gorgeous Snack Board:
Decide on a theme, for example, colour scheme or holiday or type of board.
Gather a variety of different items to go on the board. Fruits, vegetables, pickled items, cheese and/or meats (if using), dried fruits, nuts, crackers, and spreads.
Place the spreads into small bowls and put them throughout the board.
Start building your board by placing piles of items around the bowls.
Try and spread out your items to make them visually appealing, for example, do not place 2 red items beside each other or 2 similar items beside each other.
Have fun with it! There are no rules.
Matza Ball Soup
8-10 soup
Serving
0:30 min
Preparation
4:00
Cooking
4:30
Total time
Chicken soup
4 Carcasse (chicken bones)
1 Turkey leg
3 - 4 Carrots, peeled
2 Onion peeled and cut in half
3 Celery cut in half
2 - 3 Parsnip peeled
1 Fresh parsley and/or dill tied together with a string
4 tablespoon (60 ml) Chicken soup powder
To taste Ground pepper
Matzo balls
1 pkg Matzo balls mix
2 Eggs
2 tablespoon (30 ml) Vegetable oil (follow box directions)
1/2 teaspoon (2,5 ml) Baking powder
1 tablespoon (15 ml) Dill
Chicken soup
In a large soup pot, place the chicken bones and turkey leg, fill with water and boil until you see a lot of the fat and toxins rise to the top.
Dump out the dirty water, rinse off the meat and then place back into pot.
Add in the carrots, onions, celery, parsnip, and fresh herbs.
Fill the pot with enough water to cover all the ingredients and reach the top without overflowing.
Add in the chicken soup powder and pepper.
Bring pot to a boil, then lower to a simmer and leave covered for 2 hours.
Once complete, strain all the broth out of the pot. Keep some carrots and/or turkey to cut up into the soup. Serve with noodles and/or matzo balls.
Matzo Balls
In a large bowl, empty the contents of the matzo ball mix. Follow the directions on the box- usually says to add eggs and oil.
Add in ½ tsp baking powder and fresh dill.
Place mix in fridge for a minimum of 30 minutes (this is what helps you get a fluffy ball).
Boil water in a large saucepan. Once it comes to a boil, scoop out about a ½ tbsp of matzo ball batter. Roll into a ball and drop into the water. Complete until all balls are formed.
Cover and let boil for 20-30 minutes until matzo balls cooked through and fluffy.
Associate product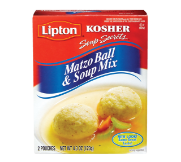 Matzo Ball Soup Mix
Description
SUBSCRIBE TO THE METRO NEWSLETTER
Product offers, locally inspired recipes, and cooking tips delivered straight to your inbox.
Subscribe Now
DOWNLOAD THE MY METRO APP
Receive exclusive offers and benefits or browse our digital flyer.
Download Now