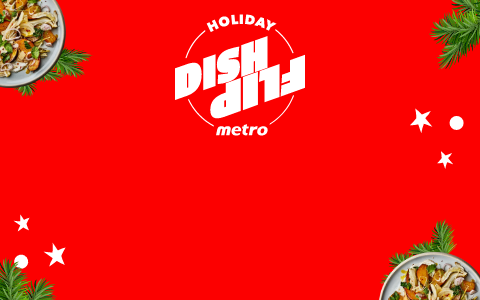 Holiday Dish Flip

Flip your holiday dish with something new
This year, try a new dish for your holiday table inspired by members of our community across Ontario.
Filtre desserts
Filtre drinks
Filtre main-course
Filtre appetizers
Filtre sides
Chicken adobo
Seafood Fried Jollof Rice
Pineapple honey ham
Bean stew and Chapati
Wild Rice with Cranberries and Walnuts
Romanian Sweet Bread
Herring Shuba Salad
Rum Cake
Kheer Rice Pudding
Coconut Cassava
Braised Duck With Blackcurrant Port Wine Sauce
Chinese Pork Tenderloin
Tahini Tart
Colourful zucchini spiral pie
Zucchini Spirals Pie
Charcuterie Wreath with Mini Cheese Balls
Shrimp Cocktail: Three Ways
Cardamom Gingersnap Cookies
Beer Sangria
Rib Roast with Espresso Rub
Baked Salmon Balls with Citrus Turmeric
Chocolate tiramisu tart
Asian-Inspired Sheet Pan Turkey Dinner
Panettone snowflake doughnuts
Blinis épicés, tout bagel
SUBSCRIBE TO THE METRO NEWSLETTER
Sign up for our newsletter to receive culinary tips & recipes inspired by current flyer deals.
Subscribe
Download the My Metro app
Receive exclusive offers and benefits or browse our digital flyer.
Download