Hot beverages: five comforting classics

Whether you're savouring a sweet treat or fighting the plummeting temperatures, hot beverages are a great way to warm up both body and soul. From gourmet coffee to aromatic infusions and fruity teas, the choices are endless. Pick up your cup and enjoy!
---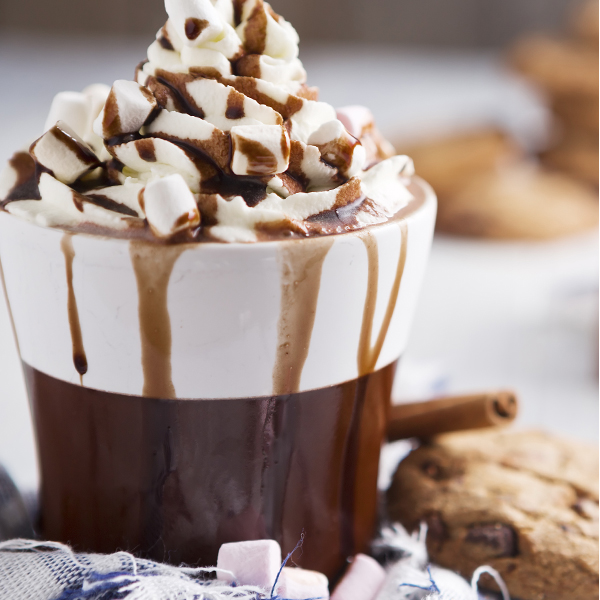 Hot chocolate with cinnamon
This comforting classic can be personalized to taste and is guaranteed to satisfy your seasonal cravings. Whether you're a foodie or you just have a sweet tooth, you'll enjoy kicking up the flavour (and the look) of your hot cocoa with tasty additions like marshmallows, whipped cream, peanut butter chips, coconut flakes or maple sugar.
Ingredients (serves 4)

300 ml (11/4 cups) milk
2 ml (½ tsp.) vanilla
½ cinnamon stick
5 ml (1 tsp.) brown sugar
350 ml (1½ cup) cream
200 g (1 cup) finely grated dark chocolate (70% cocoa or more)
Preparation
Heat the milk, vanilla, cinnamon and brown sugar.
Bring the mixture just below the boiling point, add the cream and stir for 2 minutes.
Incorporate the dark chocolate and beat ingredients together for 4 minutes. The mixture should not boil.
Remove from heat and continue beating, or mix in blender for an even frothier texture.
---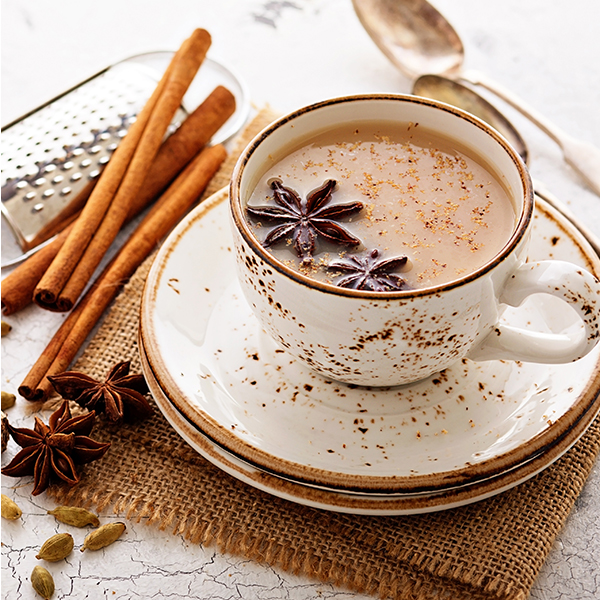 Homestyle chai tea
This traditional Indian beverage is prepared with black tea, milk and spices. It's the perfect drink to start your day or give you that little boost when you're feeling sluggish.
Ingredients (serves 2)

500 ml (2 cups) milk
2 bags Earl Grey tea
1 pinch of cinnamon
1 pinch of nutmeg
2 star anise pods
30 ml (2 tbsp.) honey
Cinnamon sticks (garnish)
Preparation
In a saucepan, heat all the ingredients together over very low heat. The mixture should never boil.
Remove saucepan from heat just as it begins to simmer.
Strain the liquid.
Garnish with a cinnamon stick.
---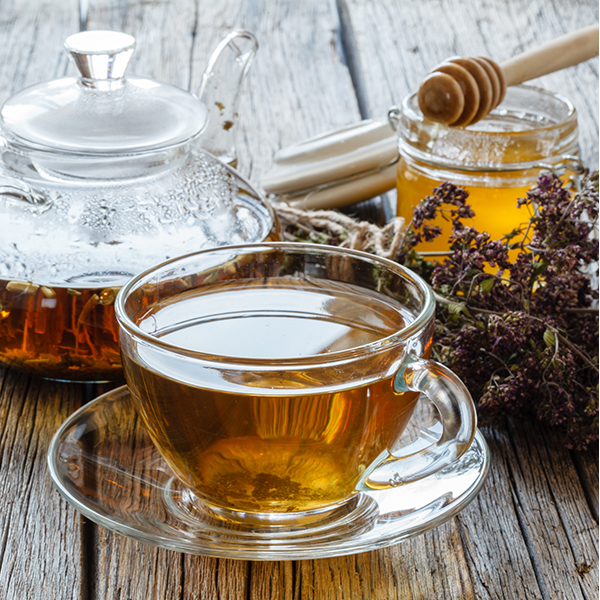 Lavender, lemon and ginger infusion
This soothing and relaxing beverage is also a great remedy for kids' bellyaches.
Ingredients (serves 2)

500 ml (2 cups) water
1 bag lavender tea
2 bags green tea
5 ml (1 tsp.) ginger
15–30 ml (1–2 tbsp.) honey or maple syrup
Juice of 1 lemon
Preparation
Combine all the ingredients in a saucepan and bring to a boil.
Remove from heat and let stand for approximately 5 minutes.
Serve hot or chilled.
---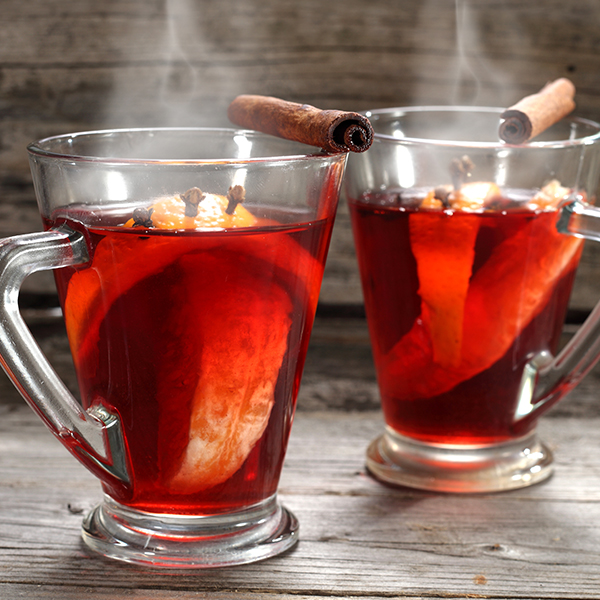 Scandinavian mulled wine
This spiced wine beverage flavoured with orange zest is like a warm hug on a winter day. Enjoy it as an aperitif or sip it by the fireplace in the afternoon. It's goodness all around!
Ingredients (serves 8)

1 cinnamon stick
3 whole cloves
Zest of 1 orange
250 ml (1 cup) water
1 L (4 cups) Bordeaux wine
Raisins (to taste)
190 ml (3/4 cup) cognac
White or brown sugar (to taste)
Slivered almonds (to taste)
Preparation
Tie cinnamon, cloves and orange zest in a piece of cheesecloth.
Put the spice bundle in the water and bring to a boil. Boil uncovered for about 30 minutes.
Add the wine and let stand at room temperature for 12 hours.
Soak raisins in 125 mL (½ cup) cognac for 12 hours.
The day of the party, heat wine and add port and remaining cognac. Heat gently, keeping mixture under a boil, and sweeten lightly.
Stir in cognac-soaked raisins and slivered almonds and serve hot.
---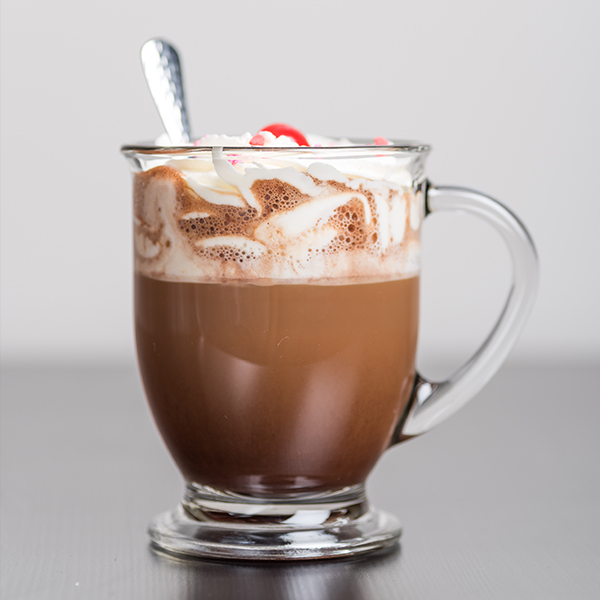 Mocha coffee and coconut with maraschino cherry
This delightful fusion of coffee and maraschino cherries is deliciously irresistible, especially for chocolate and Java lovers!
Ingredients (serves 1)

30 ml (2 tbsp.) white sugar
30 ml (2 tbsp.) chocolate drink mix
15 ml (1 tbsp.) maraschino cherry syrup
250 ml (1 cup) Mocha Java coffee
30 ml (2 tbsp.) 35% whipped cream
Semi-sweet chocolate chips
Grated coconut, roasted (optional)
1 maraschino cherry
Preparation
Mix the white sugar and chocolate drink mix together.
Dip the edge of a coffee cup first in the cherry syrup and then in the sugar mix.
In the cup, add the remaining cherry syrup, sugar mix (to taste) and coffee.
Garnish with some whipped cream, chocolate chips, coconut and a cherry.
---
Other tasty suggestions