Fondue Brings You Closer

Whether you're celebrating with a special someone, family, or friends, the Holidays is the perfect time to get together and have great conversations around a good meal—like a delicious fondue! Here's a look at different ways you can serve up this exquisite treat!
---
Fondue Bourguignonne
Fondue bourguignonne is served with a variety of sauces and cut vegetables, plus a plate of fried or boiled potatoes. A great fondue Bourguignonne is all about the quality of the oil used—preferably a good peanut oil that isn't left over from a previous fondue. To avoid oil splatters, just add half a peeled potato or a piece of bread to the fondue pot.
The dish is best served with beef filet or sirloin cubes. Plan for about 150 to 227 g per person, and feel free to ask your butcher for advice. Fondue Bourguignonne goes well with a wide variety of sauces and chutneys, so be sure to let your creativity shine!
To avoid passing plates around the table, why not fill small bowls with sauces, chutney, vegetables, and fruit. That way, each guest gets their own! Serve with a green salad and a glass of red Chinon or Languedoc Roussillon.
Fondue bourguignonne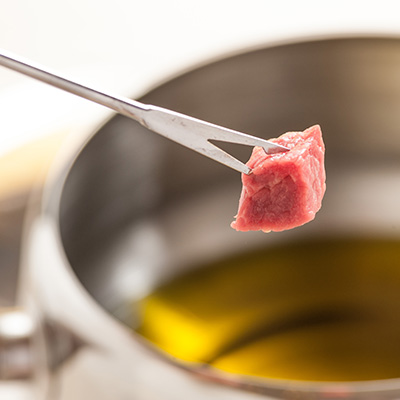 ---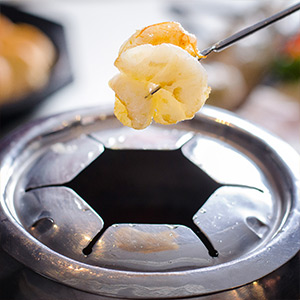 Fish and Seafood Fondue
The bounty of the sea takes centre stage in this delicious fondue where guests poach morsels of seafood in a savoury fish stock or broth. Dip in scallops, squid, scampi, firm fish cubes, shrimp, and any other seafood you can think of. Or simply asks guests what they like and personalize everyone's plate! Serve with rice, mayonnaise, and aioli sauce and a chilled bottle of fruity white wine.
Chinese Fondue
Bubbling over with fun and so simple to put together, Chinese Fondue frees you up so you can spend quality time with your guests—or your special Valentine! Everyone gets a plate, a soup bowl, and a sauce bowl. Then they choose their ingredients and quickly cook them up in chicken or beef broth. Grocery stores even have ready-made fondue broth you just need to heat up!
Choose anything from beef filet and sirloin to chicken breast and pork filet, and be sure to have it sliced thin. Some people like to wrap cubes of mozzarella or other cheeses with strips of meat for dipping into the broth. If you're a fan of Chinese fondue and have a meat slicer at home, watch for specials at your grocery store and buy whole cuts of meat. You can also buy prepared fondue meat from the freezer section.
Throw in some fresh shrimp, scallops, and vegetables like broccoli, peppers, mushrooms, and cauliflower.
Looking for a great way to cut down on waste? When you're done with your meal, keep the broth and use it later as a wonderful base for homemade soup. Just add chopped Chinese cabbage or spinach leaves and three lightly beaten eggs. Cook for a minute or two and enjoy! Serve with basmati rice and hot or cold sake.
---
Add Some Passion
If you're making your own fondue broth, rub the inside of the fondue pot with garlic or fresh ginger. Then fill with water and heat over the flame. When the water starts boiling, throw in your beef or chicken cubes, plus a handful of thyme and bay leaves.
---
Cheese Fondue
Cheese fondue is made in a stoneware pot with one or more fondue cheeses and a splash of white wine, then kept warm over a flame. If you're pressed for time, you can also find affordable Swiss fondue cheese mixes at your grocery store. Just add pieces of local cheese for a homemade flair!
To make your cheese fondue from scratch, be sure to pick hard or washed-rind cheeses. Try two or three different combinations: Comté and Beaufort for a Savoyarde twist, or Emmental, Gruyère, and Vacherin for a true Swiss fondue. You can even experiment with non-traditional cheeses like Gouda or Cantal. Better yet, cook up a Quebec fondue with Emmental de St-Benoit and Fritz Kaiser's Miranda. Or try Migneron de Charlevoix and Perron old cheddar with a splash of La Maudite beer.
Remove the rind and then coarsely grate your cheese. Rub garlic around the inside of your stoneware pot and place on the stovetop. Then add white wine or beer and cook on low until cheese melts, stirring constantly with a wooden spoon.
Place the fondue pot over a lit table burner to keep it warm while you eat. Vary your flavours by adding a splash of Kirsch, some grated nutmeg, and a dash of salt and pepper.
Serve with bowls of bite-sized cubes of crusty bread, grapes, dried fruit, and nuts like almonds and pistachios. If your guests are really hungry, you can also cut up some country ham. Serve your feast with a bottle of chilled white wine.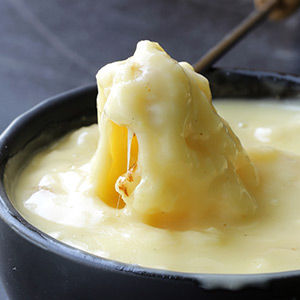 ---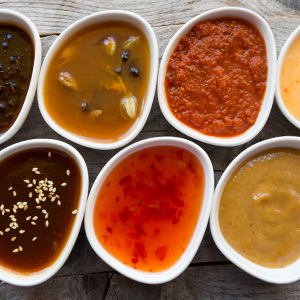 The Secret's in the Sauce!
You can create a whole variety of different sauces using homemade or store-bought mayonnaise. Just add tasty extras like capers or curry:
Rosé sauce: Add ketchup, 1 tbsp. vodka, a squirt of lemon juice, and some chopped shallots to mayonnaise and stir well.
Fine herb sauce: Chop fresh parsley, tarragon, and basil and add to mayonnaise along with a bit of lemon zest.
Dijonnaise sauce: Stir in some Dijon mustard and a drizzle of honey.
Red sauce: Mix mayo with 1 tbsp. of sun-dried tomato pesto, a chopped garlic clove and some lemon juice.
Royale sauce: Mix ketchup with equal amounts of sunflower oil, sesame oil, sugar, vinegar, and soy sauce.
You can also find ready-made fondue sauces at your grocer.
---