Smoking, Salting and Marinating
​

Salmon, sturgeon, trout, mackerel, cod, sometimes even scallops and shrimp, everyone loves smoked seafood! Served with capers, a splash of lemon juice or a horseradish mayonnaise, they turn any meal into a feast.
---
Smoking Fish
The art of smoking is very old. In olden days, fish was smoked to prolong their storage life. Nowadays, we smoke fish to enhance their flavour. Smoked fish is now just as perishable as fresh fish.
Cold-Smoking, Hot-Smoking
The hot-smoked fish is cooked completely from exposure to the dense smoke of smouldering sawdust, wood chips or wood peat.
The cold-smoked fish is simply hung in a smoke-filled area, away from the source of the smoke, allowing it to cool before it reaches the fish. Because the smoked fish found on the market today are salted dry prior to smoking, they can be eaten as is, requiring no further cooking.
---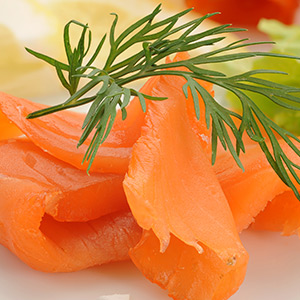 Smoked salmon
Frittata: Add strips of smoked salmon, goat cheese, and dill sprigs.
Bagel marin: On a toasted bagel half, assemble a layer of cream cheese, scrambled eggs, smoked salmon slices, some capers and finely diced red onions.
---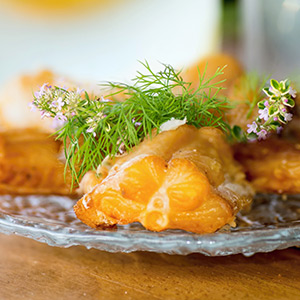 Smoked cod
Serve with scrambled eggs, some shallots and garnish with a dab of sour cream and lumpfish roe.
Crisp cod appetizers: Seaweed rice crackers, topped with yoghurt and sour cream sauce, a small arugula leaf and chopped cod.
Smoked cod croquettes: Mix small pieces of smoked cod, chopped shallots, powdered anise, breadcrumbs to bind, and a beaten egg. Shape into small patties and grill each side a few minutes. Serve with sauce of mascarpone mixed with a little cream.
---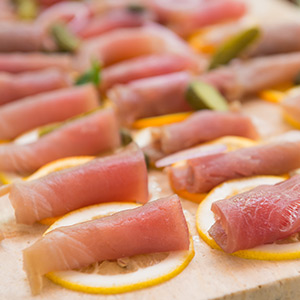 Smoked tuna
Florentine spread: On a slice of toasted home-style bread, layer cream cheese mixed with chives, some blanched spinach leaves, a fried sunny-side up egg and chopped smoked tuna.
Sesame salad and smoked tuna: Mix into mesclun lettuce some chopped smoked tuna, crisp Asian noodles, thinly sliced strips of red and yellow bell peppers, and sprinkle with toasted sesame oil vinaigrette.
Fish carpaccio: Finely chop smoked tuna, red onions and capers. Sprinkle with lemon juice. Serve in spoons on endive leaves.
---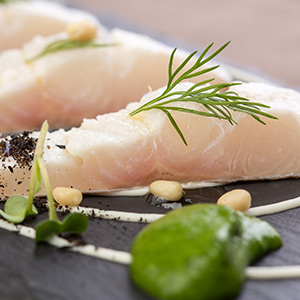 Smoked halibut
Rolled buckwheat crêpes: Filled with cream cheese, blanched asparagus tips, some lumpfish roe and sliced smoked halibut.
Warm béarnaise salad with smoked halibut: On mesclun lettuce, place poached eggs and slices of smoked halibut. Pour over dilled béarnaise-style vinaigrette.
---
Salting Fish
Of all salt fish, it is salt cod that is universally known. The Provençal "brandade", the Caribbean accras, salt cod fritters and the Portugese baccalao immediately come to mind. For centuries, salt cod was a staple food because it kept so long.
Before cooking, salted fish must be desalted by soaking in water to rehydrate and bring back its texture.
De-salting Fish
If the fish is dry, brush thoroughly under running water.
Place in a colander, skin side up (if still on) to ensure that salt does not accumulate between the skin and the flesh.
Place colander in a large container of water, the salt will fall to the bottom of the container.
Let soak between 12 and 24 hours, changing the water three to four times.
Drain. Transfer fish into a casserole filled with cold water.
Bring to a boil and let simmer for 20 minutes.
Gently separate the flesh from the skin and, if required, the bones.
---
Marinating Fish
Herring rollmops, marinated abalone or mussels… Fish and shellfish lend themselves particularly well to the endless possibilities marinades provide. Though most marinated fish on the marked are precooked, it is also possible to enjoy some that are simply "cured" in an acidulated liquid. Think only of salmon gravlax and scallop ceviche...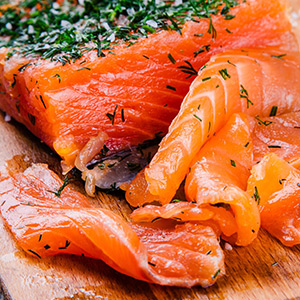 Gravlax
Take two thick salmon fillets with skin attached.
Mix enough coarse sea salt and brown sugar (5 parts salt to 4 parts sugar) to cover the fillets. Add a generous amount of coarse black pepper.
Lay the first fillet skin side down in a plastic container just big enough to hold the fillet.
Spread the salt-sugar-pepper mixture on the fillet.
Cover with fresh minced dill.
Place second fillet, skin side up, over the first fillet, the thick part of each at opposite nds.
Cover with plastic wrap.
Press down entire surface with weights (canned foods or foil-wrapped brick).
Refrigerate for 18 hours
Turn "sandwiched" fillets over without disturbing their face-to-face position and refrigerate another 18 hours.
Rinse the fillets thoroughly and let dry in refrigerator.
Serve the gravlax in fine slices with a sprinkle of lemon juice or with horseradish mayonnaise.
---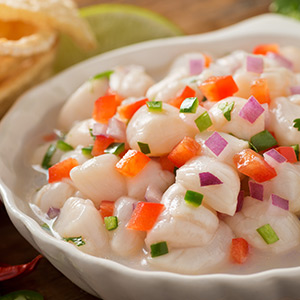 Scallop Ceviche
Clean and pat dry a few scallops.
Transfer scallops into a bowl, add one minced clove of garlic, and squeeze in enough lime juice with a little lemon to cover.
Macerate for at least two hours in the refrigerator.
Drain scallops.
Serve in a salad or simply sprinkled with fresh minced coriander, a drizzle of aromatic olive oil and a few drops of lime juice.
---
---