Crab - Delicious Crustacean

Tips, recipes, and discoveries: find out everything you need to know about this delicious crustacean.
---
Snow crab
The vast majority of crab harvested in Quebec is snow crab which is also known as queen crab.
One of 4,000 species of crab, the snow crab lives in the deep cold waters of the North Atlantic. These conditions have a definite effect on the quality of the crab meat which is unique.
---
Triple the pleasure with our three species of crab
Metro offers you three tasty species of crab: common crab, snow crab and king crab. Each offers its own unique taste and texture for you to discover. Cooked and frozen crab are available year-round. Live and fresh-cooked crab, however, are only available in April and May – so be sure not to miss them!
Species
Flesh
Shell
Legs/claws
Type of cooking
Snow crab
Chionoecetes opilio
White soft and tasty
Round and hard with a brown-pink colour
Very long, flattened legs
Steamed, boiled or grilled
---
How to cook
For live crab
1
Prepare 4 litres (16 cups) of water and 60 mL (1/4 cup) of coarse salt for cooking.
2
Bring water to a boil, add crab. Cook for 12 minutes.
3
Cool the crab immediately in cold water with ice.
4
Separate the legs from the body.
5
Clean the sections using a knife.
6
Clean the flesh with cold water.
For fresh-cooked crab legs
Enjoy as is or reheat using oven or steam.
For crab legs already cooked and frozen
Wrap legs in foil and reheat in oven at 180°F (350°C) for 10 minutes. Or, steam legs for approximately 6 minutes.
---
An ocean of ideas for cooking crab
Thai
Serve with rice vermicelli, ginger and soy sauce.
Au gratin
Cover with béchamel sauce and cheese and bake.
Niçoise salad
Substitute the tuna for crab meat.
Stuffed
Stuff tomatoes or peppers.
Crab cakes
Mix with the vegetables of your choice then bread.
Dip or spread
Serve with fruit, veggies or crackers.
Quiche
Mix with eggs, gruyere and French shallots.
Seafood soup
Mix with various seafood.
Paëlla
Serve over rice with other ingredients.
Poached crab in court bouillon
4 litres (16 cups) water
Carrots
Celery
Sliced onions
1 lemon, juiced
30mL (2 tbsp) white vinegar
1 bay leaf
Salt and pepper
Dried thyme
Bring to a boil, then simmer 20 minutes. Bring to a boil again and add live crabs.
---
Rich in taste
With its thin flesh and high nutritional value, snow crab is a food of choice for a healthy diet. So go ahead and eat it more often!
Keeping crab
Crab, uncooked: 2 days
Crab, cooked in sections: 4 days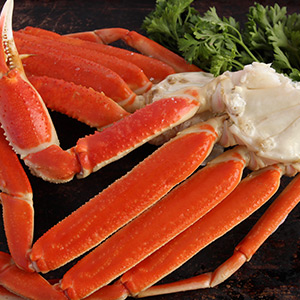 ---
Delicious Crab Recipes
---