Salmon Fest

Fill up on omega-3!
Omega-3 fatty acids are essential for brain development. They also help reduce blood cholesterol. Eating salmon is smart!
---
​
Taste the goodness!
Good for your heart, good for your health and great tasting... Salmon is oh so good!
---
Good any way you cook it!
Here are tons of ways to rediscover the great taste of salmon. These quick, practical and delicious meals are part of our large selection of recipes. For perfectly cooked salmon, count about 10 minutes of cooking time per inch (or 2.5 cm) of thickness.
---
​
Stuffed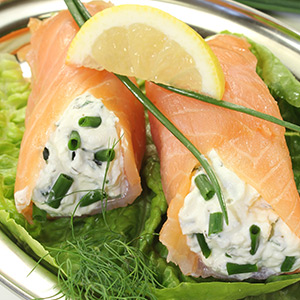 Pavé
Brie and cranberry
Brie, mango and papaya
Brie, strawberry and cantaloupe
Apple and Brie
Roast or tournedos
Shrimp and vegetable
Vegetable
To cook
Preheat an oiled frying-pan over medium-high heat
Preheat oven to 190°C (375°F)
Sear the stuffed salmon on both sides
Place the salmon on a pre-oiled baking sheet
Continue baking in the oven
---
Plain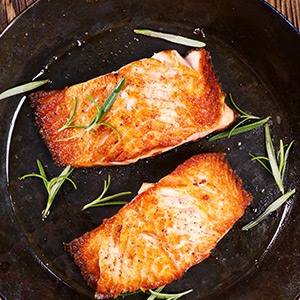 To Cook
Pour white wine, vegetable broth or court-bouillon into a casserole or a frying-pan
The liquid should half-cover the salmon
Bring the liquid to a boil
Poach the salmon over medium-high heat
Turn over halfway through cooking
---
Seasoned
Maple, pepper and chipotle
Orange cranberry
To Cook
Preheat oven to 190°C (375°F)
Place the salmon on a baking sheet lined with parchment paper
Bake uncovered
---
Marinated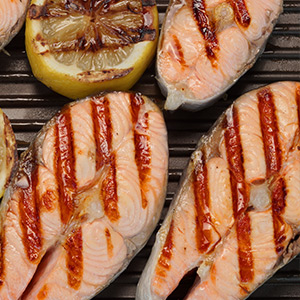 Dijonnaise
To Cook
Preheat a frying-pan over medium-high heat
Drain the salmon to remove excess oil
Sear one side, turn and continue cooking
---
​
Glazed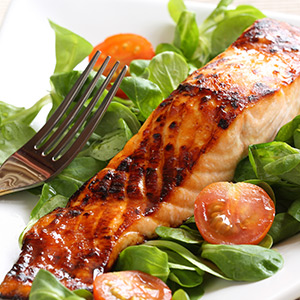 To Cook
Preheat oven to 190°C (375°F)
Place the salmon on a baking sheet lined with parchment paper
Bake uncovered
---
​
Sausage
Tomato and basil
Chive and parsley
To Cook
Boil in water for 5 minutes
Frying-pan: Brown for 5 minutes over medium heat
Oven: Preheat to 190°C (375°F) Bake uncovered for 15-17 minutes
---
Try these delicious recipes
---