5 Takes on Fish and Chips
​

Fish and chips is a real Irish pub favourite. Want a new spin on the classic recipe? Try these five variations on fish, batter, fries and sauces—there's something for every taste!
---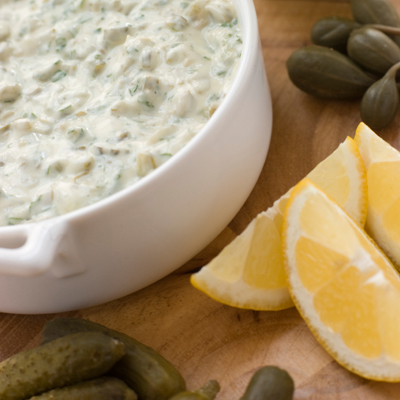 1Traditional
Fish
The classic fish and chips recipe calls for cod. Its firm white flesh flakes easily, making it the most commonly used fish in this dish. For best results, choose fillets that are 2 to 3 cm thick.
Batter
The typical Irish method is to coat the fish with a beer batter. Ale is ideal as it subtly enhances the flavour of the batter and gives it a nice golden colour when fried. For a smooth texture, pour the liquid mixture into the flour slowly to avoid clumping.
Sauce
Malt vinegar is an essential condiment for traditional fish and chips. As an alternative, make tartar sauce with a dash of fresh dill.
Fries
Russet potatoes are higher in starch than other varieties and make the perfect light and crispy fries. For best results, soak cut potatoes in cold water for 30 minutes, fry once, and let sit for 10 minutes. Then increase the heat of your oil and fry a second time.
Beer
Nothing pairs better with this traditional fish and chips dish than a pint of Irish or British beer!
Expert Tip
For crispy golden breading, gently drop the battered fish in a deep fryer with oil heated to 365° F (185° C). Shake the deep fryer basket to prevent the fish from sticking to it. Cook for about 5 minutes. Remove and let sit on paper towels to absorb the excess oil.
---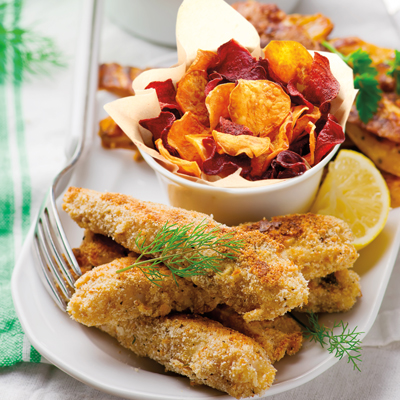 2Spicy
Fish
For fish and chips with a little more kick, opt for fresh and flaky haddock. It will balance out the spicy flavours of your dish. In a large airtight bag, combine flour and spicy seasonings, such as chili powder and cayenne pepper. Pat dry the fish fillets with a paper towel then shake them in the flour mixture bag until well coated.
Batter
It's time for a batter with a little kick! Add spicy liquid seasoning like hot sauce to your batter, as powdered spices may burn and darken during frying.
Sauce
Mix tomato paste with a spicy condiment, such as harissa, sambal oelek or sriracha. Sensitive taste buds beware!
Fries
Why not try baked or deep fried thinly sliced potatoes? Add spices if you like, but remember that potato rounds can scoop up more dipping sauce or spicy salsa than traditional stick fries. A great bet for big hot sauce fans!
Beer
The refreshing lightness of a white beer is the perfect counterbalance to extra-spicy fish and chips.
---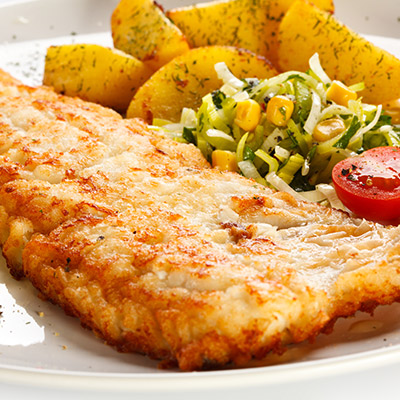 3Healthy
Fish
Sole, the ultimate lean fish with less than 2% fat, is also rich in vitamins and minerals. Renowned for its tender flesh, it makes fish and chips an ideal weekday meal.
Batter
Dip your fish fillets in beaten egg yolks, then coat in a breadcrumb mixture made from wheat germ and fine herbs. Fry directly in a pan with a little olive oil. Fast, nutritious and delicious!
Sauce
Prepare your very own homemade mayonnaise with olive oil or a dipping sauce with plain Greek yogurt and fresh herbs.
Fries
Sweet potatoes, known for their unique sweetness, have greater nutritional value than other potatoes. For great tasting fries, cut sweet potatoes into sticks, toss in olive oil and herbs, and bake in the oven.
Beer
Opt for a light, alcohol-free or gluten-free beer for some guilt-free pleasure!
---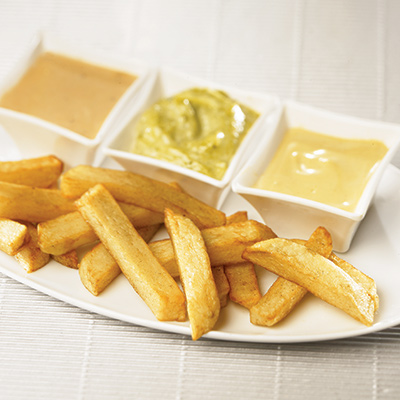 4Gourmet
Fish
Mahi mahi is a lean fish with a delicate sweet taste. It has a firm but fragile texture and should be cooked quickly to keep it from falling apart. Enjoy a real gourmet take on fish and chips!
Batter
Want to impress your dinner guests with decadent fish and chips? Add an extra egg yolk to the batter for even more flavour. To give the breading a wonderful airy texture, beat egg whites until they form stiff peaks and fold into the batter.
Sauce
For a rich and creamy, totally irresistible option, serve your fried fish with a hot cheese sauce. Just mix a creamy Italian cheese like Asiago with mayonnaise, sour cream, finely chopped green onions, cream cheese and sun-dried tomatoes. Finger-licking good!
Fries
Yukon Gold potatoes, with their high starch content, are the key to success when you're making crispy fries. Cut into strips of equal size and bake in the oven in duck fat. Sprinkle with grated Parmesan or Pecorino cheese before serving. Delicious!
Beer
To elevate your fish and chips a notch, serve with a red ale. The bitterness will contrast with and cut through the fatty flavours of the dish.
Expert Tip
As with all fish, don't forget to salt your fillets and coat them in seasoned flour before dipping them in batter. Your breading will be thicker and crispier as a result.
5Bold
Fish
Swordfish is less flaky than traditional white fish used in fish and chips recipes. The result is a firmer fillet. In fact, its texture is closer to that of a steak. A unique choice that will appeal to foodies and the more adventurous!
Batter
Replace the traditional ale in your batter with a black beer (stout) or red ale. The batter will be darker and have a denser flavour. Your guests will be asking for your secret!
Sauce
A blue cheese sauce makes for a surprising yet harmonious pairing with fish. Just mix your favourite blue cheese with mayonnaise, sour cream, parsley and lemon juice.
Fries
Instead of potatoes, make fries with a mix of root vegetables like parsnips, beets or celery root... just peel and julienne. Fry in hot oil and cook until browned, about 3 minutes.
Beer
Try a fruit-flavoured beer. The sweet accents will calm the saltiness of the fries and blue cheese.
---
---