St. Patrick's Day the Healthy Way
Green up your diet on March 17th, and not just with green beer! Check out other healthy green dishes.
---
​
Top 10 foods to add green to your diet
Green food doesn't automatically sound very appealing. Thinking of green eggs and ham? Stop! There are tons of delicious and nutritious green foods available at your supermarket, which are particularly helpful when celebrating a day of all things green! Mega bonus: these foods are filled with health-building vitamins, minerals and antioxidants.
Try eating these more often for a big health boost:
1 Green apples
2 Avocado
3 Spinach
4 Kale
5 Brussels sprouts
6 Cucumber
7 Broccoli
8 Green bell peppers
9 Snap peas
10 Grapes
---
Lightened up Irish lamb stew
When you think of Irish food, traditional lamb stew is likely top of mind. Like many cold-weather warmers, this dish is full of rich and heavy ingredients which can sometimes leave you feeling weighed down. Here are some ways to lighten up a rich, meaty stew without sacrificing delicious traditional flavour.
Trim the excess fat off the meat and cut it into bite-size chunks.
Try to use less meat than the recipe calls for, for a lighter, more vegetable-based dish.
Load it up with veggies (fresh or frozen) like peas, carrots, mushrooms, celery and onions. They are low in calories but rich in filling (and cholesterol-lowering) fibre.
Skip the bacon, or use very little as a garnish.
Don't be shy about using potatoes - they're loaded with fibre heart healthy and potassium.
Avoid using excessive amounts of oil or butter in your recipe.
Opt for a reduced- or no-sodium broth.
Look for slow-cooker recipes to save you time and add depth of flavour.
---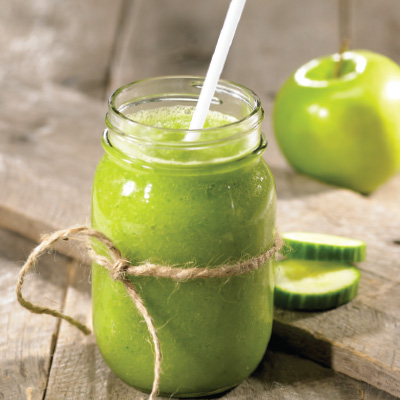 Drink your greens
You may have indulged in a green beverage or two in the past, but this year it's time to turn over a new leaf! Try making a delicious, nutrient-rich green smoothie for a quick and easy way to drink your vegetables (and some fruit too!)
Throw the following into a blender with a little water and presto, you've got a tasty smoothie that will make your friends green with envy:
Banana
Strawberry
Whey protein
Kale
Chia or hemp seeds
---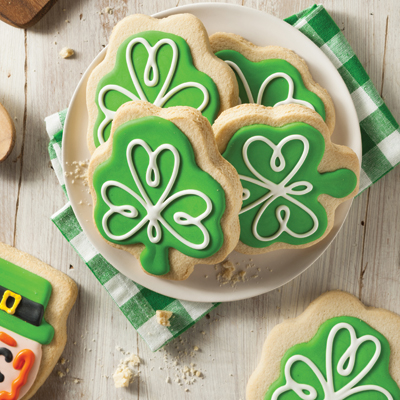 Healthy green party snacks
It seems like every time you're feeling great and eating well, another party pops up in your calendar. Not to worry. Try bringing any of these healthy green snacks to your St. Patty's day party and wow the host with your beautiful presentation and delicious flavours.
Here are a few to try:
A huge green salad with a mix of arugula, spinach and baby kale, topped with green goddess dressing.
Spinach dip made with lots of chopped fresh spinach and Greek yogurt.
Zesty guacamole with fresh lime juice.
Veggie platter with different shades of green, including celery, broccoli, green peppers, snap peas, cucumber.
Avocado deviled eggs (skip the mayo and use avocado instead).
Low-sodium baked nacho chips with melted cheese decorated with green olives, jalapeno peppers and chopped green onions.
For dessert, pistachio pudding mix and whipped cream with fresh strawberries.
These are fun snacks that any party-goer will enjoy, and no one has to know that they have a healthy twist to them.
---
Holiday indulgence on St. Patrick's Day
Eating well most days of the week is a great way to stay on track for a healthy lifestyle. But, being balanced doesn't mean being strict or avoiding all things delicious! A healthy mind and body go hand in hand. Don't avoid all the St. Patrick's day snacks at work or at the pub! Have a taste, really enjoy what you're eating and be present in the moment. Know that a little treat (not a whole pile!) could do some good if it keeps you well-balanced. Deprivation diets are destined to fail.
---
Green treats and fun for the kids
If your kids have some St. Patrick's day celebrations at school, you might find yourself struggling to find ideas for kid-friendly green treats. Certainly, there are lots of green foods out there, ranging from less healthy (candies) to super-healthy but not the most kid friendly (kale chips, anyone?). Here's a fun treats you can make with your kids without having a guilty conscience: Green fruit skewers. Alternate kiwi, green grapes, green apple chunks and honeydew on skewers.
---
Lightened up Shepherd's pie
Hearty, warm and filling, Shepherd's pie is a favourite among many. There are plenty of ways to lighten up this heavy staple to serve it as a healthy weeknight recipe or a St. Patrick's Day special.
Here's how:
Choose extra lean ground beef, turkey or chicken.
Fill it with lots of veggies like carrots, mushrooms, peas and cauliflower.
Use low-fat milk instead of cream or butter in your mashed potatoes.
Choose low- or no-sodium broth.
---
Healthy bite
Don't feel guilty about treating yourself on special occasions; a healthy mind and body go hand in hand.
Green fruit and veggies are some of the most nutrient-dense foods you can eat.
---