Lobster

Find out the meaning of the various terms applied to lobster.
---
Shell:
The rigid shell covering the body, measured from the behind the orbit of the eye to the end of the tail to establish its legal size.
Girdling:
Encircling the live lobster's claws with a flexible band to ensure safe handling and quality.
Heat canning:
Hermetically sterilized canned lobster for long storage.
Cold canning:
Lobster meat vacu-packed in a metal container and frozen, but non-hermetically sterilized. This product must be kept frozen.
Coral:
Orange roe of the female lobster.
Deuces:
Lobster weighing 900 to 1,135 grams (2 to 2.5 pounds).
Liver:
The green-coloured digestive organ of the lobster used to flavour dips and sauces.
Hard-shell or rock-lobster:
Lobster in which the new shell has completely hardened. At this stage, there is 50 to 60% more meat than in the soft-shell lobster.
Canning lobster:
Small lobster weighing 170 to 454 grams (½ to 1 pound).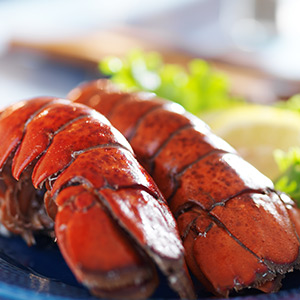 ---
​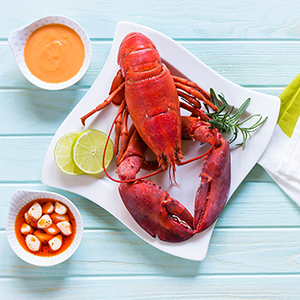 Soft-shell lobster:
Lobster having recently moulted. At this stage, there is little flesh and the texture and taste are not as nice.
Table lobster:
Lobster weighing 454 g or more, generally sold live.
Popsicle pack lobster:
Whole frozen lobster, or lobster packaged in brine in a cellophane bag and frozen.
Cull:
Lobster with only one or no claw, generally sold cheaper.
Medium:
Lobster weighing 570 to 680 g (1.25 to1.5 pounds).
Small:
Lobster weighing 454 to 500 g (1 to 1 1/8 pounds).
Crushing claw:
The larger of the two claws.
Cutting claq:
The smaller of the two claws.
Lobster tank:
A water tank used to store live lobster.
---
Recipes to try
---
You Might Be Interested In...
---