Delicious Food Pairings

Foods that taste better when paired together
Pique your culinary palate with these simple food matches that make both ingredients taste better together. Try new flavour combinations with these helpful suggestions.
---
10 Ways to Top Whole Grain Crackers
As an afternoon snack, crackers offer a blank canvas that's begging for creativity. You can make them sweet, savoury, spicy or a mix of these tastes depending on your mood.
Here are 10 fun ways to dress up a plain whole grain cracker:
Bruschetta tomato mix and Parmesan cheese

Hummus and black olives

Colby cheese and apple

Bocconcini, tomato and basil

Guacamole and coriander

Spicy salsa and shredded Monterey Jack cheese

Smoked salmon and dill

Goat cheese and fig jam

Brie and pear

Spicy black bean spread
You can have fun with different crackers too! Try whole grain oat cakes, brown rice crisps, long rye wafers, or newer crackers made out of blends of legumes and seeds.
---
Pair whole grain wheat with tomatoes and cheese
Okay, this one is an easy pairing, because we've all had spaghetti with tomato sauce, pizza on whole wheat crust, or a cheese and tomato sandwich on a grainy baguette. But it bears mentioning because it is such a wonderful combination. Health bonus: the whole grain wheat contains inulin, which helps the body absorb calcium from the cheese. And lycopene, an antioxidant in tomatoes, requires fat from these cheese in order to be utilized. Tasty and functional!
---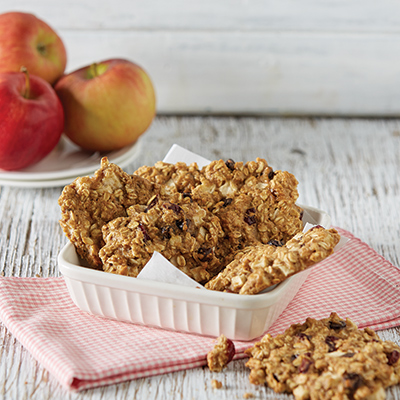 Pair oats, apples and raisins
Oats are a whole grain, and they are commonly used to make granola, oatmeal and baked goods such as cookies and baked fruit crisps. The earthiness of oats pairs so well with the subtle tart-sweetness of apples, and the dense sweetness of raisins. Think about how well they work together in these classic pairings:
Apple cinnamon raisin granola
Hot oatmeal with shredded apples and raisins
Oatmeal raisin cookies
Apple crisp topped with crunchy baked oats
Try oats and apples in these Invigorating apple and cranberry biscuits
---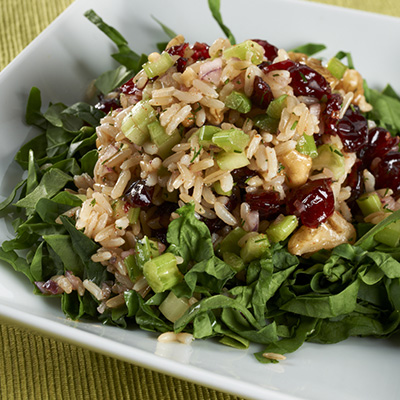 Pair wild rice and citrus
Technically a grass and not a grain, wild rice is native to Canada and grows right here in Ontario. The only grain native to North America, wild rice originated in the area of the upper Great Lakes in what is now both the U.S. and Canada.
Wild rice has characteristic silky, long, black strands are so interesting and unusual to find on the plate. You can use them as a traditional wild rice pilaf, combine them with other rice for a multi-coloured medley, use them in stuffing, or add them to a casserole.
If you are making a wild rice salad, it pairs nicely with citrus flavours, especially orange. The dark color, and earthy-nutty flavor of wild rice contrasts perfectly with the tangy, juicy and colorful citrus fruit. Try this: section oranges or grapefruits and toss with cooked and cooled wild rice, then add a vinaigrette and fresh mint for an innovative side dish.
Wild rice is slightly higher in protein than most other whole grains, and is a good source of fibre, B-vitamins, magnesium, and zinc. It's missing vitamin C, but that's why you pair it with oranges!
Try this Brown and wild rice walnut and dried cranberry salad
---
Pair breakfast cereals and berries
Whole grain breakfast cereals are the quickest breakfast around. Add some milk and fruit, and you've got a well-balanced breakfast and a healthy way to start the day. Since the multi-coloured cereals are often high in sugar and artificial colour, you can skip them in favour of something beige. But ho-hum, a beige bowl? That's where berries come into play! Add raspberries, blueberries, strawberries and green grapes for a rainbow morning…without the marshmallow bits!
Pair buckwheat noodles with broccoli and red peppers
Buckwheat noodles, also known as soba, contain a compound called rutin, which is an antioxidant. Broccoli and red peppers contain vitamin C, another common antioxidant. Studies have found that vitamin C and rutin can work in tandem to help halt the oxidation of "bad" LDL cholesterol, so they are less likely to be deposited as plaque in artery walls. For an easy dish, pair soba noodles with stir-fried chicken, broccoli and peppers.
---
Pair bulgur with cucumber and parsley
Bulgur is a nutritious, whole grain cracked wheat product, which is made from whole wheat groats that have been cooked, dried and cracked. Because it is pre-cooked, preparing it is simply a matter of rehydrating it, which takes about five minutes. Pair it with cucumber, tomatoes and parsley to make the traditional fish tabouli. Bulgur is high in fibre, B-vitamins and iron.
---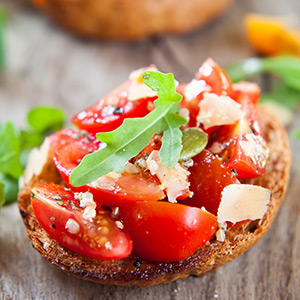 Healthy bite
Pair quinoa with sweet potato for a nutrient-dense salad.
Pair brown rice with red beans for a perfect protein pairing, and add broccoli for colour and pizzazz.
---