Chocolate—from starters to dessert!

Whether sweet or bitter, chocolate is an essential part of any decadent Valentine's Day. Want to surprise your loved ones with something different? Here are some tips for cooking with cocoa and making your chocolate creations unique—from starters all the way to dessert.
---
So Many Ways to Enjoy Chocolate
There's nothing better than a meal made with love. The trick is to cook up a chocolate dish that your partner won't be able to resist!
Think savoury: Chocolate can add colour to a sauce or extra body to a dish. Try making Cocoa Chicken with a drizzle of cocoa-cinnamon coulis—a plate that's sure to please! Want to kick it up a notch? Go for the Magret of Duck with Cocoa Sauce, served with a side of potatoes. Compliments guaranteed!
Then think sweet: Chocolate blends best with coffee, orange, red fruit, and certain liqueurs. Set the scene for seduction with a glass of liqueur topped with chocolate-covered pistachios and almonds. Need another idea? Serve coffee with a dash of chocolate syrup, cinnamon, nutmeg, and citrus peel. Simply enchanting!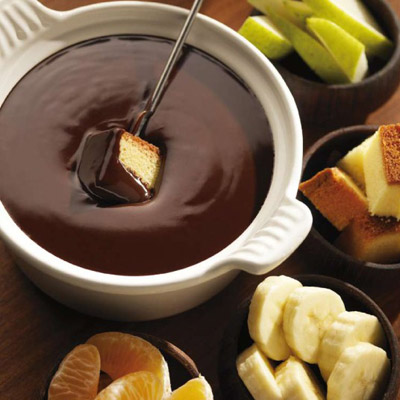 ---
A Chocolate Lover's Dream
The traditional Valentine's Day gift is not only delicious, but also full of healthy benefits. To enjoy it to the fullest, connoisseurs opt for chocolate that contains at least 70% cocoa. The higher the cocoa content, the more nutritious the chocolate. Like all treats, though, chocolate is best enjoyed in moderation, as it is also high in fat and calories.
---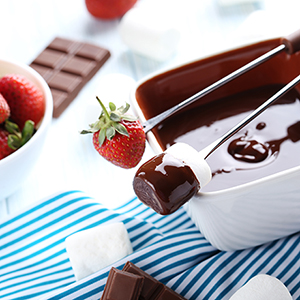 Melt with Pleasure... with a Chocolate Fondue!
There's just something special about gathering round a bubbling pot of chocolate fondue. Start by choosing your chocolate—superior quality, pure, milk, white, or even one with hazelnuts (like a big bar of Toblerone). Once the chocolate is melted, thin it out with a little cream.
For something truly special, give each of your guests a bowl so they can make their own chocolate mix from ingredients you've put on the table: Espelette pepper, pistachios, cinnamon, nutmeg, hazelnuts, caramel squares, lavender, Cayenne pepper, Chai spices, crushed almonds, and more. The possibilities are endless!
You can get even more creative with your fondue by throwing in some peanut-butter chips—perfect with pretzels! People can share their creations so you'll have lots of flavours to choose from. Then dip in pieces of sturdy fruit and cake that won't fall apart in the fondue. The more adventuresome can also try marshmallows, donut pieces, or churros. Add a healthy twist with exotic fruit like star fruit, dragon fruit, and blood orange. Plus kids will love double dipping by rolling their chocolate-coated fruit in crushed candy, coconut flakes, or caramel pieces. Have fun!
---
You Make Me Melt!
Just like love, chocolate must be treated with care. Be sure to melt your fondue chocolate in a double boiler or, if you prefer, in the microwave. Remember to heat no more that 30 seconds at a time, and stir in between.
---
Chocolate Recipes
---