Grilling Meat

The first barbecue after the winter is an exciting tradition. Make it memorable by choosing the right cuts, prepping with care, and grilling like a pro.
---
Choose quality meat
The easiest way to get the best results with a barbecue is to use high quality meat. The better the beef, the less you have to do with it.
Exclusive to Metro, Platinum Grill Angus beef is internationally renowned for its exceptional quality. This Triple A (AAA) grade 100% Canadian beef is perfectly marbled for rich flavour and tenderness.
Only the best
The excellence of Platinum Grill beef can be attributed to our high standards. Judged by strict criteria for breeding, and marbling, texture, colour and ageing of the meat, only beef from the best Angus cattle is selected to receive the Platinum Grill seal.
Aged to perfection
As well as being meticulously selected, Platinum Grill Angus beef is carefully aged for 14 days. The term 'ageing' refers to the length of time the meat is kept under strictly controlled temperature and humidity levels. This allows natural enzymes to soften conjunctive tissue, enhancing quality by about 25%. Not only does this process dramatically increase tenderness, it also adds tons of flavour.
The Platinum Grill seal represents beef of the finest quality, cut to Metro's highest specifications.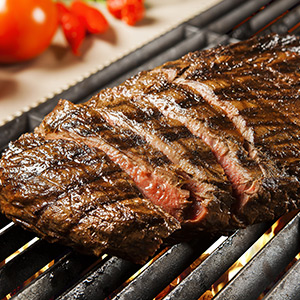 ---
Consider the cut
The cut of meat you choose should depend on the taste you prefer and how much time you are willing to dedicate to preparation.
More expensive cuts like beef tenderloin or rib-eye steaks just need seasoning and a few minutes on the grill for delicious results.
Flank or skirt steak, however, needs a good marinade and some time to tenderize before it hits the grill.
As a rule, boneless cuts take less time on the barbecue, but can overcook and dry out.
Meat on the bone, such as chicken breasts or pork chops, take longer to cook, but is usually more tender and flavourful.
---
Marinate for taste and texture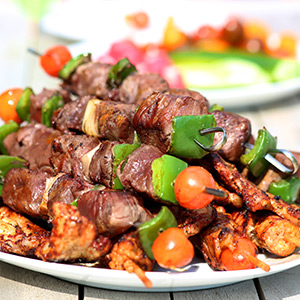 Marinating is the perfect way to give meat, poultry or fish taste and tenderness. Here's how to do it:
The secret is to combine 1 part acid (vinegar, lemon juice, wine, etc.) with 3 parts oil. Then add lots of good flavours, such as fresh herbs and garlic. The combinations are endless – have fun experimenting!
Make sure to marinate meat in non-reactive containers, such as sealable plastic bags, or glass or ceramic dishes.
There's a fine line between tender and mushy. Different items should be left in marinades for varying lengths of time.
---
| | |
| --- | --- |
| | Marinade Time |
| Shellfish, fish, kabobs & tender veggies | 15-30 minutes |
| Chicken breasts, pork tenderloin, thinner chops and steaks, sturdy veggies | 1-3 hours |
| Thicker boneless or bone-in meats, leg of lamb, whole chickens and beef roasts | 2-6 hours |
| Big, tough cuts such as ribs, hams, pork shoulders, turkeys | 6-12 hours |
---
Grill steak like a chef
Chefs prefer to grill steaks to a perfect medium rare. Here's how to do it:
Choose a steak between 1 and 1 ¼ inches thick. Trim any excess outside fat to avoid flare-ups.
Let the steak stand at room temperature for 20-30 minutes before grilling.
Five minutes before grilling, pat it dry, and lightly brush both sides with oil and salt and pepper.
Sear over direct high heat for 4 minutes. Make sure to close the barbecue lid during this time!
If flare-ups occur, move the steak to indirect heat for a few seconds, and then place back on direct heat.
Flip and cook until the steak reaches desired doneness (2-4 minutes more for medium-rare).
Let rest on cutting board for 3-5 minutes to allow the juices to ease back into place. Enjoy!
---
Internal temperatures for beef
63ºC ... 145ºF ... Medium rare
70ºC ... 160ºF ... Medium
77ºC ... 170ºF ... Well done
70ºC ... 160ºF ... Ground beef
---
​
Mouth-watering steak
Rib Steak with Chimichurri Sauce
The rib steak is a fantastic, tender cut of meat. In this simple recipe, we let the flavour and quality of the steak speak for itself. Served with a fresh and fragrant chimichurri, this is a dish that tastes like spring.
---
​