Delicious Ways to Cook Boneless Frozen Chicken Breasts

A freezer full of boneless frozen chicken breasts comes in really handy for weekly meal planning — you can build your dish so many ways around this versatile protein! From palate-pleasing marinades to thawing tips, here's everything you need to know about cooking with boneless frozen chicken breasts.
---
Preservation Period
Boneless frozen chicken breasts last up to 6 months in the freezer (or until the date shown on the packaging) and must be cooked within 24 hours after they thaw. However, if you thaw them in a microwave, they must be cooked in the shortest timeframe (the thawing is rarely uniform and they start to cook). Once cooked, the chicken breasts will keep 2 to 3 days in the refrigerator.
Thawing Techniques
The best way to thaw chicken breasts is in the refrigerator. It takes longer, but it's also safer in terms of wholesomeness. Leave the frozen breasts in their original packaging and put them in the refrigerator on a plate in order to collect the liquid that escapes. Allow about 5 hours per pound (about 10 hours per kilo). If you are a little more pressed for time, you can thaw the chicken breasts in their original packaging in regularly replaced cold water. Allow about 1 hour per pound (about 2 hours per kilo).
Microwave Thawing
If you want to thaw your breasts in the microwave, consult the instruction manual for your oven. If no information is supplied, remove the frozen breasts completely from their packaging, place them on a plate and cover them partially with waxed paper. Make sure the breasts are well separated from one another and turned several times so that thawing is uniform. Allow about 10 minutes per pound (15 to 20 minutes per par kilo).
Never thaw chicken breasts at room temperature because this promotes the growth of bacteria.
---
Cook to Perfection
If you use a meat thermometer to cook the chicken breasts, their internal temperature needs to reach at least 170°F (77°C). If you don't have a thermometer handy, make sure that the cooking juices that run off are clear.
Pan fried or sautéed
Boneless chicken breasts lend themselves marvelously to this rapid form of cooking. Vary the seasonings and marinades used and cook either whole or in sliced strips in butter or oil over high heat in a pan or wok. If you bread the chicken breasts, leave them in the refrigerator for 1 hour before cooking them to let the breading harden — you'll get better results when cooking!
Poached
Chicken breasts may also be poached in chicken broth. Once cooked, try them hot or let them cool completely and use them as a topping in a sandwich or salad. Poached stuffed chicken breasts make a tasty meal, too; simply open the breast in two, stuff it and close it with toothpicks or by tying it. You can also make an incision in the thicker part of the breast and fill the pocket with stuffing and close with toothpicks. Don't forget to save the cooking liquid from poached chicken breasts, which can be used as a base for a wide range of sauces and soups!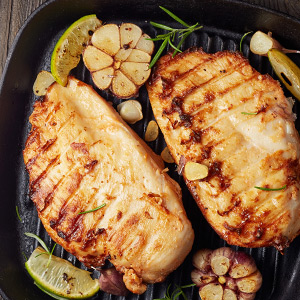 ---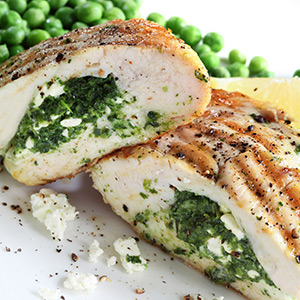 Grilled
Experiment with different marinades to bring out the flavour of grilled chicken breasts. Serve them whole or cut into cubes for kebabs, pita sandwiches and salads.
Braised
Chicken breasts whole or cut in pieces may also be braised in wine, beer or aromatized broth. This method of cooking lets you add an infinite assortment of other ingredients, such as colourful vegetables, to make a complete meal in a single casserole!
Marinades, Seasonings and Stuffings for Maximum Flavour
Prepare a marinade composed of fine herbs, spices, juice or wine. If you are in a hurry, just use a commercial dressing, such as Italian or sundried tomato. Let marinate at least two hours in the refrigerator for maximum flavour.
Cooking with Herbs
Fine herbs to use when cooking chicken are sage, basil, chervil, tarragon, coriander, Provence herbs, oregano and thyme. Some spices such as star anise, curry, nutmeg, paprika and ginger go extremely well with chicken.
Stuffing Ideas
For a stuffing, try chopped dried fruit, nuts, pesto, pitted olives, fresh goat cheese, slices of cooked ham, spinach or chutneys.
---
Recipes to try
---