Foie gras

Foie gras is the liver of a fattened, force-fed goose.
---
Characteristics
Foie gras is prepared and cooked with great care and is considered an exceptional gastronomic specialty. The term "foie gras" is strictly regulated in many countries. It is used to describe a ready-to-serve product that is made from at least 20% goose foie gras. If the product contains livers or other parts of animals, the product must be labelled "pâté," "terrine,"' or "galantine."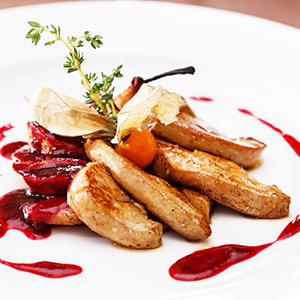 ---
Culinary tips and advice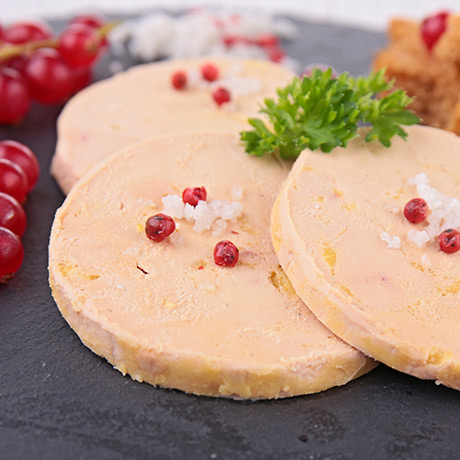 For perfect slices, run the knife under hot water between each slice. Eat with a fork or on toasted bread.
Raw foie gras is often sold sliced and vacuum-packed for longer storage life.
Expert Tip
For ready-to-serve foie gras, open the wrapping one hour before serving, leaving it in a cool area.
---
Recipe ideas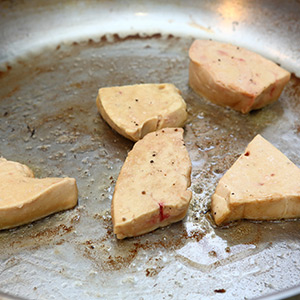 Foie gras mousses are very popular and enthusiasts drool at the thought of pan-fried foie gras deglazed with Port or drizzled with fig syrup.
Pan-fried foie gras
To prepare raw liver, remove the membrane, if there is one, before cutting.
Cut the liver in 1 cm (½ in) slices
Brown the liver in a little butter over high heat.
Cooking must be very quick—30 seconds to 1 minute on each side.
Remember to brown the liver… not melt it!
Remove from pan and set aside.
Deglaze the pan with alcohol such as port, cognac or Madeira, drizzle over the foie gras and serve.
---
Storage life
Foie gras can be purchased raw or ready-to-serve. It should be refrigerated at all times.
---
​
Recipes to try
---