5 Original Ideas to Enjoy Watermelon

In slices, in a cocktail or in a salad, love watermelon in all its forms. But so you don't lose any of watermelon's wonderful qualities, here are some mind-blowing ideas to try!
---
​
Watermelon and raspberry slush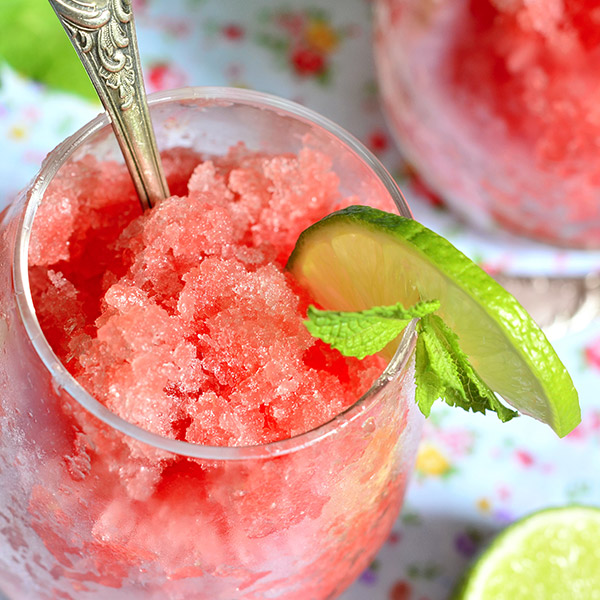 Directions:
Put pieces of watermelon (seeds removed) with strawberries and ice into a blender. Mix until you get a slushy texture. If necessary, add a touch of sugar. You can also add a few mint leaves and a bit of lime. Mix again and serve immediately.
Handy tips:
Since watermelon is full of water, you don't need to add a lot of ice cubes. Start with a ratio of about 1 cup for half a cup of fruit, then adjust according to the consistency you desire.
---
Layered grilled Watermelon and feta cheese
Directions:
Cut watermelon and feta into slices of the same size. Brush each side of the melon with olive oil and season with salt and cayenne pepper, to taste. Grill each side for about one minute on the BBQ. The melon should be marked but still firm. Next, place a piece of grilled watermelon on a plate, top with a piece of feta cheese and so on until a stack is formed. Garnish with arugula, fresh herbs like basil or chives, then top with rings of red onion. Top it with an olive oil and balsamic vinaigrette.
Handy tips:
To grill on the BBQ, it's ideal to use seedless watermelon. This is because you won't have to grill the fruit with small holes left by the seeds and risk flattening the melon.
---
Melon and prosciutto gazpacho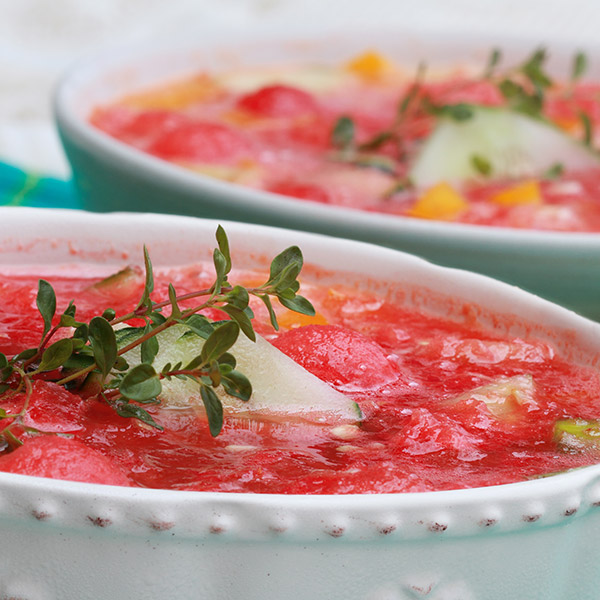 Directions:
In the blender, put cubes of seedless watermelon with tomatoes, cucumbers, red pepper, garlic, red onion, fresh herbs like mint, basil or cilantro. Add a bit of olive oil, lime or lemon juice, then season with salt and pepper. Mix till the texture is smooth and then place in a tightly sealed container and place in the fridge. While it sets, bake slices of prosciutto in the oven for 7-8 minutes or until they're browned and crunchy. Cut them up into small pieces and garnish the gazpacho when it's done.
Handy tips:
To avoid the garlic and red onion overpowering the other flavours, add each in small amounts until you reach the desired taste.
---
Watermelon, prosciutto and mozzarella tapas
Directions:
Cut the watermelon into cubes and sprinkle with paprika, cayenne pepper or chili powder. Cut the mozzarella into cubes of a similar size. On a toothpick, put a piece of watermelon, a small slice of prosciutto and a reduction of balsamic vinegar. Make a reduction by bringing the vinegar to a boil in a small nonstick pan. Once boiling, reduce heat to medium and simmer for a few minutes until the vinegar has thickened and reduced by half. Allow it to cool, then pour it over your hors d'oeuvres before serving.
Handy tips:
For perfect tapas ensure that the pieces of watermelon and mozzarella aren't too big. Too much of a mouthful and you'll miss all the flavours.
---
Morrocan salad with watermelon, mint, cucumbers and pistachios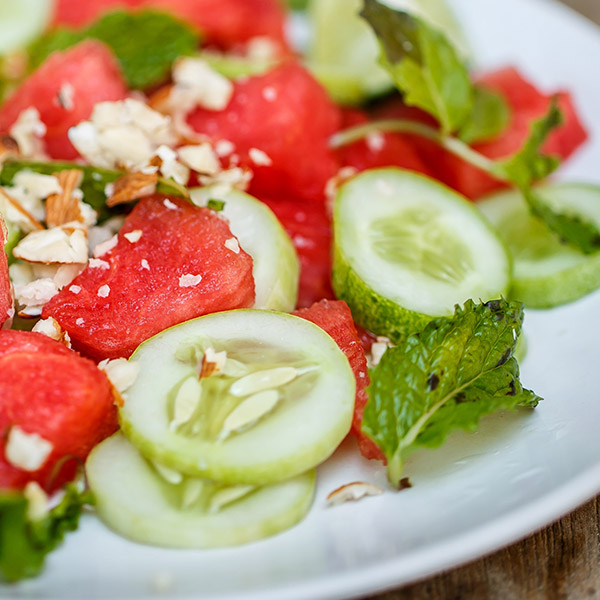 Directions:
Cut the melon and cucumbers into pieces and mince red onion into fine slices. Put the ingredients into a large salad bowl. Add an olive oil vinaigrette made with white wine vinegar and Moroccan spices like cumin, cinnamon and ground coriander. Garnish with mint leaves, fresh parsley and coarsely chopped pistachios. For a dish that stays consistent with our morrocan theme, include some couscous, cooked chickpeas or slices of toasted pita bread.
Handy tips:
To avoid getting a soggy salad, add the melon right before you serve it.
---
Tasty pairings
---
Even more for you

​