Eat more chickpeas

With an abundance of fibre and iron, these popular legumes are delicious in soups, spreads and mixed dishes.
---
Top 5 ways to use chickpeas more often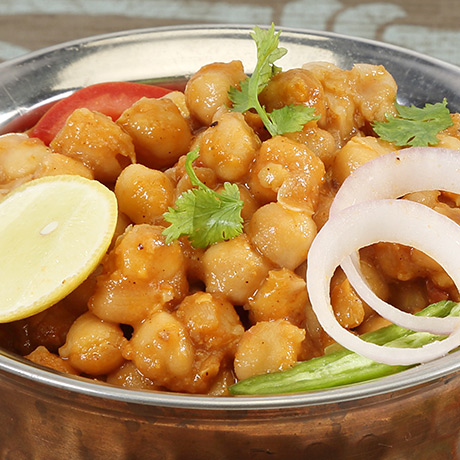 1On top of salads
Add a hit of protein to your leafy greens by topping your salad with a half-cup of chickpeas.
2In chana masala
This flavourful Indian vegetarian dish combines tomato, onion, chickpeas and a host of savoury spices including cumin, coriander, turmeric and garam masala. Add cayenne to turn up the heat! It's best served over rice.
3In a dip
Creamy, delicious hummus is made from a base of chickpeas, and is the perfect dip for pita or sliced raw vegetables. It's also great as a sandwich spread.
4In a pita
Ground, spiced chickpeas are the base for falafel, a middle-eastern delicacy that's served with lettuce and tomato in a fresh, warm pita.
5Simply roasted
Flavour some canned chickpeas with salt, pepper and rosemary, and bake them for about an hour. They will become a crunchy, nutritious snack that you will love!
---
​
Enjoy chickpeas in these quick and easy dishes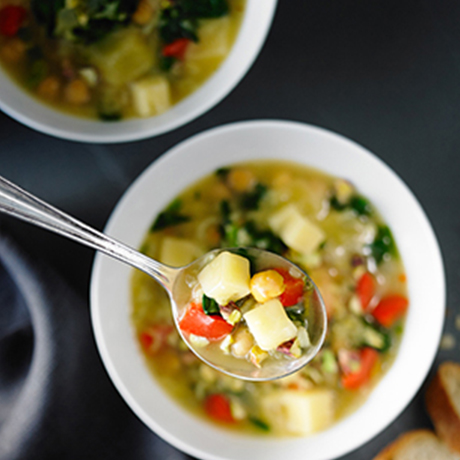 This flavourful soup is a full meal-in-a-bowl.
Add fresh herbs
Some people do not enjoy the taste of cilantro, which can be described as tasting like soap. If you want to replace it, try fresh flat-leaf parsley, basil or mint leaves.
Add vitamin C to chickpea dishes
Chickpeas contain iron, but it's not well-absorbed by the body without pairing it with foods rich in vitamin C. The red peppers in this soup contain vitamin C, which helps maximize iron absorption.
Look for brown basmati rice
To add more fibre to this soup, buy brown basmati rice. Brown rice, just like white rice, comes in many varieties – short grain, medium grain, long grain and basmati.
See the recipe for Chickpea, Basmati Rice and La Belle-Mère Soup Meal
---
Chickpeas add fibre to make you feel full
If you think that soup is not enough of a meal, wait until you add a few cups of beans to it! With the combination of fibre and protein, chickpeas can help you feel full at mealtime, and stay full for longer.
Looking to lose weight? Chickpeas may play a role. Chickpeas have recently been explored for their role in weight control and satiety (a feeling of fullness), and the results are promising. Participants in a recent clinical study said that they were more full and satisfied with their meals and their overall diet when chickpeas were added to meals. They also reported eating fewer processed foods snacks during test weeks in the study, because they were eating chickpeas instead! The fullness and satisfaction from the chickpeas even resulted in participants eating less food overall, thus taking in fewer calories.
Chickpeas can create a feeling of fullness from their excellent combination of protein and fibre. A cup of chickpeas contains 15 grams of protein and eight grams of fibre. Want to eat more chickpeas? Start slowly, with a quarter cup, and build up slowly, while increasing water consumption at the same time.
Try chickpeas in: Soups, Salads, Pasta, Dips, Stews, Chili.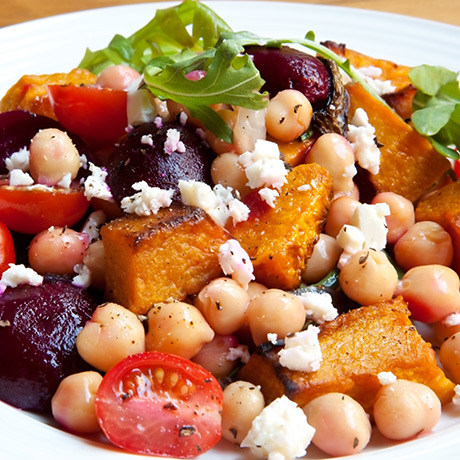 ---
Chickpeas are so healthy!
Isn't it wonderful when a versatile, delicious and affordable food is also great for your health? That's the story with chickpeas. Also known as garbanzo beans, these precious gems can be found dry or canned, and are a cost-effective meal solution in either format.
You will find that many chickpea recipes use canned beans. Unlike canned vegetables, which have lost much of their nutritional value, there is little difference in the nutritional value between canned chickpeas and those you cook yourself. If you are buying canned beans, look for ones with no salt added. You can also look for cans marked "BPA-free" – which means that there is none of the potentially-toxic bisphenol-A used in the lining of the cans.
Chickpeas are valued for their high fibre content, scoring eight grams of fibre per cup. The benefits of all that fibre allow chickpeas to play a role in lowering cholesterol, triglyceride and blood sugar levels, which can all reduce the risk of developing heart disease.
In your diet, aim to get at least three cups of legumes (such as chickpeas) per week. Studies show that as little as 3/4 cup of chickpeas per day can help lower our LDL-cholesterol, total cholesterol, and triglycerides in a one-month period of time.
---
Pureed chickpea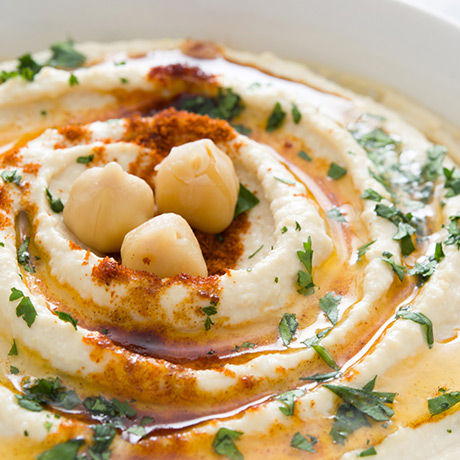 Commonly known as hummus, this pureed chickpea dip is simple to make and delicious to eat.
Try tahini
To make this into a more traditional hummus dip, add a tablespoon or two of tahini (sesame seed paste) as well as the sesame seeds.
Serve hummus with crunchy vegetables
Vegetables that pair best with pureed chickpea dip include carrots, celery, jicama, fennel, cucumber, peppers and cauliflower florets.
Make roasted red pepper dip
Using pureed chickpeas as a base, embellish it with half a jar of roasted red peppers. Simply add the roasted peppers to the blender along with the other ingredients. Blend and enjoy!
---
Healthy Bites
When buying canned chickpeas, look for brands with no salt added. Or, rinse them well to remove excess sodium.
Chickpeas are naturally low in sodium, with a mere 10 mg per cup.
---