Celebrate His Special Day!
---
To All the Dads of Metro
To all the pancake pals, tea party dates and baking buddies out there, Happy Father's Day!
---
This Father's Day, treat Dad like the superstar he is. It's all about great food, relaxation and being with family.
Here are some suggestions on how you can celebrate his special day.
Outdoor Fun
This year, give Dad something totally different: a day in the great outdoors. Not only will he get to enjoy all the beauty nature has to offer, but a picnic with his family is a wonderful way to show him how much you care.
Depending on where you set up your picnic, you may be able to bring along a small hibachi to barbecue hamburgers, chops or chicken. If going this route, marinate the meat at home and keep it in the cooler in an airtight container.
However, many dishes are great cold and can be made the day before. Think pizzas, grilled shrimp or crisp fried chicken. Sandwiches are another delicious—and portable—option. Check out our sandwich suggestions here. Sandwiches without eggs, mayonnaise, lettuce or tomatoes can be made ahead and frozen, making them perfect for a picnic. They will thaw during the outing and be fresh when it's time to eat.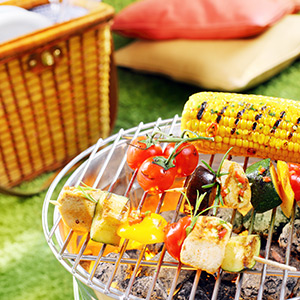 ---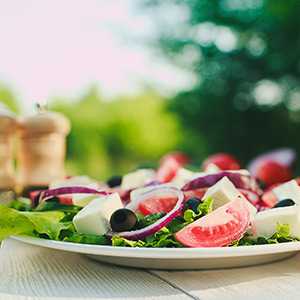 Don't forget the salads! They should be packed in airtight containers, with the dressing in a separate jar. Finally, plan easy-to-carry snacks for a quick energy boost: cookies, muffins, granola bars or homemade trail mix.
And above all, don't forget to bring water or fruit juice.
---
Treats he'll love
Is your Dad a fan of take-out food? Try one of these three gourmet food-truck inspired meals that are guaranteed to impress.
1Beefy burritos
Fill a tortilla with sliced grilled steak and top with grated Monterey Jack cheese, diced greenhouse tomatoes, onions, sour cream and dad's favourite hot sauce.
2Superb shawarma
Fill pitas with thinly sliced cooked lamb and onions and top with lettuce, greenhouse tomatoes and tahini for a tasty Middle Eastern meal.
3Spicy chicken roti
Mix sautéed chicken, onion, carrots, sweet (red, orange or yellow) greenhouse peppers and curry powder, and roll it up in roti flatbread.
---
Appetizers: More appetizers to cook on the BBQ
---
Hamburgers: Have different burgers all summer long
---
Sausages: More sausages recipes...
---
Bifteck: Have bifteck recipes for the BBQ!
---
Chicken: More chicken recipes for the BBQ...
---
​
Pork: More pork recipes for your BBQ...
---
​
Fish and Seafood: More fish recipes for your BBQ!
---
​
Desserts: More dessert recipes for the BBQ...
---
​