Au Gratin, Stuffing, Dessert… How to Choose the Right Cheese

Fresh or firm, raw or cooked, au gratin or for dessert, cheese can turn a classic recipe into a delicious delight. We have a few tips to help you add a little cheesy goodness to your favourite recipes.
---
Au Gratin
Essential characteristics
Choose cheeses that are firm and contain a high percentage of fat. Don't go for moist cheeses like ricotta or cottage cheese, which won't brown.
What to pick?
Mozzarella, Gouda, Gruyère, Swiss, Fontina, Havarti and even Cheddar are ideal for delicious, golden au gratin dishes. Try smoked cheese or cheeses with herbs and spices. Pick hard or aged cheese for an au gratin with bite.
Perfect pairings
Potatoes are the perfect pairing for au gratin. For a tasty alternative, try using other root vegetables for a delicious, cheesy twist!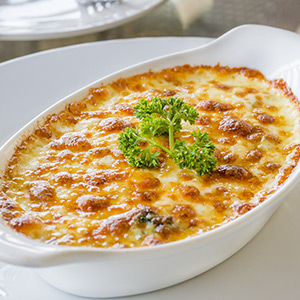 Expert tip
Careful! Cheese can burn quickly, especially when the oven is set to broil. Be sure to remove your au gratin dish before it gets too dark, as the cheese will continue to cook 2 to 3 minutes more after it is removed from the oven.
​
---
Stuffing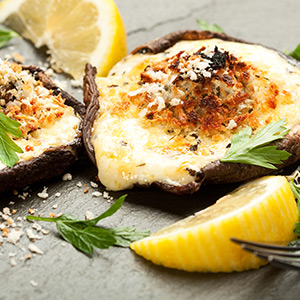 Essential characteristics
Since they have a tendency to melt quickly, soft-rind cheeses blend well with other ingredients. They are the perfect cheese for stuffing when mixed with nuts or dried fruit. Cheeses that are flavoured, smoked or have a hazelnut aroma are also a great choice. These tasty cheeses will add a delicious twist to your stuffing.
What to pick?
Brie, blue cheese, Camembert, and goat cheese are all excellent options. For more flavour, go for firmer cheeses like Monterey Jack or aged cheddar. Get creative!
Perfect pairings
Delicious stuffing requires a delicate balance! To stuff meat or vegetables, choose a cheese that will add character to your dish without overpowering the main ingredients. Peppers, veal and beef—which are full of flavour—go well with stronger cheeses like aged Cheddar, blue cheese and Swiss. For chicken, pork or zucchini, opt for milder cheeses like young Cheddar, feta, Gouda, and Brie.
Expert tip
Use only 3 or 4 ingredients in your stuffing so you don't lose any of the delicious flavours. Moderation is always in good taste!
​
---
Fondue
Essential characteristics
Almost any firm cheese works well for homemade cheese fondue. The best option? Mix at least 3 or 4 cheeses together for a wonderful texture and rich taste. Be sure to use at least one strong cheese that will add a nice kick to your fondue.
What to pick?
Swiss, Gruyère Emmental, Vacherin, and other aged cheeses are perfect for turning you into a fondue master! Step off the beaten path and try tempting cheeses for a delicious twist!
Perfect pairings
Traditional fondue cheeses are usually mixed with kirsch. Want to try something new? Opt for whisky, brown rum or brandy—perfect for pairing with stronger cheeses! We can also make cheese fondue by substituting alcohol with apple juice in the same quantity.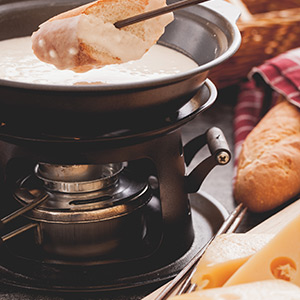 Expert tip
Melt cheese slowly and bind with cornstarch and alcohol halfway through cooking. Cornstarch is a key ingredient to ensure your cheese fondue is rich and creamy.
​
---
Toppings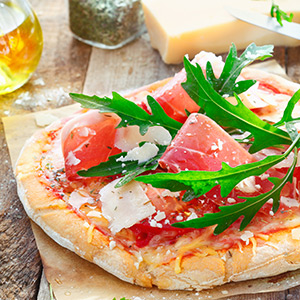 Essential characteristics
Depending on your menu and how inspired you feel, pick cheeses that allow you to play with textures. Cheeses that crumble or can be cut into shavings usually make the best toppings.
What to pick?
Feta, blue cheese, Parmesan, goat cheese, ricotta… It's easy to play with flavours—and hard to go wrong. Give it a try!
Perfect pairings
The grainy texture of goat cheese complements the sweet, juicy taste of beets. Pair the sharp flavour of blue cheese with the citrusy sweetness of fruit or the concentrated sugar of dried fruit. Add a handful of nuts for a bitter contrast and you're all set!
Expert tip
When it comes to toppings, moderation is always in good taste. Use a single cheese, sparingly, so as not to overwhelm the taste of your main ingredients.
​
---
Dessert
Essential characteristics
When you think dessert, you automatically think mascarpone and ricotta. Yet you can surprise guests with lots of less traditional dessert cheeses. Avoid smoked or spicy cheeses as well as any cheese with a pronounced taste. The goal is not to mask the flavour of your dessert, but to enhance it! The more daring the pairing, the less cheese you need to use.
What to pick?
Mascarpone, ricotta, blue cheese, Brie… Anything's possible! Try goat cheese, young Cheddar and Parmesan, which have distinctly nutty notes.
Perfect pairings
Honey is perfect for enhancing the flavour of ricotta. Figs, apples and pears balance out the sharp taste of blue cheese. Parmesan goes well with strawberries and rhubarb.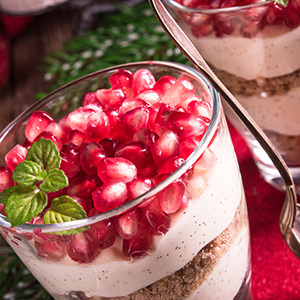 Expert tip
Be daring! Cheese can bring out the best in desserts and ensure your meal ends on a high note. Forget cream cheese and go for a perfect blend of flavours and textures!
---
Get creative with cheese!