Chicken

Today, chicken is consumed all over the world and never in history has it ever been more popular.
---
Chicken characteristics
Chicken was first domesticated in Asia over 4,000 years ago. Every country in the world has a regional chicken dish to boast about.
New breeding techniques and important genetic advancements have contributed to improve the quality of the species. A great deal of research has been done in dietetics and all studies confirm the health benefits of eating poultry rather than red meat, which also accounts for the ever-increasing popularity of chicken.
Chicken is rarely eaten before the age of six weeks, or before it weighs 1.2 to 2 kilos (2½ to 4 ½ pounds).
---
Chicken Recipes
---
Grain-Fed chicken
Chicken sold on the market with this name is fed a blend of barley and several other types of grain. All chickens are largely fed grain and cereal by-products of some sort, protein-rich seeds such as canola and soy. The title "grain fed" does not infer any specific raising practice or dietary regime for the poultry.
Certified organic chicken
To be called "organic", a chicken must be bred according to very specific standards. Their breeding ground must be considered natural and at every stage of their lives, the chickens are fed certified organic seed, free of pesticides, artificial fertilizer or animal meal. No artificial colour, flavour or synthetic additives can be used to raise these chickens.
Cold-air chilled chicken
This cooling method requires that the chicken be put in a chamber where very cold air circulates - 2 to 4° C (36 to 40° F) for a period of sixty minutes.
The air flows at maximum intensity and cools the carcass from the inside out. As a rule, the skin of the chicken becomes darker and the texture firmer. In addition, with this method of cooling, the chicken looses less volume.
Cold-water chilled chicken
With this method, the chicken is immersed in a large basin of ice water which makes the skin whiter and the meat juicier.
Seasoned chicken
This is a mechanical process in which the chicken is immersed in salts, water and sometimes spices or other ingredients.
The duration and the quantity of water and salt are rigorously controlled. This mechanism renders meat that is juicier.
Individually frozen chicken breasts are often seasoned before they are frozen. The law stipulates that the term "seasoned" be used when the chicken has been treated this way and it is mandatory that the label list the ingredients in decreasing order.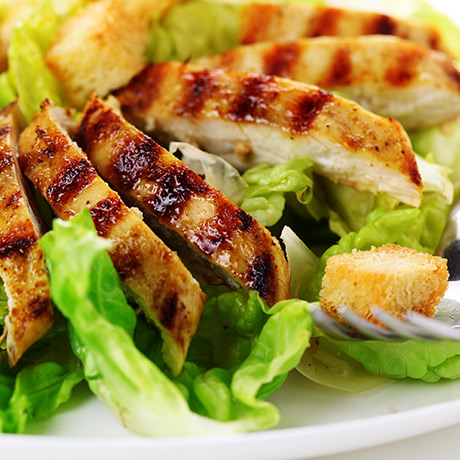 ---
You Might Be Interested In...