Raspberries

It's hard to find anyone who doesn't love raspberries for their sweet flavour with a hint of tartness and their deep ruby colour. Raspberry season is short, though, so enjoy them now!
---
Ways to enjoy raspberries
These little red gems are delicious at any time of the day. For a quick, tasty and healthy breakfast, have some yogurt with fresh raspberries and almonds.
Use raspberries to add a crowning touch to cakes, ice cream and pies. And who could resist the sweet temptation of a bowl of fresh raspberries and cream? Rich in pectin, raspberries are also excellent for jams and jellies.
​
---
Washing and storing raspberries
Raspberries are fragile and must be handled with care. Never soak them in water, or they'll get waterlogged, turn mushy and lose sweetness. It's better to rinse them under cold running water just before serving and let them drain on paper towels.
Raspberries will keep about two days in the refrigerator. Pick them over and store loose but unwashed for best results.
You can also freeze raspberries for a year-round treat. Flash-freeze them in a single layer on a cookie sheet, then transfer them to freezer bags for long-term storage.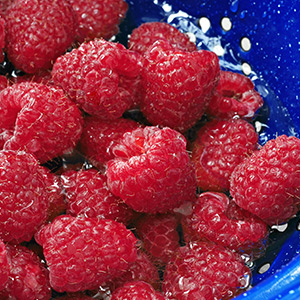 ---
​
Rosey Raspberries
---