Cabbage
5 Varieties of Cabbage & How to Cook Them

It's time to rediscover cabbage—a seasonal vegetable that is as versatile as it is delicious.
---
There are over 400 varieties of cabbages, all very different. Green, white or red cabbage, Savoy cabbage, collards, borecole (kale) and all the Chinese cabbages, Bok Choy, Gai Lon and Peking cabbage are part of this big family. Most varieties of cabbages have the same nutritional benefits. In terms of 'functional foods', those that can help fight cancer or have antineoplastic virtues, cabbages are the superstars of functional food!
Cabbage is eaten raw or cooked, in salads, sautés, purées, casseroles or as a vegetable side dish. Sauerkraut is made of fermented cabbage; fermentation is obtained by adding salt to thinly sliced cabbage, which activates lactic acid production. The good news here is that this fermentation makes the cabbage more digestible and retains all its nutritional value.
---
Cabbages for Better Health
Cauliflower
Whether served crisp or tender, cauliflower's mild flavour is always a huge hit with the family. It's also a champion when it comes to helping prevent cancer!
How to cook it:
With its naturally velvety texture, cauliflower easily creates rich and creamy soups—even without adding any dairy products! It's excellent mashed, as a gratin or roasted with spices in the oven. Cauliflower can be a delicious replacement for couscous in a tabbouleh. Try whizzing some up in the food processor and using it to make pizza crust or even as a substitute for rice in your sushi!
Perfect pairings:
Cauliflower loves hanging out with bacon, ham, salmon, cod and scallops. Turmeric, curry and other Eastern spices are an ideal highlight for its delicate flavour. It goes great with dips of all sorts or paired with strong cheeses such as Gruyère, Parmesan and blue cheese.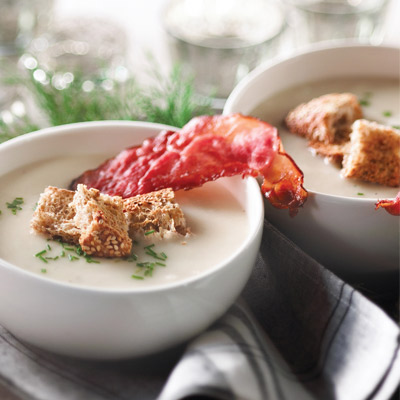 ---
Kale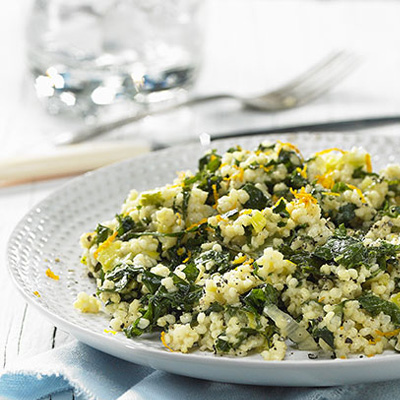 Nutritious, versatile, delicious… Kale definitely has all the qualities to impress your guests during the cold months.
How to cook it:
Kale is at its most nutritious when eaten raw. Go ahead and add it to salads, pasta or rice, or try using it to make a sensational pesto. Sautéing it in a pan with some garlic is the simplest way to cook and enjoy kale. It's also wonderful steamed or added to soups and quiches. Try tossing it in sesame oil and soy sauce before baking it to make addictive kale chips—a guaranteed favourite when served with cocktails!
Perfect pairings:
The unique taste of kale works perfectly with the freshness of rosemary and orange zest. It also pairs deliciously with chicken, white fish and roast pork sirloin or shoulder.
---
Brussels sprouts
With their distinctive taste, Brussels sprouts aren't always everyone's favourite. But fall gatherings are the perfect time for them to please their fans—and easily convert the skeptics!
How to cook them:
Be careful not to cook Brussels sprouts too long; they'll lose their vibrant colour and crisp texture and take on that unpopular bitter flavour. Served hot, they are delicious in a gratin or soup, or sautéed with vegetables. Chilled, they steal the show in coleslaws and salads. Try plucking the leaves and tossing them in some olive oil and salt to make oven-baked chips. A true delicacy!
Perfect pairings:
Sweet ingredients like apricots do a great job of balancing the bitterness of Brussels sprouts. You can also bet on bacon, duck fat or parmesan to boost their flavour.
View the recipe for Brussels Sprouts with Pancetta and Lemon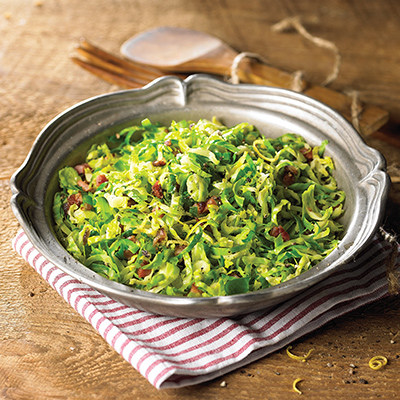 ---
Bok choy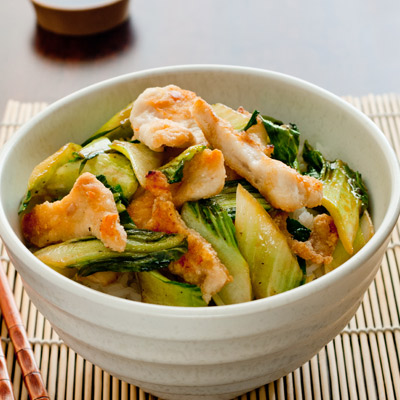 Can you believe that there are over thirty kinds of Chinese cabbage? What's even cooler is that the stems and leaves offer two different flavours and textures in one vegetable!
How to cook it:
Bok choy fits in perfectly with Eastern flavours and is superb stuffed, sautéed or braised. Serve it in a salad topped with a warm vinaigrette, or even use the leaves as a wrap for homemade spring rolls.
Perfect pairings:
It goes hand in hand with mild-flavoured meats. While chicken and pork pair superbly with bok choy, lamb and beef tend to overpower its delicate flavour. Coriander and fennel seeds, star anise, curry, snow peas, broccoli and other types of cabbage will also enhance its subtleties.
---
Red cabbage
Raw or cooked, red cabbage adds colour to your plate during chilly seasons. Its crunchy texture and delicate sweetness make it an ideal addition to a great feast.
How to cook it:
Red cabbage will turn blue when boiled unless you add some vinegar or citrus juice to your water, which will preserve its pretty purple colour. Try it raw in salad, on sandwiches or in burritos and tacos. Go gourmet and make a delicious red cabbage velouté sauce.
Perfect pairings:
Cooked red cabbage is a favourite friend of bacon, duck or venison. Raw, it loves apples, pears, nuts, dried fruit and cranberries. Try pairing it with creamy sauces or tart ingredients like apple cider. If you try adding cumin, mustard, dill, parsley, chives and green onions, you'll be all set!
View the recipe for Red Cabbage and Raclette Salad with Walnut Vinaigrette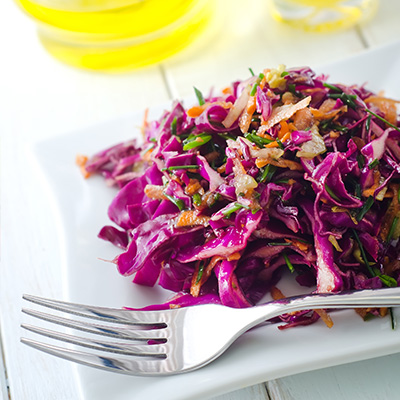 ---
Culinary Tips & Advice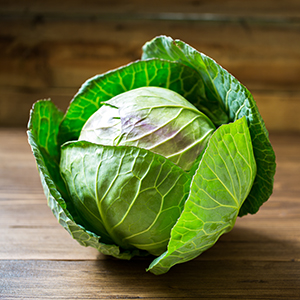 Round Cabbage & Stem Cabbage
Choose heavy, compact, round cabbages with shiny leaves that are crunchy and colourful.
Discard cabbages that are withered or cracked.
A round cabbage may contain worms; their presence proves that the cabbage was not exposed to insecticides. To remove the worms, soak cabbage in salt or vinegar water for about 15 minutes.
Wash stem cabbage thoroughly to rid it of any dirt or insects.
Overcooking will discolour cabbages, make them pasty and reduce their nutritional value, not to mention cause a penetrating and unpleasant smell to permeate your kitchen.
Before using in salads, blanch cabbage leaves for a few minutes. Collards are delicious when added to mashed potatoes or sweet potatoes, in omelettes and quiches.
---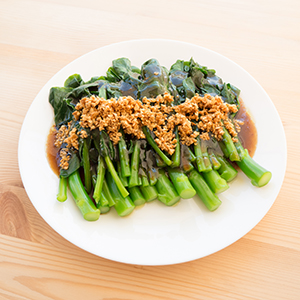 Chinese Cabbage
All Chinese cabbages can be eaten raw or cooked, in salads and in simmered casseroles.
Cook Chinese cabbage for a very short time to retain its flavour and crunchiness.
Cabbage can be blanched and added to soups and broths, or stir-fried.
Chinese cabbage is tasty when added to rice or served as a vegetable side dish.
Bok choy is used like Swiss chard, raw or cooked. It has a very refined flavour. First cut and cook stems, then add leaves that take less time to cook. Add to soups, rice or serve as a vegetable side dish. Bok Choy has higher water content than other cabbages, which makes it crunchier and more refreshing. It adds flavour to soups, casseroles, pasta and many Chinese dishes. It can replace fresh spinach in any recipe.
Expert Tip
The Gai Lon can be cooked like broccoli; be sure not to overcook to retain its refined taste.
---
Availability
Different varieties of cabbage are available year-round at your METRO produce counters.
Nutritional Value
Very low in energy, cabbage is a good source of vitamins A and C, potassium and folic acid. Some varieties contain Vitamin B6. Peking cabbage and Gai Lon are also a good source of Vitamin C. Like other cruciferae, cabbage has antineoplastic virtues.
Storage Life
Most cabbages can be stored for about two weeks in the vegetable drawer of the refrigerator. It should be noted that the longer they are stored, the more bitter they will be.
---