Strawberries
All About Strawberries

In a salad, on the grill, in desserts, cooked or raw, strawberries are incredible, versatile and delicious!
---
​
Strawberries were already known for their sweetness by the Romans who made the deep red, heart-shaped fruit a symbol for Venus, the Goddess of Love. Today, we enjoy their delicate flavour in jams, pies, fruit salads, dipped in chocolate, marinated in red wine, served with cream or eaten plain! And thanks to the many different varieties, we can enjoy them all summer long.
Characteristics
The wild strawberry is the ancestor of the strawberry that we know today. Since then, over 600 varieties have been cultivated around the world.
Botanically speaking, the strawberry is not a fruit. The flesh or pulp that we eat with such pleasure is the swelling of the stalk once the flower has fertilized. The real fruits are the small yellow seeds scattered on the surface called achenes.
---
​
​
Culinary tips and advice
Because strawberries are fragile, it's best to eat them the day you buy them. If not, keep them refrigerated and take them out one hour before serving for greater flavour.
Choose firm, shiny and brightly-coloured strawberries. Discard those showing signs of mould.
Always wash the strawberries before removing the stalk. Taking off the stalk injures the strawberry and its juice will leak.
Do not soak as they quickly absorb water and lose their taste.
Strawberries can be prepared in various ways. They can be eaten plain, whole, sliced or crushed.
They pair well with yogurt, ice cream, chocolate fondue and alcohol.
Strawberries are often used to make pastries, pies, cookies, mousses, soufflés and puddings.
Expert Tip
Only wash strawberries just before use. Cleaned strawberries will deteriorate more rapidly.
​
---
Availability
Strawberries are available year-round in your Metro supermarket. They are most plentiful from April to July.
Nutritional Value
The strawberry is an excellent source of vitamin C and it provides potassium, folic acid and magnesium. It has tonic, diuretic and astringent properties.
Storage Life
Strawberries are very fragile and highly perishable; they should not be left at room temperature or exposed to the sun for any length of time. They will keep for two to three days stored in the refrigerator.
To store a little longer, do not wash, remove stems or stack strawberries and discard any damaged fruit immediately. Once washed, add a little sugar before storing in the refrigerator.
Strawberries freeze well whole, sliced, in quarters, crushed, with or without sugar. They should not be thawed completely to preserve their natural shape. Spread the berries in a single layer on a cookie sheet and freeze them for a few hours. Once they're frozen solid, put them in freezer bags. Use this technique and you can enjoy the berries beyond the summer.
---
​
Strawberry flavours forever
---
​
​
Something to try: Strawberries dipped in chocolate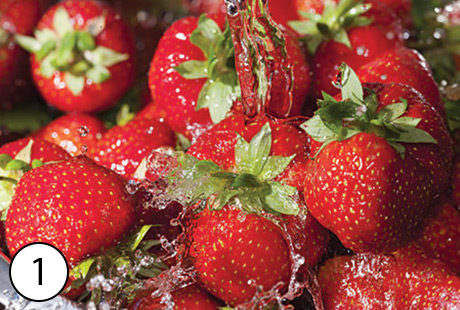 Rinse strawberries in cold water and place on a paper towel. The berries must be completely dry before dipping them in chocolate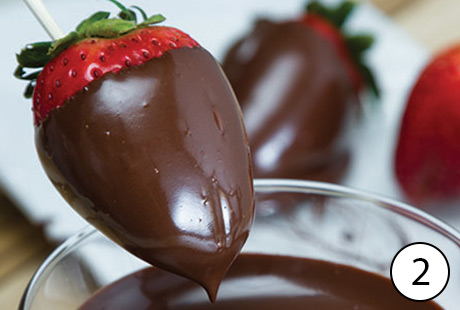 Melt the chocolate in a double boiler. Remove from heat. Hold a strawberry from its stem and dip.
​
​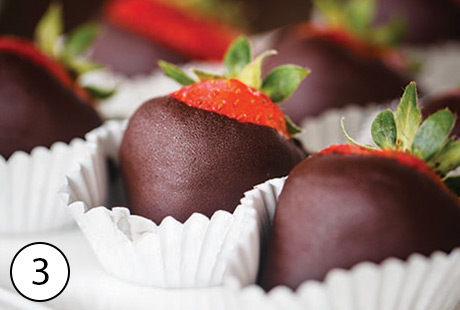 Place it on parchment or waxed paper. Let the chocolate set.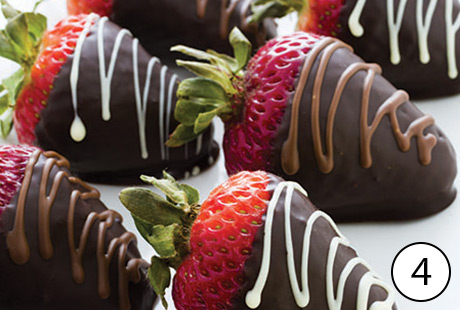 To add some variety, decorate the strawberry with a different chocolate for contrast. Just melt the chocolate in a double boiler and then use a piping bag to drizzle the berries with chocolate for an elegant look.
---
​