Cucumber

Mild in taste and big in wholesome texture, cucumbers are as refreshing as a dip in the pool. Enjoy these crunchy, in-season vegetables raw, or be adventurous and try them on the grill!
---
Get to know cucumbers
The cucumber has existed for over 10,000 years. Originating in Asia, this vegetable isn't really a vegetable at all - botanically speaking, it's a fruit. Due to its colour, appearance and lack of sweetness, it has always been treated like a vegetable. The cucumber is also member of the gourd family and a relative of zucchini.
Depending on the variety, different cucumbers can grow from eight to sixty centimetres in size. The European variety, the English cucumber, is the longest and easiest to digest. The American varieties are shorter, with gherkins being the smallest.
Cucumbers can have crunchy green or white flesh, and wrinkled or smooth skin, but they're always shiny. Their seed content varies depending on the variety, and their skin contains most of their nutrients.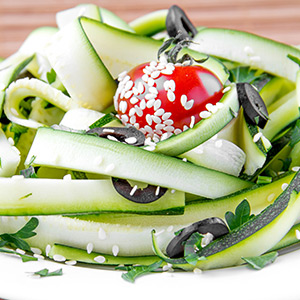 ---
Choosing, preparing and storing
When shopping for cucumbers, select those that are firm and free of bruises or yellow marks. They should also be uniform in colour. And go for the smaller ones! Larger cucumbers usually contain more seeds and are often bitter or bland.
Cucumbers are delicious eaten with or without the peel. For a delightful striped effect that adds a dramatic touch to slices in a salad, remove only thin, lengthwise portions while leaving the majority of the peel.
If you're eating cucumbers other than the English variety, you may want to remove the seeds. This makes for easier digestion.
To store your cucumbers, place them in a perforated plastic bag and refrigerate them for two to five days.
---
Refresh with cucumber water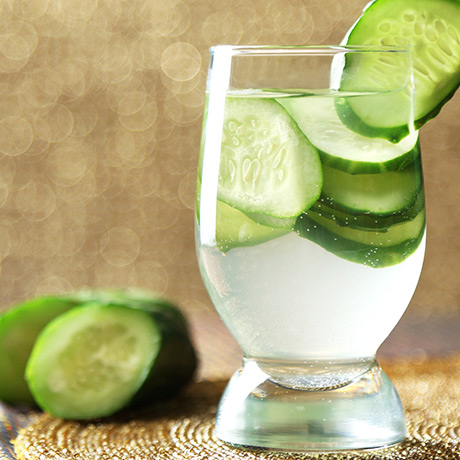 You can replicate a bit of a spa experience by making cucumber water at home. It's absolutely uplifting - and makes it more enjoyable to keep hydrated. Follow these simple steps:
Thoroughly wash a cucumber and cut it into very thin slices. Remember to leave the peel on!
Add the slices to a pitcher of cold water. If desired, you can also add raspberries or sliced lemons or strawberries (or even sprigs of mint, rosemary and thyme).
Cover and lightly shake. Place it in the fridge to chill, or enjoy it straightaway with some ice!
---
Grilling cucumbers
Yes, the expression is "cool as a cucumber", but this versatile veggie can take the heat. Split your cucumbers in half lengthwise, remove the seeds and rub them with some olive oil. Throw them on the barbecue, on medium heat, for about five minutes per side. When slightly browned, remove, cut into sections, and drizzle with a mix of olive oil, lemon juice, chopped fresh mint and salt and pepper.
---
​
Cucumbers for hydration
Cucumbers are very low in calories - a cup of sliced cucumber contains just 14 calories. And cucumbers are the most hydrating, water-filled vegetable in your shopping basket. At 96% water by weight, cucumbers are great hydrating snack for summer outings and picnics on warm days. Cucumbers have the highest water content of any solid food!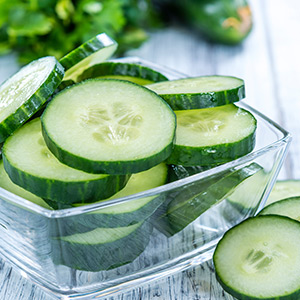 ---
​
Fun facts
When you're out and about with your friends, you need refreshing drinks. Try this: Flavour your water with a slice of cucumber.
---
​
Enjoy cucumbers raw
---