Garlic

Dating back more than 5,000 years, garlic is one of the oldest plants ever cultivated. The Egyptians gave daily rations of garlic to their pyramid builders because they believed garlic gave strength and endurance. It is for this same reason that Olympians and soldiers would eat garlic before competitions or combat.
Over time, more and more therapeutic benefits were discovered in garlic. It has long been known as an effective antibiotic; and was widely used during World War II. Certain studies recently confirmed that garlic, which contains allicin, is beneficial to the cardiovascular system, aiding in lowering blood cholesterol.
---
Characteristics
The garlic bulb is a cluster of 12 to 16 cloves. The bulb and cloves are covered by a paper-thin white membrane. Some varieties of garlic have a pink or purple shimmer. When the garlic plant is mature, it is pulled out of the earth and dried. It can also be eaten fresh.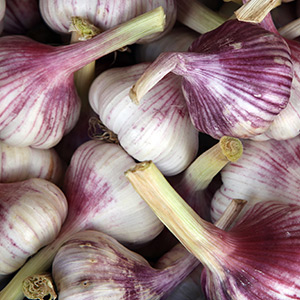 ---
Garlic flowers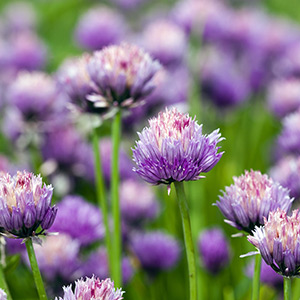 The garlic flower has always been harvested from the plant's bulb to help it grow. This flower grows a long stem that twists into a pigtail when it is ready to pick.
Once ripe, the flowers are put through a specific conservation process before being marketed. Over and above being very refined and tasty, garlic flowers have the advantage of being free of the persistent strong odour of the garlic bulb. Garlic flowers can be eaten without the risk of offending people around you. Garlic flowers are delicious on pasta and is a great alternative to the classic and calorific garlic butter on shellfish.
---
Culinary tips and advice
Choose firm, plump bulbs that are heavy for their size and enclosed in dry papery layers. Do not buy heads that have soft spots or are sprouting.
To peel garlic, gently crush the clove with the flat side of a knife and the membrane will come off easily.
Classic ailloli, rouille, pesto, tapenade and brushetta would not be the same without garlic! Try them to discover new ways of enjoying garlic.
Roasted garlic is easy to make by wrapping the bulbs in foil and roasting in a 180° C (350° F) oven for 60 minutes. Add to recipes or simply spread on toasted bread.
Expert Tip
Garlic has a lingering taste that affects breath and perspiration. Removing the green sprouting germ of the garlic reduces the strong odour and makes it easier to digest.
---
Availability
Summer-harvested garlic stores well and is available year-round in Metro supermarkets.
Nutritional value
When eaten in quantity, garlic is a good source of selenium. It is also said to be diuretic, tonic, anti-arthritic, antiseptic and parasite repellent.
Storage life
Store in dark, cool and dry area.
---
Frozen garlic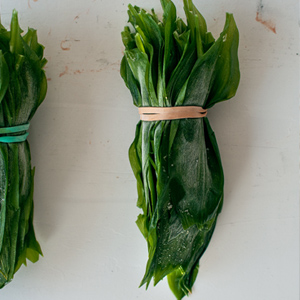 Ingredient:
Minced garlic, peeled cloves or garlic flower.
Preparation:
Remove the garlic cloves from the bulb.
Peel the garlic cloves.
Keep the cloves whole or mince them finely. For the garlic flower, keep it whole.
Pack the cloves, minced garlic or the garlic flower in plastic wrap or foil. Place everything in a freezer bag.
Put in the freezer. Can be stored for 6 months.
Source: Ail Quebec Producers Association
---
​
Recipes to try
---