Rhubarb

Reach for Rhubarb
It's not around for long, so let us show you how to enjoy refreshing rhubarb!
---
About Rhubarb
When available, ravishing , crunchy rhubarb can be found in the produce section of your local Metro supermarket in early summer. It's often eaten raw with a little sugar, or cooked.
Incredibly, rhubarb is technically a vegetable, although we seem more inclined to refer to it as a fruit.
The earliest-known references to the plant are Chinese, dated about 2700 B.C., but it may have originated in Siberia. The word rhubarb comes from the Latin rhabarbum, "near the river (the Volga) of the Barbarians".
Until 200 hundred years ago, rhubarb's chief value was medicinal and not culinary; it was known to make excellent purgatives and laxatives. Not until after 1778 did it become appreciated for its fruit-like qualities – especially at a time of year when many fruits were not yet available.
Rhubarb is a hardy perennial that can grow to a fair size. Only the crunchy stalks are edible. The stalks start off green and mature to a pinkish red, and the smaller stalks tend to be the most tender and least bitter. The leaves might not look dangerous, but they're extremely poisonous!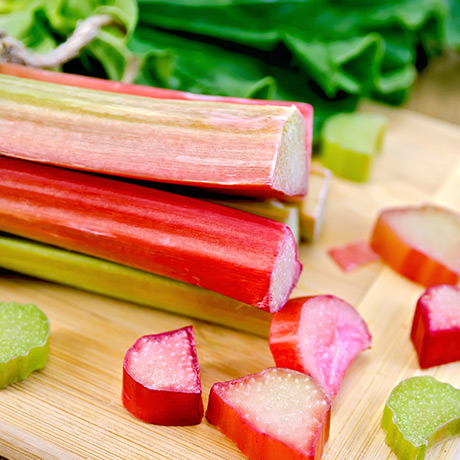 ---
Good for bone health
With a mere 30 calories per cup and 2.5 grams of fibre, rhubarb easily fits into any eating plan. A surprising source of calcium (100 mg per cup), rhubarb is important for bone health since it also contain the bone-building nutrient vitamin K. It's no surprise the rhubarb resembles long, strong bones!
---
Choosing and Storing Rhubarb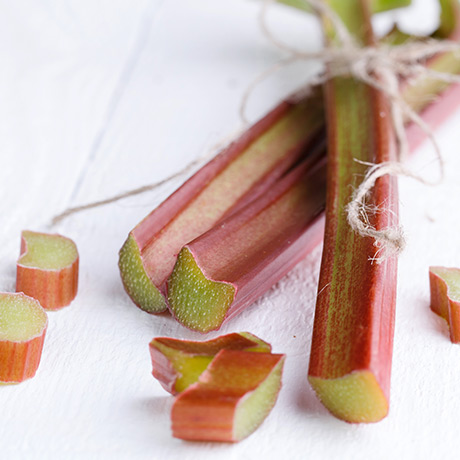 Selecting Rhubarb
Choose firm crisp stalks with fresh-cut ends. You should see juice when you break a stalk. The colour may vary from various shades of green to deep ruby red. Peel the stalks if they are too stringy.
Storing
Because rhubarb stalks soften quickly, they can only be stored for a few days in the refrigerator. However, rhubarb freezes well; simply cut the stalks into pieces and store in a freezer bag – without blanching or adding any sugar.
---
What goes well with rhubarb
Rhubarb is a delicious ingredient in compotes, jams, cakes, pies, muffins and sherbets. It combines beautifully with strawberries, raspberries, apples, lemon, asparagus, thyme, tarragon, cinnamon, mint, maple and ginger. Rhubarb can also add a refreshing touch to saltier dishes, making it a great accompaniment to white meats and fish.
The Romance of Rhubarb and Strawberries
Nothing says summer has arrived like a dish that pairs the sweetness of strawberries with the tart taste of Ontario rhubarb. They're fantastic together in crisps, cobblers, tarts and pies. Enjoy more of this tasty duo while they last by adding them to every meal:
For a heavenly breakfast, start your day with stewed strawberries and rhubarb on toast.
Add sliced strawberries and roasted rhubarb to salads at lunch.
Finish dinner with frozen vanilla yogurt topped with warm strawberry- rhubarb sauce. Delish!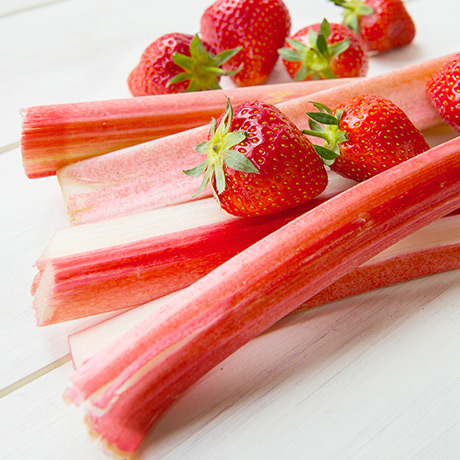 ---
​
Rhubarb for Dinner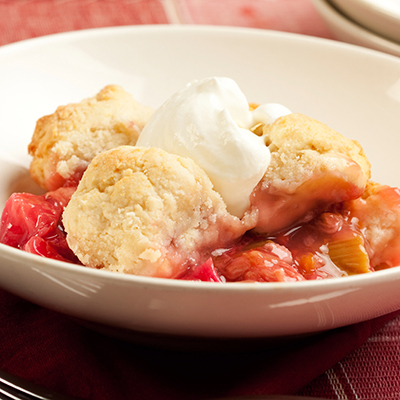 Maple-Rhubarb Cobbler
Rhubarb is absolutely fantastic with grilled pork, chicken or white fish. Transform it into a savoury-sweet chutney or compote, such as our Rhubarb and Ginger Compote, and serve it alongside your favourite white meat or fish. Summer never tasted so good!
---
More from Harvest from Home