Corn
​

A summer without being able to sink your teeth into fresh, sweet, locally grown corn wouldn't really be a summer. Indulge your corn cravings and follow our tips.
---
The History of Corn
Also known as maize, grain corn was the chief source of nourishment for thousands of years, sustaining the Mayas, Aztecs, Incas and the native populations of North and South America.
The first explorers to the New World saw that natives from Canada to Chile were cultivating corn. After settlers arrived in America, corn was introduced to Europe and is now cultivated in Africa, China, Russia and other parts of the globe.
Sweet corn, the yellow kind we eat on-the-cob, is a relatively recent development, becoming popular since the American Civil War period. This corn is yellow or white, soft, milky and sweet tasting. Other kinds of corn are used for cattle feed and a variety of industrial applications.
Corn has two great uses – one as a vegetable, and one as a grain that's used in tortillas, cereal, crackers and more. : Multi-purpose grain corn has many uses! Corn flakes for breakfast; popcorn and corn chips for snacks; corn oil for cooking; and corn starch for thickening sauces and fruit fillings; corn flour in bread, cakes and muffins and corn meal to give baked goods more texture or to make polenta. Distilled corn mash is used to make gin and bourbon.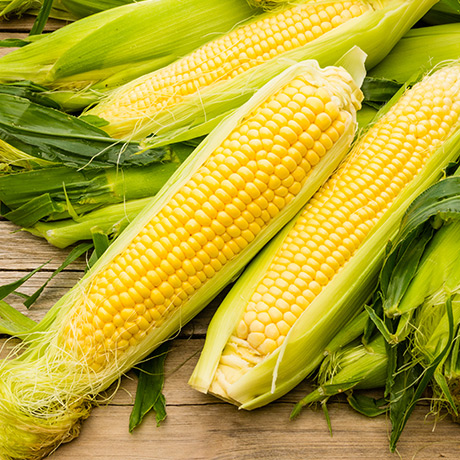 ---
Corn and Nutrition
Sweet and tender corn-on-the-cob is considered a vegetable rather than a grain. It's more starchy and has more calories than most vegetables, with 68 calories (a cupful of most other vegetables has about 20-30 calories). But as a sidedish, it's still a very healthy option! In addition to its abilities as an antioxidant, corn-on-the-cob is a source of fibre, vitamin C and the B-vitamins niacin and thiamine. It's also packed with phytochemicals lutein and zeaxanthin, which promote healthy vision.
---
Choosing, Storing and Preparing Corn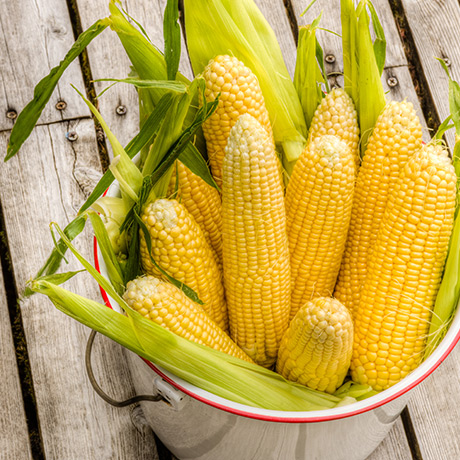 Selecting corn
When buying corn, select plump ears that are firm and well-shaped under fresh-looking husks with shiny, moist silk and kernels running to the top of the cobs. A drop of fresh white juice should seep through the kernel with a gentle pressure of the fingers. Discard any ears with discoloured or shrivelled kernels, indicating that they are not fresh.
Storing corn
As corn ripens, its sugar turns into starch, making the kernels mealy. Refrigerating the cobs slows the process. Husked corn should be stored in a plastic bag and eaten as soon as possible. It's preferable to husk corn just before cooking.
Corn should be used within two or three days of purchase. It can be frozen whole or shelled, but must be blanched for about 4-5 minutes first. Corn on the cob will keep in the freezer for one year; corn kernels for three months.
Preparing corn
Before cooking, remove the husk and any remaining bits of silk. Trim the cobs and remove undeveloped tip ends or any disfigured kernels.
---
An Occasion for Grown-ups
Boil shucked cobs in salted water for 5 to 7 minutes. Drain and serve with your favourite flavoured butter, salt and coarsely ground black pepper.
Slather corn on the cob with a dab of butter. For an extra special meal, top cobs with fresh rosemary, dill or parsley butter.
Slice cooked corn off the cob for a great side dish for a grilled dinner. Add kernels to your favourite salsa, corn bread, and muffin recipes. To microwave, husk sweet corn and place cobs on microwaveable baking dish, and cover with plastic wrap. If cooking only 1 or 2 cobs, wrap individually. Microwave on High power 2 minutes per cob or just until tender. Let stand 2 minutes before unwrapping.
Try it raw
Did you know that you can eat fresh corn raw? In its uncooked form, it retains its sweetness and has more nutrient value. Remove the husks and silk, and run the cobs under cold water. Then, add condiments like olive oil and a touch of sea salt, and savour the natural sweetness!
Other ways to enjoy corn
Sweet corn is an excellent addition to rice "puddings", crisp fritters, and mixed vegetable dishes such as succotash. It's also well suited to flavourful sweet relishes. Baby ears of corn have long been prepared as tender pickles.
---
Corn on the Grill
There are many ways to grill up a batch of corn – it all depends on personal taste. Here are a few options:
For caramelized, charred corn
Boil in water for 3 minutes and then move to the grill – cook on high direct heat, turning often and basting with a mix of steak sauce, melted butter and fresh basil, dill, thyme or rosemary – be prepared – the kernels will occasionally pop! Got leftovers? Slice grilled corn off the cob to enjoy in chili, chowder, corn bread or salsa.
For golden glazed corn
Cook entirely on the grill on medium direct heat – brush on melted butter mixed with a bit of balsamic vinegar and turn as necessary.
For steamed cobs in their husks
Peel down the husks (but don't detach them!) and remove the silk – replace the husks and soak the cobs in a large bowl of cold water (add 1 Tbsp. salt) for about 30 minutes – cook the soaked cobs on the grill on medium heat, turning often, for approximately 20 minutes or until tender.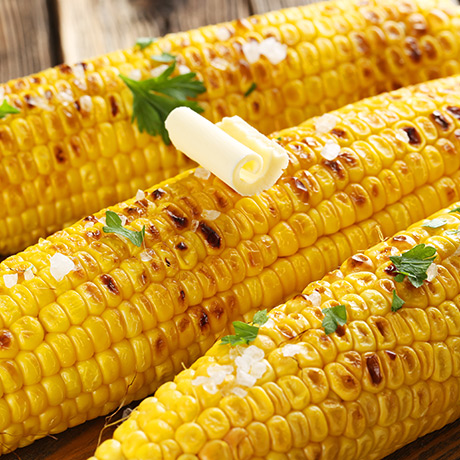 ---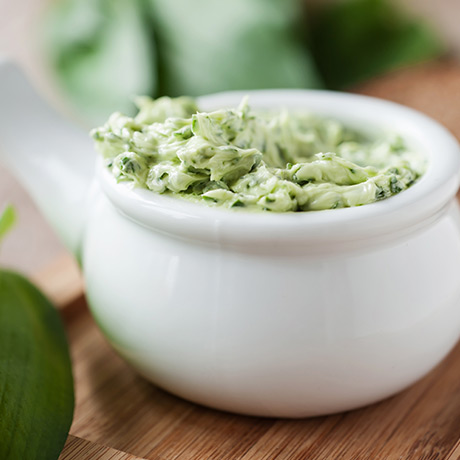 Make Flavoured Butter
Grilled corn and butter is a perfect match. Get creative and add flavours you love to make your corn experience even more sublime!
There are so many possibilities to add to your butter: garlic or green onion, four peppers, chives or other fresh herbs. Simply chop the ingredients finely and mix them with butter at room temperature, then refrigerate until served. Or baste with the butter as the corn finishes up on the grill.
---
Get inspired by corn
Try our decadent recipes and get inspired by the many ways you can enjoy local corn this summer!
---
Steam corn for the best nutritional benefits
There are many tasty ways to cook corn, but the smartest method is to simply steam the cobs. It's the best way to retain the abundance of antioxidants that are naturally present in the corn, and it provides the best sweet flavour! Simply add about an inch of water to a large stockpot, and add corn in a steamer basket and a tight-filling lid. Steam for about 15 minutes.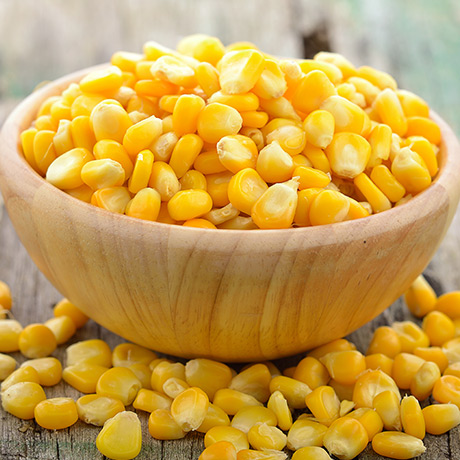 ---
---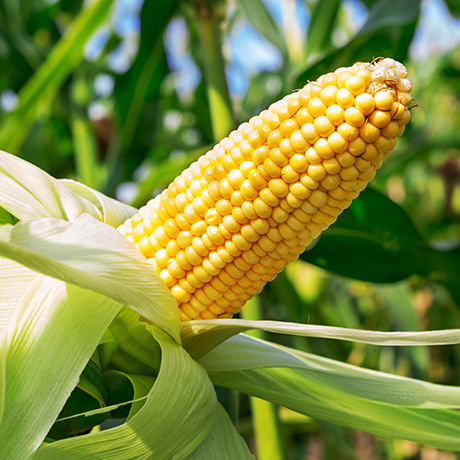 Fun Facts
Ontario has grown, on average, over 250 million pounds of corn since 2008. Grain or vegetable? While corn is really a grain, half a cup of cooked corn counts as a serving of Vegetables and Fruit.
---