Bell Peppers
Pepper Perfection

Bell peppers can improve the taste and appearance of almost any savoury dish. Here's how to select and enjoy them more often.
---
Picking peppers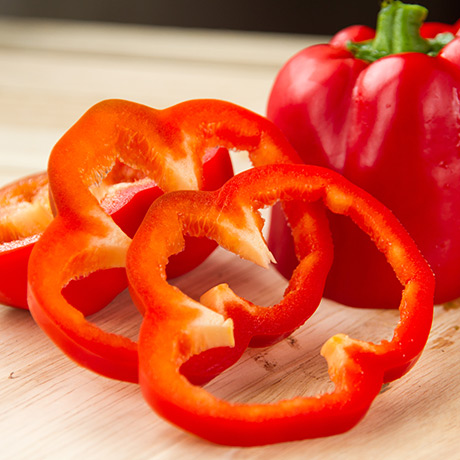 There's a pepper for everyone! From slightly tart to slightly sweet, vibrant bell peppers add colour and flavour to a wide assortment of dishes.
Here are a few things you might not know about these wonderful foods:
Like chili peppers, bell peppers have their origins in South America – certain seeds of a wild variety are believed to date back to 5,000 B.C.
Like tomatoes, peppers are technically fruits, not vegetables
Peppers are a member of the Nightshade family, along with potatoes, tomatoes and eggplant
In addition to green, yellow, orange and red peppers, you can also find purple ones!
Bell peppers in their various colours all come from the same plant! The differing colours and level of sweetness are results of different levels of maturity.
---
Which colour of bell pepper should you choose for your dish?
Green peppers are slightly bitter, due to the fact that they are picked before the pepper has fully ripened. If a green pepper is left on the plant, it will gradually turn into a red pepper. Green peppers are great raw or stir-fried with beef.
Yellow and orange peppers are sweeter and more mature than the green ones. They taste a bit fruity and are wonderful in salads and in many Mexican or Asian dishes.
Red peppers are the sweetest of all. They have a fruity taste and are fantastic grilled or roasted. Red peppers form the base of many different things, such as the spice "paprika" and the North African condiment "harissa".
---
Peppers are powerful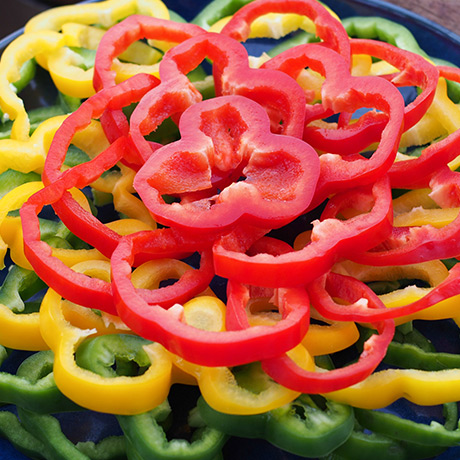 Peppers are an excellent source of vitamin C and a good source of vitamin A, both of which can support the body's immune system.
Red peppers are particularly nutritious. They contain ten times more beta-carotene (which the body converts into vitamin A) than green bell peppers, as well as one and a half times more vitamin C. These vitamins play double-duty, and also serve a role as antioxidants, which help fight damage to body cells.
---
Great ways to enjoy peppers
Raw or cooked
Peppers are delicious raw or cooked. In their raw form, toss them in a green salad for colour and crunch. You can even use red peppers to make the spicy-sweet red pepper jelly. As for cooking techniques, there are many ways to enjoy peppers, including grilled, roasted, baked or stir-fried.
Bell peppers
Bell peppers are a key ingredient in many Mexican, Chinese, Thai and Japanese dishes. Often, the peppers are stir-fried or grilled to a level of doneness where they still retain some of their crunch. Peppers are particularly delicious in some kind of sweet and spicy sauce. Pepper steak is a Chinese-influenced dish that plays up the romance that bell peppers have with tender beef.
Sausage and peppers
Grilled sausage and peppers is a classic Italian dish that is delicious served over soft polenta or pasta. This is comfort food at its best!
Roasted red peppers
Pureed roasted red peppers are fantastic in soups, creamy dips and blended into mayonnaise or tomato sauce. They are also the core ingredient of the Spanish Romesco sauce, a delicious blend of peppers, bread and ground almonds. Grilled or roasted peppers are also amazing served on a crusty bun with creamy goat cheese and arugula.
Stuffing peppers
Stuffing peppers and baking them in the oven is another fantastic method. Stuffing allows you to take advantage of the bowl-like shapes created from the two halves of a cleaned out pepper. Fragrant fillings can range from different types of ground meat and spices to rice and even baked eggs.
Topping pizza
Topping pizza with diced peppers is another way to take advantage of the lovely colours, sweet taste and unique texture that peppers bring to dishes.
---
Storing peppers
Raw peppers can be kept in a plastic bag in the refrigerator – they should be used up within a week
Extra uncooked peppers can be sliced up and frozen in a freezer bag – these are great to have on hand to quickly toss into a stir-fry
Grilled or roasted red peppers can be kept in a jar, immersed in a balsamic vinegar-base marinade – they will keep for months in the refrigerator and are great to have on hand for salads or sandwiches
---
Grilling and roasting peppers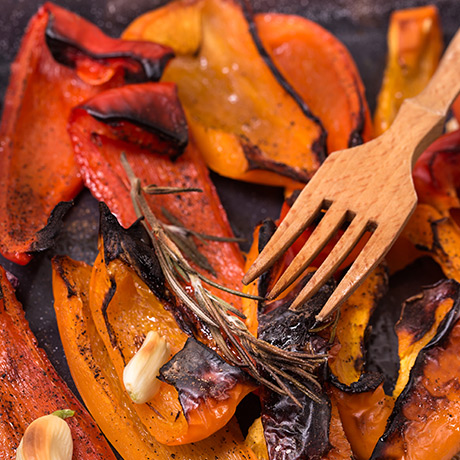 Tender, roasted red peppers are sweet and delicious. They are incredibly easy to make and you can use them in so many ways!
Whether you cook the peppers on the grill or under the broiler, the taste is pretty much the same. Here is how to do it:
Preheat the grill or broiler
Decide whether you would like to grill the peppers whole or slice them up. There are pros and cons to both:
Whole peppers can be easier to turn, but the corners can cook unevenly and the liquid inside the pepper can get horrifically hot, almost turning the cooked pepper into a hazard.
Sliced peppers are more difficult to handle and can fall between the grids, but their flat surface helps with even cooking.
Place the peppers on the hot grill and leave them alone to blacken and char. Don't handle them too much. When one side is heavily charred, turn to cook the other side(s).
When the peppers are blackened on all sides, remove them from the grill and place them in either a paper bag with the top rolled shut or in a bowl covered with plastic wrap. Leave the peppers along for at least 30 minutes.
After the resting time has passed, remove the peppers from the bowl or bag and peel off the outer skin – it should come off very easily.
Slice the peppers and use them in your favourite dishes!
---
The perfect snack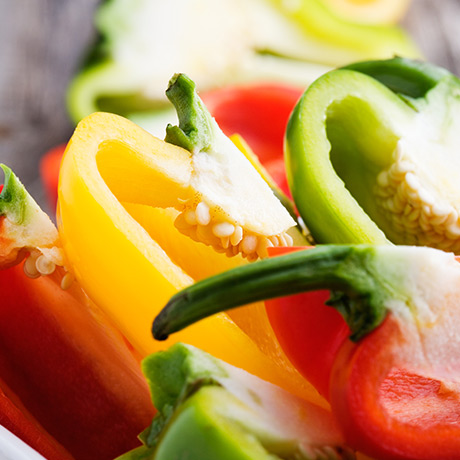 Delicious peppers are low in calories and big on taste. They make an ideal light nibble between meals.
Try them these ways:
Slice multi-coloured peppers into thin strips and serve with your favourite dressing or dip
Cut peppers into generous wedges and top with hummus – add a squeeze of lemon and some chopped fresh parsley
Place a basil leaf on a thick strip of pepper and then wrap with prosciutto – a great snack on the go!
---
Tools for the job
This quick and easy salad is absolutely beautiful! Four different colour of peppers and red onion combine in a dish that's pleasing to the eye and the palate. Creamy feta adds a luscious quality, while fresh herbs give brightness. This dish is perfect as a starter or a light lunch.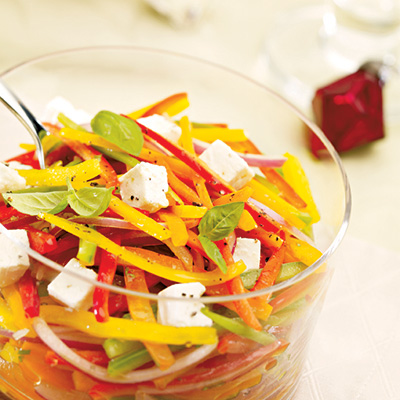 ---
Recipes To Try
---