Clementines
All About Clementines

Did you know that the clementine, like the tangerine, is a cross between a mandarin and a bitter orange?
It was created at the beginning of the 20th century in Algeria by a French missionary by the name of Clément Dozier—hence the name "clementine."
---
​
Characteristics
The clementine is cultivated in abundance in Corsica, Spain, Italy, North Africa and Israel. Its skin is fine and reddish-orange in colour. Its flesh is juicy and slightly acidic.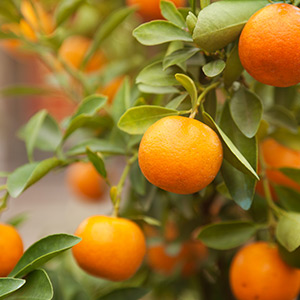 ---
Culinary tips and advice
Choose a clementine that is heavy for its size, indicating that the fruit contains a lot of juice. Several varieties have a swollen and dented appearance, which is normal. A clementine, however, should not be soft.
The clementine is great in a spinach salad, or used to flavour and decorate desserts.
Add a distinctive taste to grilled foods with a clementine-flavoured pat of butter. You can make this by simply combining some pulp and a little rind with some softened butter.
To eliminate unpleasant cooking odours, place clementine peels in the oven while it's still warm.
Expert tip
Clementines can replace oranges in many recipes.
​
---
Availability
The peak period for clementines is October to March. They are especially plentiful in stores during the holidays.
Nutritional value
The clementine is an excellent source of vitamin A and provides folic acid and potassium. It is also a source of vitamin C.
Storage life
Clementines are very fragile and should be stored in a cool (not cold) place.
---
How to use clementines
---