5 vegetables cooked differently

Bring on the veggies! They're nutritious, rich in vitamins, minerals, antioxidants, and dietary fibre. They also add colour and variety to your plate. Here are new ways to prepare five vegetables. Give them a try and add some creativity to your menu.
---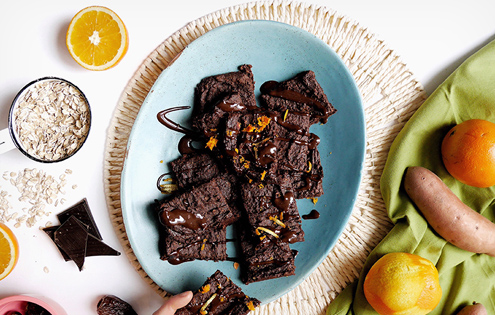 1The pleasantly sweet potato

We love its orange colour and the fact that it can be used instead of regular potatoes. But a sweet potato has so much more going for it! Because it's four times sweeter than a potato, it can even be used in dessert recipes.
In brownies: add some sweet potato puree to your brownie mix to reduce the quantity of fat. You can use it to replace up to half of the recipe's butter or oil. You'll barely notice a difference in taste.
As a crust for quiche: prepare your quiche base by placing a thin layer of sweet potato slices in your mould base and sides. Drizzle oil on the potatoes and season to taste. Cook for about 15 minutes in the oven at 400°F before pouring your egg mixture. Put the quiche back in the oven for about 30 minutes.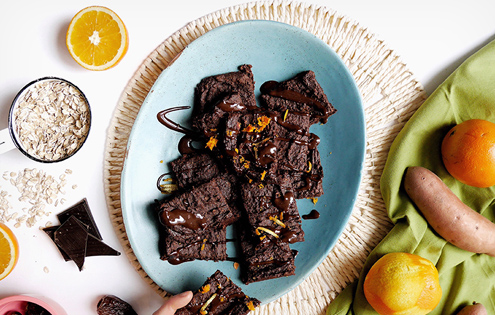 Plus
One single sweet potato provides 100% of your daily intake of vitamin A, good for your eyes. It also helps your bones and teeth grow, keeps your skin healthy, and protects against infections.
It contains an antioxidant in the carotenoid family, beta-carotene, which gives it its orange colour. A sweet potato contains twice the quantity of fibre found in white potatoes.
Discover other ways to prepare sweet potatoes
---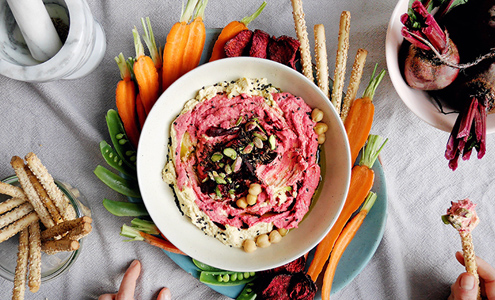 2The brilliantly red beet

We love beets for their bright red colour and their subtly sweet taste. Because they're as delicious in a salad as in a dessert, paired with chocolate.
In hummus: add cooked beets to a classic humus recipe – chickpeas, tahini (sesame seed butter), olive oil, lemon juice, and garlic. About 1 to 1 ½ cups for one can of chickpeas. Wow factor guaranteed!
See Loonie's recipe
In chips: dry some thin slices in a food dehydrator or in the oven at a very low temperature, 125°F. Make sure they don't dry out too much. Season with salt and pepper and enjoy while they're still crispy. Perfect for a late-night snack!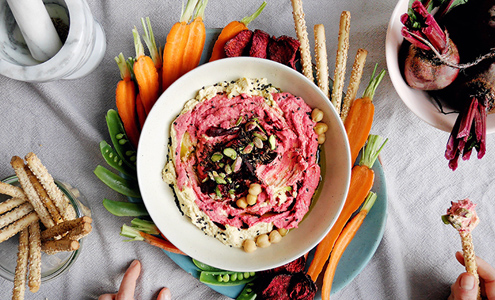 Plus
Beets contain betaine, an antioxidant that gives the beet its beautiful colour. And with the help of other compounds in beets, betaine could have a positive effect on your mood. Beets also contain folic acid, vitamin A, and magnesium, all excellent sources of energy.
---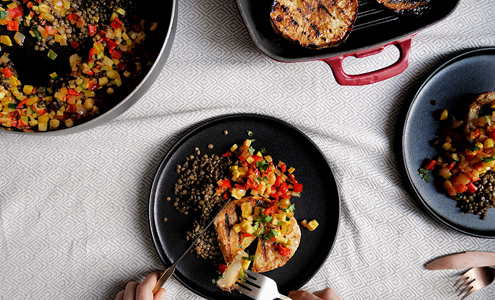 We love celeriac because its pale flesh is slightly spicy. Because it keeps for a long time. And because a celeriac remoulade recipe is a dish definitely worth trying.
Celeriac steak: sprinkle lemon juice on thick slices of celeriac to prevent them from darkening. Baste the slices in your favourite marinade -- our suggestion: mix 3 tablespoons canola oil, ½ garlic clove, ½ teaspoon mustard, and a drizzle of maple syrup. Brown in the oven for 30 minutes on a baking sheet lined with parchment paper. Flip halfway through and continue cooking until the flesh is tender. Another option: drizzle the slices in oil, add breadcrumbs, and cook. Serve with a quinoa and legume salad for even more protein.
In a puree: steam cubes of celeriac for about 10 minutes. Keep an eye on them because you don't want them to overcook and become sticky. Reduce to a puree and add a bit of butter and milk. Don't forget to add a dash of lemon juice to help it keep its colour. You can also prepare a potato/celeriac puree. Perfect with grilled fish.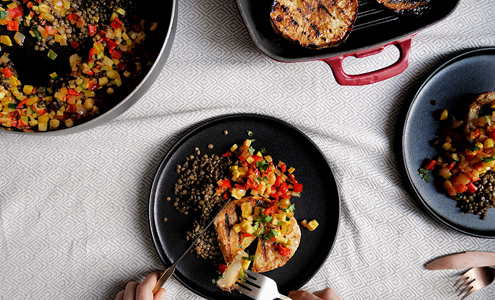 Plus
Celeriac is a nutritious vegetable full of vitamin K and fibre. It only contains a third of the carbohydrates and calories found in a potato.
---

We love zucchini for its tender flesh that quickly soaks up spices and flavours. Its small size is perfect for a meal for one or two. And because you can turn it into "noodles" with a spiralizer for veggie spaghetti.
Spiral pie: Roll some strips of zucchini, starting with the sides, green side up. Alternate blanched carrot slices. Make a spiral towards the centre. Pour a bit of 15% cooking cream or eggs beaten with milk. Season to taste and cook in the oven for about 40 minutes.
Breaded fries: dip zucchini sticks in flour, in beaten eggs, and finally in a mixture of breadcrumbs and grated parmesan cheese. Bake in the oven for about 15 minutes on a baking sheet lined with parchment paper. Serve with a spicy tomato sauce or Greek yogurt topped with fresh herbs. Children will love this tasty snack.
Plus
Zucchini doesn't contain a lot of calories, but it is an excellent source of vitamin C. It also contains antioxidants, folate, and potassium. A medium-sized zucchini has as much potassium as a banana.
---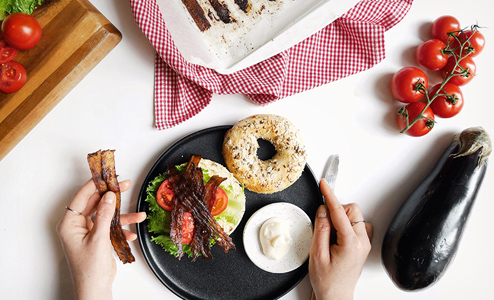 We love eggplant for its flesh that becomes deliciously soft once cooked. Because it's good both hot and cold (but always cooked!). Because it goes well with practically any other vegetable.
Healthy bacon: spread a mixture of half tamari sauce (or soy) and olive oil over thin slices of eggplant. Add a drizzle of maple syrup and a pinch of steak spices. Grill in the oven at 350°F on a baking sheet lined with parchment paper for about 20 minutes, flipping halfway through. A bacon that's tasty without any saturated fat or nitrites.
Pizza dough: cover pizza dough with thin slices of eggplant and press the eggplant lightly into the dough. Or, for gluten-free pizza, simply uses thick slices of eggplant as your dough. Top with vegetables and a bit of feta cheese.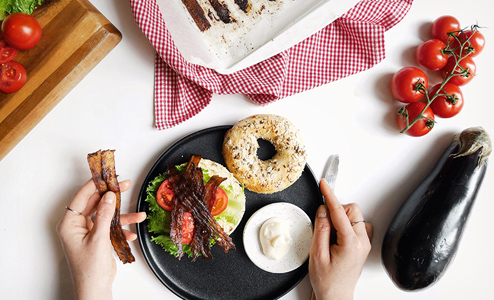 Plus
The eggplant skin is rich in antioxidants. Low in calories, an eggplant also contains fibre, which promotes digestive and cardiovascular health. But watch out when you cook it, it absorbs oil like a sponge.
---