Smarter Food Indulgences
​

Your favourite less-than-healthy foods like burgers and pizza can be healthier with a few ingredient swaps and a little know-how.
---
Top pizza with vegetables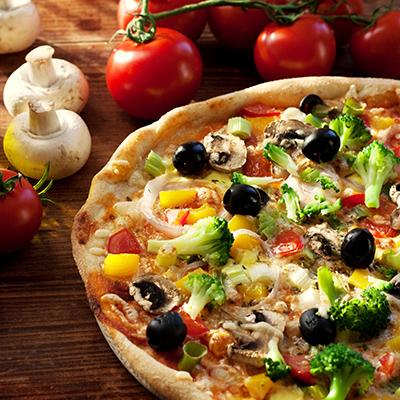 Lots of the fat and salt in pizza comes from the pepperoni, bacon and ham. Ease up on the meat and top it with flavourful vegetables instead. Try grilled portobello mushrooms, eggplant, roasted peppers, broccoli and onions. As an additional healthy twist, choose a whole grain crust instead of one made with white flour.
Still, pizza is not exactly a low-calorie food, but it does have considerably less fat, sodium and calories than a cheeseburger with fries. And there are some nutritional benefits.
Cheese provides calcium.
Tomato sauce gives you vitamins A and C and the cancer-fighting chemical lycopene.
Vegetables and a whole grain crust give extra fibre.
Another bonus? By nature of its shape, pizza is portion-controlled. If you can stick to eating just one or two slices instead of six slices, and you have salad as a side dish, then you can have a perfectly balanced meal with pizza in the centre (yippee!)
The best way to order your pizza is thin crust, whole wheat, less cheese, more vegetables, chicken breast instead of pepperoni and lots of vegetables. Or make Quick vegetarian pizza at home.
See the recipe for Quick Vegetarian Pizza
---
Make your burgers healthier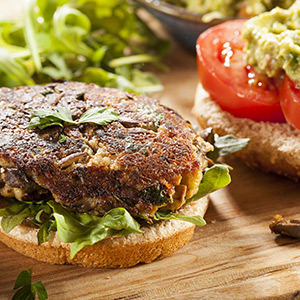 Start with extra lean ground beef for your burger. Instead of bacon and cheese, try one (or more!) of these nutritious toppings:
Caramelized onions
Sliced avocado and cilantro
Mango salsa
Cole slaw
Fresh herbs and goat cheese
Roasted tomatoes or red peppers
Sliced tomato and red onion
Dark leafy greens
---
Replace pasta with spaghetti squash
Have you ever heard of spaghetti squash? It is Mother Nature's answer to pasta. Oblong and yellow, this squash grows locally in Ontario and is available all winter long.
After being baked, the squash cooks into long strands, reminiscent of spaghetti. You simply take a fork and pull out the pasta-like squash, and top it the same way you would with spaghetti, linguine or fettuccine!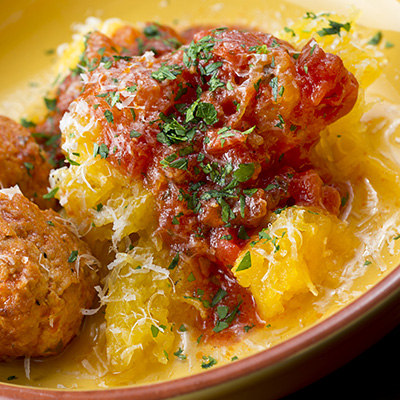 ---
Baked sweet potato fries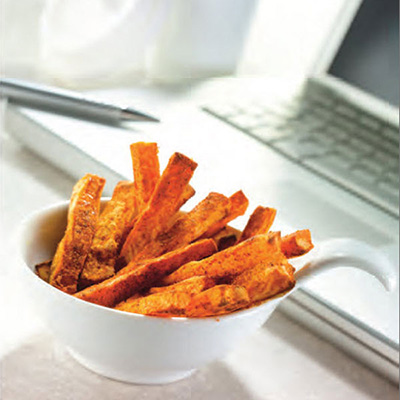 Bursting with vitamin A and fibre, sweet potatoes are a healthy alternative to regular French fries. And since these are baked instead of deep-fried, you save calories too. They are spectacularly sweet, crispy and delicious. You can add some cayenne or ancho chili powder if you want to spice them up.
---
Try smoothies rather than milkshakes
Instead of a milkshake, try a fruit smoothie. They are made with yogurt and fruit instead of ice cream, which means they are much higher in essential vitamins, but are a whole lot lower in fat. Try a strawberry-banana blend, or use fresh or frozen pineapple with banana and mango for a tropical treat. Berries are also great in smoothies.
See the recipe for Strawberry-Mango Yoghurt Smoothie
---
Is frozen yogurt healthier than ice cream?
Not always. The answer truly depends on which brand you are buying and what it's made with. Some light ice creams are whipped to add air, which produces a lower-calorie treat that is comparable to frozen yogurt.
On the other hand, some frozen yogurts are made with lots of add-ins (cookie bits, candy, etc.) that significantly bumps up the calorie, fat and sugar content. Read food labels and choose a cold dessert – ice cream or frozen yogurt -- with 100-150 calories per half-cup serving.
---
Popcorn is a great snack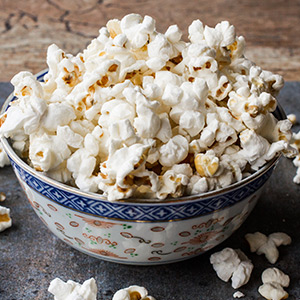 Butter-laden popcorn covered in salt is not your best bet, but if you crave something crunchy, reach for air-popped popcorn. This well-loved snack food is super healthy, with only 100 calories and an impressive 4 grams of fibre for a 3-cup serving. Compare that to chips, which have 465 calories in three cups.
Bonus: popcorn is considered a whole grain.
If you want to add some pizzazz to the air-popped kernels, there are many ways to do that without adding butter and salt.
Try any of these options:
Toss with cinnamon
Add nutritional yeast, which has a cheese-like, salty flavour
Squeeze lime on popcorn and shake it with chili powder
Add grated Parmesan or Romano cheese
---
What about microwave popcorn?
It tends to be expensive, and often has questionable ingredients added. You can make your own version and avoid the salt and processed fats that are found in some store-bought brands.
Make-your-own Microwave Popcorn (courtesy of WholeGrainsCouncil.org)
¼ cup popping corn
Lunch-size brown paper bag
Olive oil
Drizzle olive oil over kernels, and toss until coated. (Use enough to cover kernels but not saturate them.) Place the kernels in the paper bag and roll the top of the bag over twice. Place in the microwave, seam side down, and cook on high for 2 minutes. Sprinkle with seasoning of your choice or enjoy plain!
---
​
Healthy Bites
Make submarines healthier by using whole grain bread and turkey instead of salami.
Make your whole meal healthier by skipping the soda pop and having water instead.
---