Legumes, Tofu and Soy-Based Foods

These heart-healthy foods are easy to prepare, filling and full of flavour! Here are some ideas for you to enjoy more tofu and legumes every day.
---
A wealth of veggie ideas to jazz up your meals
Legumes
Culinary uses and suggestions
Add cooked lentils to your simmered spaghetti sauce just before serving, or add a mixture of canned beans to your vegetable salad.
For velvety and lighter cream soups, add white beans or chick peas to your vegetable soup before putting it through your food processor.
Add beans to stews.
Replace meat in your spaghetti sauce with red lentils.
Garnish your salads with chickpeas or kidney beans.
Add lima beans to your soups and other dishes.
Dietary fibre
Adding fibre to your diet too quickly can cause bloating and flatulence. Although, the abdominal discomfort is short-lived, it is preferable to add fibre in small doses to your diet. You should therefore start with small portions and increase gradually.
Here are a few additional precautions you can take to reduce the abdominal discomfort.
Let dry legumes soak in the refrigerator before cooking.
Cook them until they are easily crushed with a fork.
Avoid combining them to other foods that can cause gas, such as cabbage, broccoli or sweet dishes.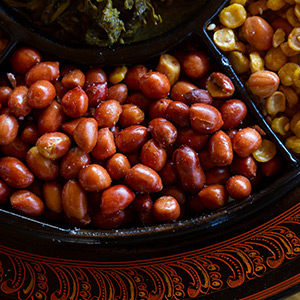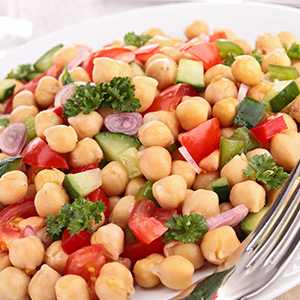 Preparing dry legumes
Before cooking, soak legumes to reduce cooking time.
Rinse and remove any non-edible grains before soaking.
Soaking
Cover beans with water (3 times the volume).
For overnight soaking, let stand in water for 8-12 hours or overnight, then drain.
For quick soaking, place beans in water, bring to a boil, reduce heat and simmer for 2-3 minutes. Remove from heat and let stand 1 hour. Drain.
Cooking
Cover legumes with fresh water (2 ½ times the volume), bring to a boil, cover, reduce heat and simmer until tender.
Cooking time varies depending on the soaking method used.
One cup (250 ml) of dried beans yields 2-2 ½ cups (500-625 ml) of cooked legumes.
---
Tofu
Tofu is a legume derived from the soy bean and is part of the meat substitutes category. Approximately 70g or 2½ ounces of tofu is equivalent to 30g (1oz) of beef, chicken or fish. It has very little taste on its own, but absorbs the taste of other foods and condiments easily.
Culinary uses
Add tofu to soups, salads and sautéed dishes.
Grill tofu cubes on the barbecue —— they're delicious!
Different textures for different uses
Use firm tofu for sautéing or grilling.
Incorporate medium firm tofu to soups.
Add silky tofu to creamy preparations and puddings.
Use ready-made flavoured tofu, such as spicy tofu, herbed tofu and fruit-flavoured tofu to add to salads or skewers
Nutritional value
Of vegetable origin, tofu is cholesterol-free. It contains much less fat and saturated fat than meat. It is a good source of essential fats and iron. Because it is a legume, its iron content is not absorbed as well by the human body as the iron from animal origin.
However, eating tofu with foods like oranges, broccoli, kiwi or cantaloupe that are high in Vitamin C will increase iron absorption.
Culinary suggestions
The easiest way to prepare tofu is to cut it in cubes and simmer a few minutes in water or broth.
Serve with soy sauce, toasted sesame seeds, finely chopped green onion, and grated ginger.
Useful tips and advice
When cooked in water or broth, tofu is ready to eat when it rises to the surface of the cooking liquid.
Whipped in with oil and vinegar, it can replace mayonnaise.For delicious dips, blend tofu with soy sauce, tahini, lemon juice, chopped green onion and chopped peppers. Serve with raw vegetables.
Make guacamole by replacing the avocado with tofu.
Make scrambled eggs with crumbled tofu.
Storage life
Check the expiry date on the package. Once opened, tofu will keep in the refrigerator for approximately one week, stored in an air-tight container filled with water. The water should be changed every two days.
Protein-rich soy-based products
Soy-based foods are popular with vegetarians and people who want to lower their consumption of fat. Try ready-to-eat meat substitutes like soy-based sausages, hamburger patties and cold cuts.
Soy milk beverages
Soy milk beverages make easy cow milk substitutes —— use it in any recipes calling for milk, including pastries, shakes, sauces, flans, soufflés, and puddings.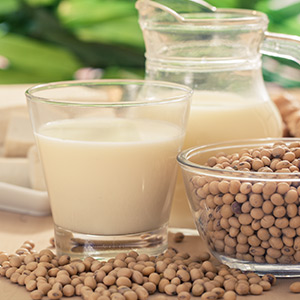 ---
Recipes to try
---