Say hello to indulgence and goodbye to guilt!
For game-night get-togethers, tasty meals the kids will love or a special treat just for you, we've put a healthy twist on some of your favourite dishes. Dig in!
---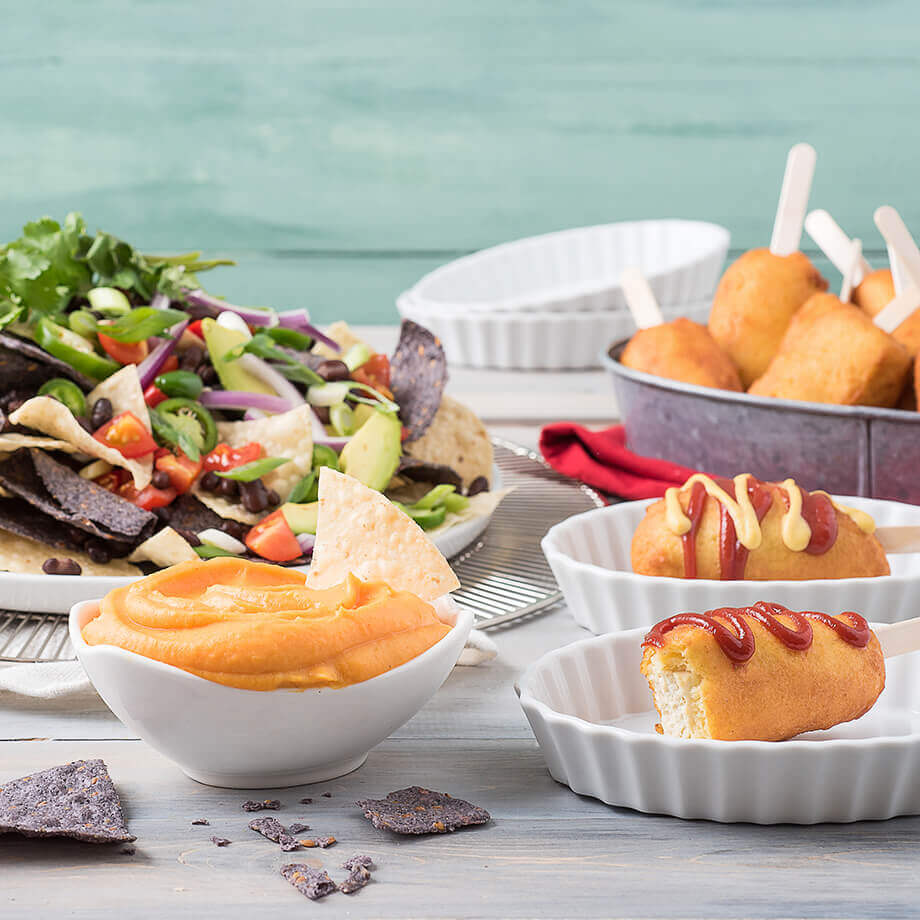 Mini Tofu Pogos
Start with herb or ginger tofu, or even smoked tofu for that traditional hot dog taste. We're shaking things up with mini pogos!

Cut tofu into thick strips, coat with pogo batter and fry in grapeseed oil, turning the pieces over until golden on all sides. For English breading instead, roll the tofu strips in flour, dip into beaten eggs and then into breadcrumbs. Next, place the pieces on a baking sheet lined with parchment paper and bake at 350°F for about 15 minutes. Last but not least, serve with small wooden sticks and your favourite dipping sauces, such as mustard, honey, ketchup, etc.

Health tip:
Replace commercial ketchup with a homemade tomato sauce containing much less sugar and salt.
+ Nachos With Vegan Cheese Sauce
Everyone loves a nice platter of nachos and making them is as easy as 1-2-3! Simply serve your favourite tortilla chips (preferably organic) with vegan cheese (homemade or store-bought) and a generous serving of cilantro, green onion, peppers, etc.
THE HEALTH BENEFITS OF VEGAN CHEESE
Vegan cheese is made from plant-based ingredients like cashews or legumes. Some commercial versions are sometimes even made with soy products. Whereas traditional cheese contains saturated fat, vegan cheese contains healthy fats, in addition to fibre, vitamins and minerals.
---

Recipes to try
---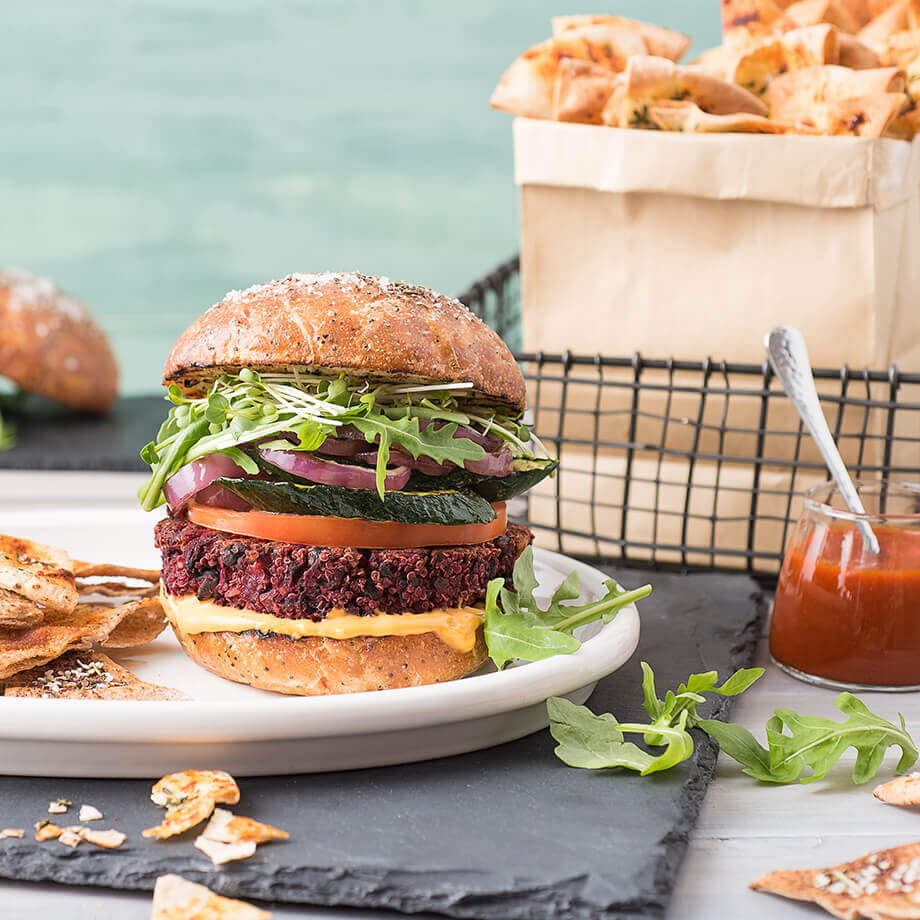 Veggie Burgers
This burger's quinoa and lentil patty is a tasty meat alternative. For meals on the go, make some in advance and keep them in the freezer. When you have more time on your hands, mix equal quantities of cooked quinoa and lentils, black beans or edamame beans. You can add grilled vegetables, an egg and spices (cayenne, cumin or cardamom), and then shape the patties and place them on the grill. Serve on a multi-grain or gluten-free bun—or on a grilled portobello mushroom.

Optional toppings:
Grated raw beets, crispy onions, cheese, hot sauce, arugula, etc.
+ Homemade Chips
You can make a lighter version of chips by cutting pita bread into triangles. Baste with olive oil, sprinkle with seasonings and pop them in the oven until crispy. Delicious munchies are just minutes away!

Suggested seasonings:


Steak spice
Paprika
Provençal spice mix
Sea salt and fresh herbs (thyme, rosemary, chives)
White and black sesame seeds (use sesame oil instead)
THE HEALTH BENEFITS OF QUINOA
Quinoa is a good source of complete protein, fibre and iron. However, it doesn't contain enough protein to be considered a meat substitute. That's why it's best to eat it with other sources of vegetable protein, such as legumes, nuts or soy.
---

Three veggie burger recipes to try at home
---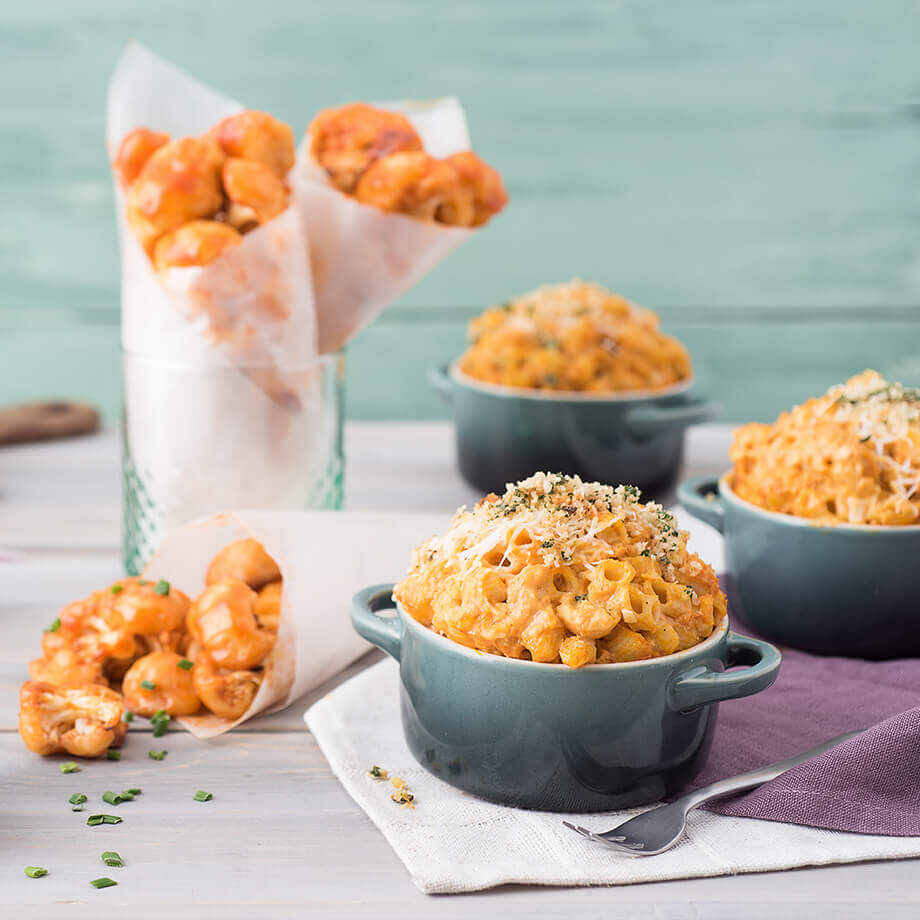 Macaroni and Cheese With Squash
You can slash the fat in mac'n cheese by replacing some of the cheese (about 1 cup) with butternut squash puree. The result? Enticing yellow-orange pasta that's packed with vitamins! For extra dietary fibre, use whole-wheat pasta and add legumes.

Cooking tip:
Spare yourself the trouble of chopping an entire squash by choosing pre-cut cubes.
+ Cauliflower Wings
Cauliflower is so versatile that you can even prepare it like chicken wings. Coat cauliflower florets in batter made of equal parts flour and liquid (milk or other). Give the breading a little kick by adding your favourite spices (paprika, curry or turmeric). Then place the cauliflower pieces on a baking sheet lined with parchment paper and bake at 400°F for about 30 minutes, turning them over at the half-way point. Another option is to use Japanese panko breading. Serve the cauliflower bites like chicken wings with honey or hot sauce.
THE HEALTH BENEFITS OF SQUASH
Squash contains almost as much beta carotene (Vitamin A) as carrots. This antioxidant gives your immune system a boost, which is why it's especially beneficial during flu season!
---