Where to get your protein

You can't live without protein! Protein protects your body and maintains and repairs tissue. And it satisfies your cravings. Meat is an excellent source of protein, but it's not the only one! Follow our guide to discover other ways of getting your protein intake.
---

On average, a meal should contain 15 grams of protein. A snack should have between 5 and 10 grams.
Nuts, seeds, and legumes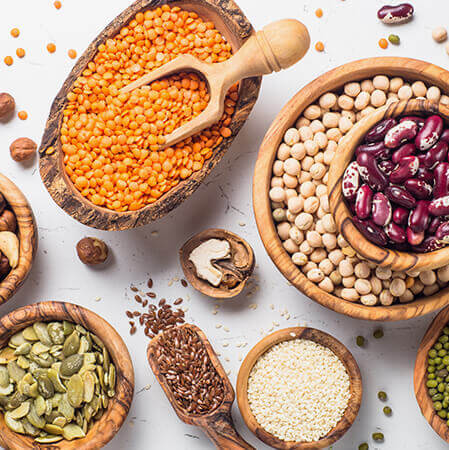 Rich in fibre and iron, most legumes are also low in fat. For their part, nuts and seeds are a source of healthy fats, making them an excellent choice for adding protein to your meal or enjoying as a snack.

Where to get protein
1 cup of cooked legumes
¼ cup of roasted pumpkin or sunflower seeds
As a snack:
2 tablespoons of peanut butter or nuts
¼ cup of hummus

How to add them to your diet:
In your cookie recipes, replace a portion of the fat with white or red bean puree. For a nice texture, you should aim to keep about 1/3 cup of the fat ingredient (butter or oil).
Pumpkin seeds, hemp seeds, and soybeans are rich in protein. Add them in a vegetable puree, on roasted vegetables, pasta, or an omelette to add protein to your meal.
Top your Asian-style sautéed vegetables with a handful or chopped dry-roasted peanuts. Did you know that peanuts are legumes?
Find out more about legumes.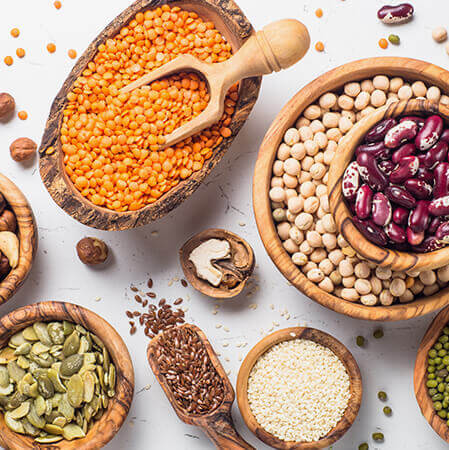 ---
Dairy products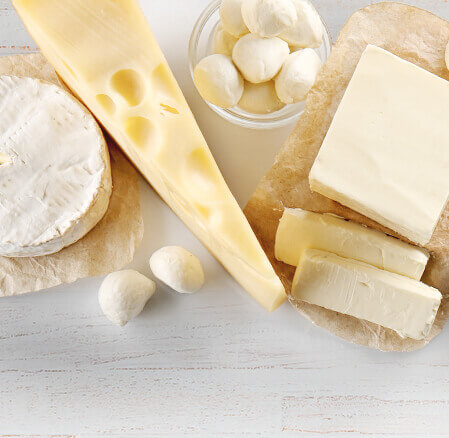 The impressive amount of foods made with dairy keeps growing: yogurt, milk, kefir, light creams… there's something for everyone and for every type of meal.

Where to get protein
¾ cup of Greek yogurt
½ cup of cottage or ricotta cheese
As a snack:
30 g of firm cheese
1 cup of milk


How to add them to your diet:
Top your Greek yogurt or ricotta with cumin or fresh chives and serve it with slices of oven-roasted squash or beets.
Top your oven-roasted potatoes or toasts with cottage cheese or white cheese. Add some fresh chives.
---
Eggs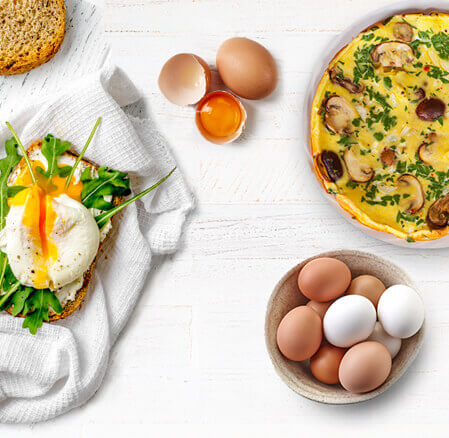 Eggs can be used in thousands of ways and provide you with complete protein (just like meat) as well as vitamins (A, D, E, B12) and minerals, including iron. It's a perfect ingredient for adding protein to a meal.

Where to get protein
3 eggs

(the same quantity as 100 g of meat)

How to add them to your diet:
Add a poached egg to leftover risotto. You can also use a poached egg to top a Korean bowl (bibimbap) or a poke bowl. Add some sunshine to your plate!
Prepare deviled eggs as a snack or for an appetizer you can share with friends. Everyone will love them. (A retro, yet trendy recipe). You can also add some Nordic shrimp to the egg yolks to enhance the flavour (and fore more protein in each bite).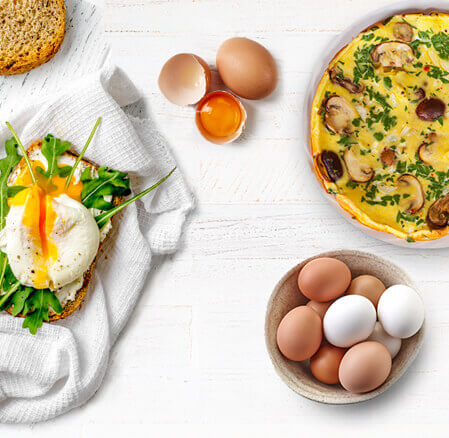 ---
Soy in all its shapes and forms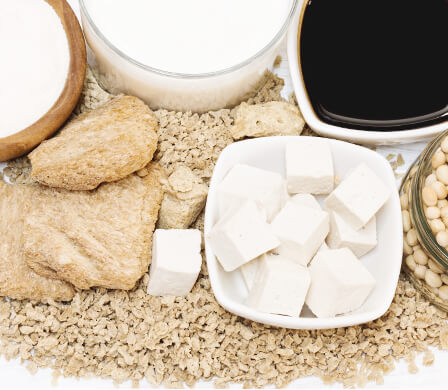 A source of complete protein, soybeans can be enjoyed in myriad ways:
Beverages, tofu, tempeh, edamame… They're also fantastic sources of calcium and iron.

Where to get protein
100 g of firm tofu
100 g of tempeh
1 cup of edamame
As a snack:

How to add them to your diet:
Keep the liquid from a container of feta cheese. Use it to marinate small cubes of firm tofu before adding them to a Greek salad.
Add the soy beverage to your smoothie or latte. Or use it instead of milk in a muffin recipe.
In a rice stir-fry with vegetables, add a handful of frozen edamame beans. You don't even need to thaw them. They'll be ready in five minutes.
Tempeh has a strong flavour – nothing like tofu! To try it, simply use a bit of grated tempeh in your taco garnishes.
---