Tomato

Originally, the tomato was a small round fruit the size of what is today called a cherry tomato. Today, the tomato is one of the best-known ingredients in the world and is used in dishes of almost all nations.
---
Tomato characteristics
The size of a tomato varies depending on its type. Some can reach 1 kilo in weight! Its flavour depends on the degree of acidity, the sugar and water content, the texture of the flesh and skin and when it was harvested.
There are thousands of tomatoes varieties : red, white, yellow, orange, pink, green, oval, round, miniature, elongated, as enthusiastic amateur gardeners well know.
---
Red tomato
The red tomato is the most popular tomato in Quebec. The modern greenhouse industry makes it possible to have juicy red tomatoes all year long.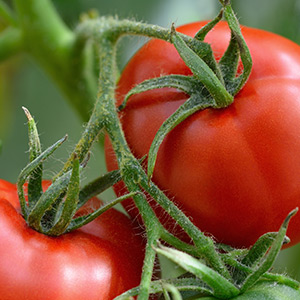 ---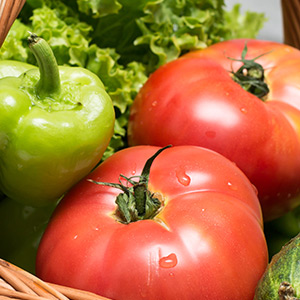 Pink tomato
Pink tomatoes have been available in Montreal markets for one hundred years. The pink tomato is the only commercially-produced tomato in Quebec.
Even so, years ago pink tomatoes were very popular and reserved for the table, while the red tomatoes were used in soups, ketchup, and sauces.
---
Italian Oval Tomato
Having a slightly elongated shape with thick skin, this tomato is firmer than the red, but not as juicy. It contains fewer seeds than other varieties.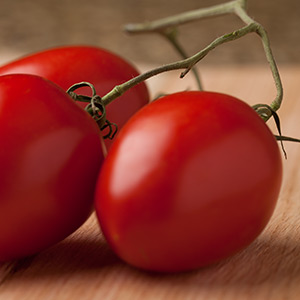 ---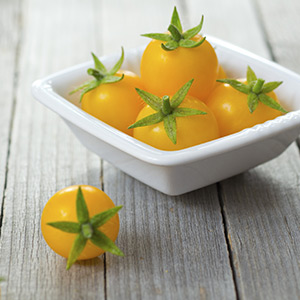 Orange Tomato
The orange tomato is sweeter than the red. The riper it is, the more fragile it becomes.
---
Grape Tomatoes
This variety is firm and red. Grape tomatoes are sold still attached to their stems which help to give them nourishment and increases their fragrance and taste not to mention great eye appeal!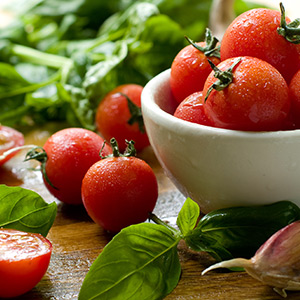 ---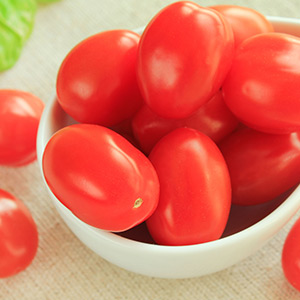 Miniature or Cherry
This tomato is tiny, scented, and available in three colours: red, yellow and orange. It is sweeter and more fragrant than the ordinary red tomato. It can be served as an appetizer either with dips or stuffed. It is also ideal for kebobs and salads.
---
Tomato Recipes
---
Culinary tips and advice
1General tips
Select a firm tomato with smooth, shiny skin that is unblemished. The stalk should have a leafy aroma.
The riper a tomato, the more fragile it is.
Sugar can be added when cooking to reduce the acidity.
A ripe tomato is lightly fragrant and delicate.
Tomato seeds may be added to soups and soup stocks.
2To easily peel a tomato
Use a knife to cut an X on the bottom of the tomato and plunge it into boiling water for 10-30 seconds.
Pass it under cold water then remove the skin beginning at the points of the incision.
3To easily remove the seeds
Cut the tomato horizontally and press each half to force the seeds out with the juice.
For blanching, simply remove the tough section where the stem was attached by cutting a circle around it and plunge into boiling water.
4Dried tomatoes
Preferably choose the salted Italian or the sun-dried tomato.
Dried tomatoes should have retained their colour and appearance without turning black or spotted.
If the dried tomatoes are not already marinating in oil, boil them 15-20 minutes before adding them to your recipe.
Store dried tomatoes in a good quality olive oil in the refrigerator.
The exquisite taste of these sweet dried tomatoes is a sure hit when added to: pizzas, salads, quiches, meat and seafood dishes. They are also excellent in sauces, dips, with foccacia bread and pâté, as well as combined with goat cheese.
---
Availability
Different types of tomatoes are available year-round in the produce section of your local Metro supermarket.
Tomato: Nutritional value
A good source of energy, the tomato is rich in potassium and vitamins A and C. It is also rich in lycopene which gives the tomato its red colour and also acts as an antioxidant that reduces the risk of heart disease and certain forms of cancer, including prostate cancer.
Tomato: Storage life
Unwashed tomatoes can be stored out of direct sunlight, at room temperature for up to one week. If the temperature is too warm, refrigerate to slow down the ripening process. Remove from refrigerator 30-40 minutes before using to give the flavour a chance to adjust. If you wish to ripen green tomatoes, simply place in a brown paper bag.
Here are two methods to freeze tomatoes:
Peel them and place them whole in a plastic freezer bag or plastic container. They can be kept in this manner for up to three months.
Peel and cut them into halves or quarters, add 10 ml (2tsp) of salt, 5 ml (1tsp) sugar, a pinch of pepper for each kilo (2lb) of tomatoes and cook for 5 minutes before freezing. They can be frozen for up to one year.
---